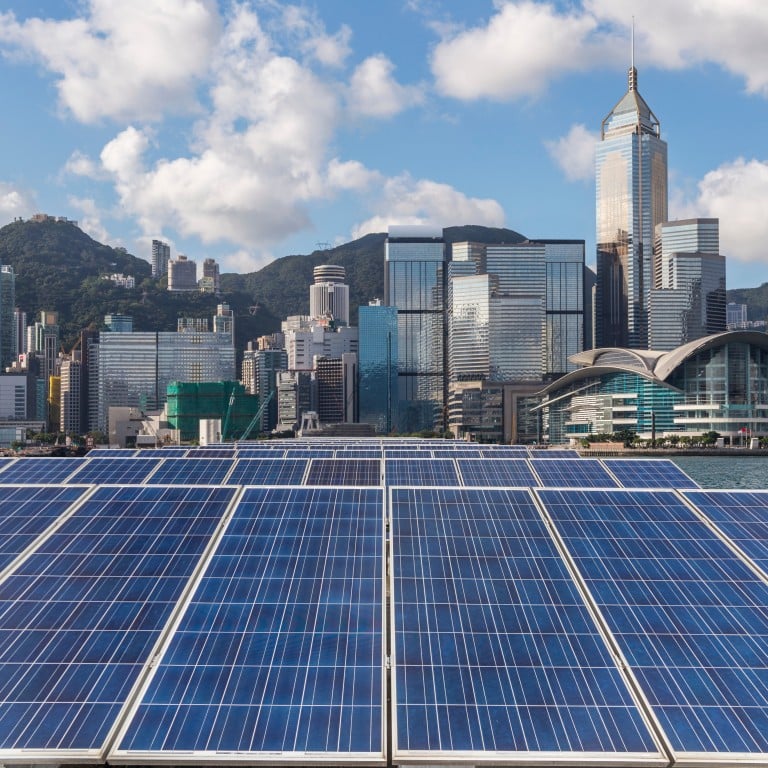 Green finance: start-ups like Allinfra embark on carbon credit ventures as Hong Kong stock exchange inches closer to launching trading platform
Hong Kong's Allinfra, which teamed up with ADM Capital and Ultimate Carbon, aims to eventually list carbon credit products on the local bourse
There is growing interest from start-ups in opportunities arising from corporate emitters of greenhouse gases looking to secure carbon credits
Hong Kong start-up Allinfra, which recently teamed up with private equity firm ADM Capital and renewable energy company Ultimate Carbon, aims to eventually
list carbon credit products
on the city's stock exchange.
The trio last week announced they would pool an initial US$10 million to fund decarbonisation projects and buy carbon credits, as a pilot initiative to tap Hong Kong's nascent
voluntary carbon-offsetting market
.
"HKEX (Hong Kong Exchanges and Clearing) will be interesting to us, eventually we would like to list our credits on
exchanges like HKEX
," Allinfra co-founder and head of origination Bill Kentrup said, referring to the bourse operator.
The collaboration is an example of the growing interest from start-ups in business
opportunities arising from corporate emitters
of greenhouse gases looking to secure carbon credits to meet their climate goals. The system allows them to offset the carbon footprint they cannot reduce themselves.
Last week, Hong Kong-listed China Carbon Neutral Development Group said it had signed a preliminary agreement with Singapore boutique asset manager Northwaters Capital to explore cooperation in the carbon business.
China Carbon Neutral Development recently launched the Carbon Asset Global Opportunity Fund, a Singapore dollar and US dollar duel-currency fund to invest in global carbon credit assets.
The value of transactions in voluntary carbon markets globally reached nearly US$2 billion last year, close to a fourfold rise from 2020, according to Ecosystem Marketplace.
Trading could reach an annual US$50 billion by 2030, the Taskforce on Scaling Voluntary Carbon Markets forecast last year. The proceeds would help credit sellers finance their decarbonisation projects.
Allinfra, ADM Capital and Ultimate Carbon will initially focus on credits generated by natural capital projects such as reforestation, grassland rehabilitation and sustainable agriculture, which absorb carbon dioxide from the atmosphere and store it in biomass.
With the goal of helping project developers generate "millions of tonnes" of quality carbon credits annually, they will seek to buy a portion of the credits via agreements in advance of their generation and verification.
They will also seek to buy stakes in some projects as well, Kentrup said. He expects the carbon credit prices of natural capital projects, which range from US$6 and US$40 a tonne currently, to rise in the next few years.
Sustainable agriculture includes practices such as agroforestry – growing trees or shrubs among crops or pastureland – and mixed farming that enhances the productivity of the land.
"Many projects we look at have a renewable energy development plan as well," Kentrup said. "Given many renewable energy developers have projects in remote areas, a lot of natural capital projects can be combined with renewable energy ones."
HKEX is close to establishing an exchange-based voluntary carbon credits trading market to bolster the city's stature as a
regional sustainable finance hub
, CEO Nicolas Aguzin said last month.
In July, it launched the Hong Kong International Carbon Market Council to foster collaborations. Members include banks, corporate greenhouse gas emitters and potential credit buyers.
ADM Capital is experienced in forestry projects, having co-launched with BNP Paribas, the United Nations Environment Programme and the World Agroforestry Centre in 2016 a facility that aimed to provide up to US$1 billion to finance sustainable agriculture and renewable energy projects in Indonesia.
Ultimate Carbon is an offshoot of US-based UPC Renewables, a major solar and wind farms developer in Asia-Pacific.
Allinfra has developed sustainability data management software that can collect verifiable, auditable greenhouse gas emissions information across clients' assets.
By deploying blockchain technology that makes the transactions data immutable and data collection devices with unique identification and digital footprints, it seeks to enhance the credibility and value of clients' carbon credits earned from emission abatement projects.
While the automation of emissions data collection can greatly reduce turnaround time and costs, Kentrup said it cannot yet replace human brains when it comes to data verification.
"Anything that makes [the process] more efficient is great, as long as you are not achieving such efficiency by removing important evaluation steps," he said.