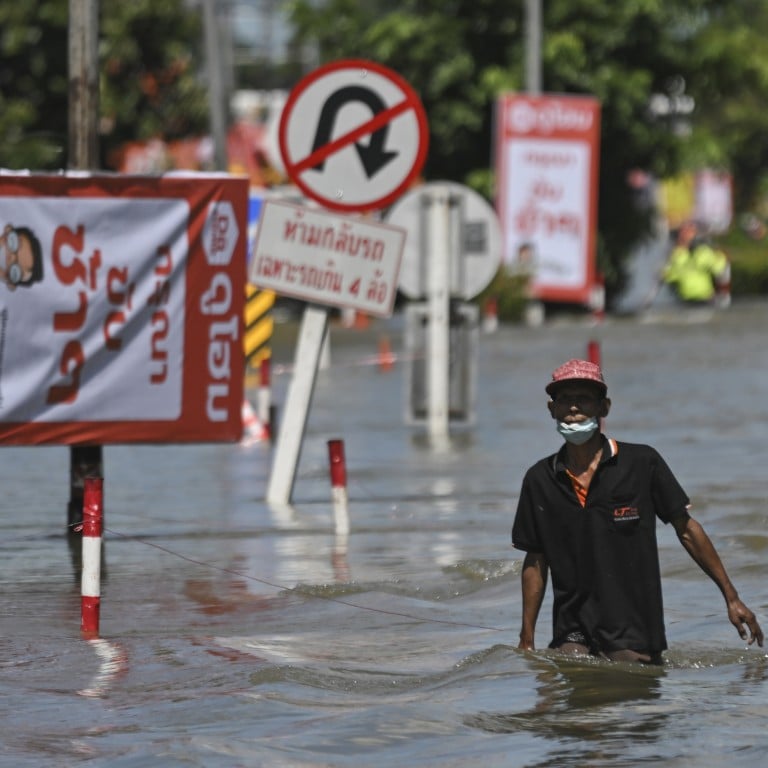 Urgent economic, societal changes needed to avoid climate change disaster, UN warns ahead of global summit
Inadequate measures could push global temperatures 2.4 to 2.6 degrees Celsius higher by the end of this century, UN Environment Programme says in a report
The UNEP released the report ahead of next month's global climate summit in Sharm el-Sheikh, Egypt
The world's most polluting industries must undergo urgent transformation to avert
climate disaster
, as mitigation measures so far are not enough to have the desired impact, the United Nations has warned.
Based on climate pledges made so far, the world is on track for a temperature rise of 2.4 to 2.6 degrees Celsius by the end of this century from pre-industrial levels, the UN Environment Programme (UNEP), which coordinates international responses to environmental issues, said in a report on Thursday. The report comes ahead of the global climate summit in Sharm el-Sheikh, Egypt, from November 6 to 18.
The UNEP called on key emitting sectors – energy, manufacturing, transport, construction and agriculture – to avoid locking in new fossil fuel-intensive infrastructure, and to deploy practices to reduce emissions.
"This report tells us in cold scientific terms what nature has been telling us, all year, through deadly floods, storms and raging fires: we have to stop filling the atmosphere with greenhouse gases, and stop doing it fast," said UNEP executive director Inger Andersen in a statement. "We had our chance to make incremental changes, but that time is over. Only a root-and-branch transformation of our economies and societies can save us from accelerating climate disaster."
Human activities have already caused the planet's average temperature to rise by 1.1 degrees since 1850. If global warming reaches 1.5 degrees in the "near term", increases in multiple climate hazards posing risks to ecosystems and humans would be unavoidable, since some 3.3 billion people live in locations highly vulnerable to climate change, the UN's Intergovernmental Panel on Climate Change (IPCC) said in February.
The war in Ukraine and tensions elsewhere have compounded the challenges facing mankind to cope with climate change, Mohamed Nasr, lead negotiator and director general for climate, environment and sustainable development at Egypt's foreign ministry, told reporters on Tuesday.
The geopolitical situation has had a negative impact, causing energy, food, finance and debt crises worldwide, he said.
"And overarching is the climate crisis – floods in Pakistan and Nigeria, forest fires in Europe, hurricanes in the US; climate change is not giving us any space to breathe," Nasr said.
Governments are falling behind schedule in terms of mitigation efforts and spending budgets to stem the crisis, he added.
Despite an agreement at last year's COP26 summit in Glasgow to strengthen emission- reduction efforts, new government commitments only amounted to 500 million tonnes of carbon dioxide equivalent, the UNEP report said. That would only shave projected global emissions in 2030 by less than 1 per cent.
To reach the low-end ambition of the Paris Agreement to contain global warming at 2 degrees, global greenhouse gas emissions must peak before 2025, reduce by a quarter by the end of the decade and reach net zero by 2070, IPCC scientists said in another report in April.
To achieve the high-end ambition of 1.5 degrees, emissions need to be slashed by 43 per cent by 2030, and reach net zero by the early 2050s.
Unconditional government commitments to date would only limit global warming at 2.6 degrees, UNEP said. When conditional commitments, contingent upon foreign financial and technological support, are included, the impact is reduced to 2.4 degrees.
If governments fail to deliver on those commitments, current policies would lead to a 2.8 degrees warming, the agency warned.
Agriculture, which accounts for a third of global greenhouse gas emissions, has the potential to cut emissions by two-thirds from current levels, UNEP said. This can be achieved by consumers making dietary changes and shifting to foods with low-carbon footprints, improving farm productivity, decarbonising the food supply chain and protecting natural ecosystems, it added.
The financial industry must also step up support for other sectors' decarbonisation, which is estimated to require US$4 trillion to US$6 trillion annually, or 1.5 per cent to 2 per cent of total financial assets managed, the UNEP said.
"Most financial actors, despite stated intentions, have shown limited action on climate mitigation because of short-term interests, conflicting objectives and not recognising climate risks adequately," it said.