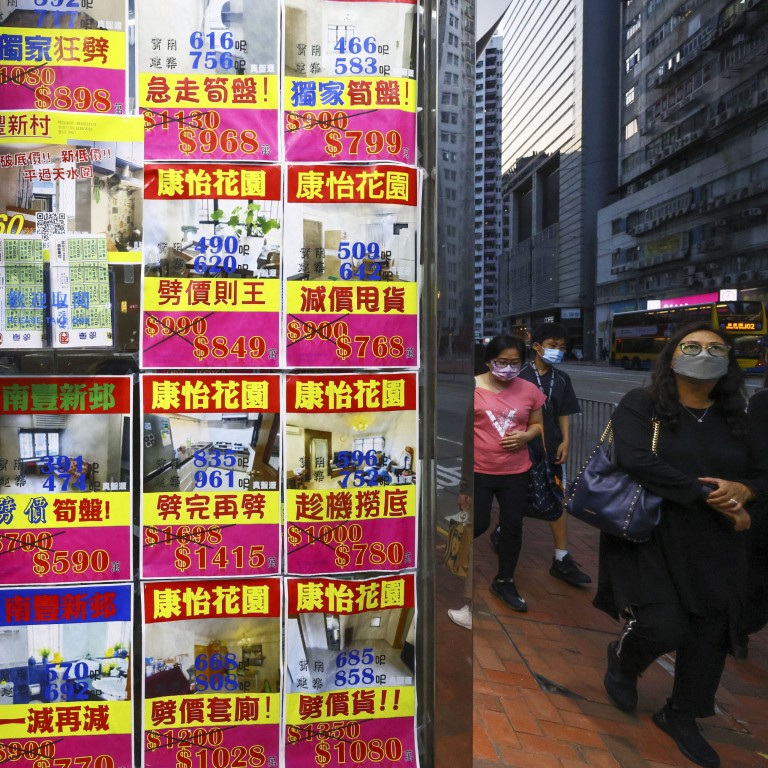 Hong Kong's lived-in home prices fall to the lowest level since January 2019, with analysts predicting further decline
Hong Kong's secondary home prices fell 2.1 per cent in September, taking the year-to-date slump to 8.1 per cent
Home prices are expected to fall further for the rest of the year and test the 10 per cent level, analysts say
Hong Kong's lived-in home prices fell 2.1 per cent in September, declining for the fourth straight month and hitting the lowest level since January 2019, according to the latest government data.
The secondary
home price
index compiled by the Rating and Valuation Department dropped to 362.1 from 369.7 in August. The index stood at 361 in January 2019.
So far this year, the gauge has dropped 8.1 per cent.
Analysts expect the index to retreat by another 2 percentage points for the rest of the year as potential homebuyers take a cautious approach in anticipation of further interest rate hikes and poor stock market sentiment. A 10 per cent decline by the end of the year would push prices down to levels last seen in December 2017, when the index stood at 354.5.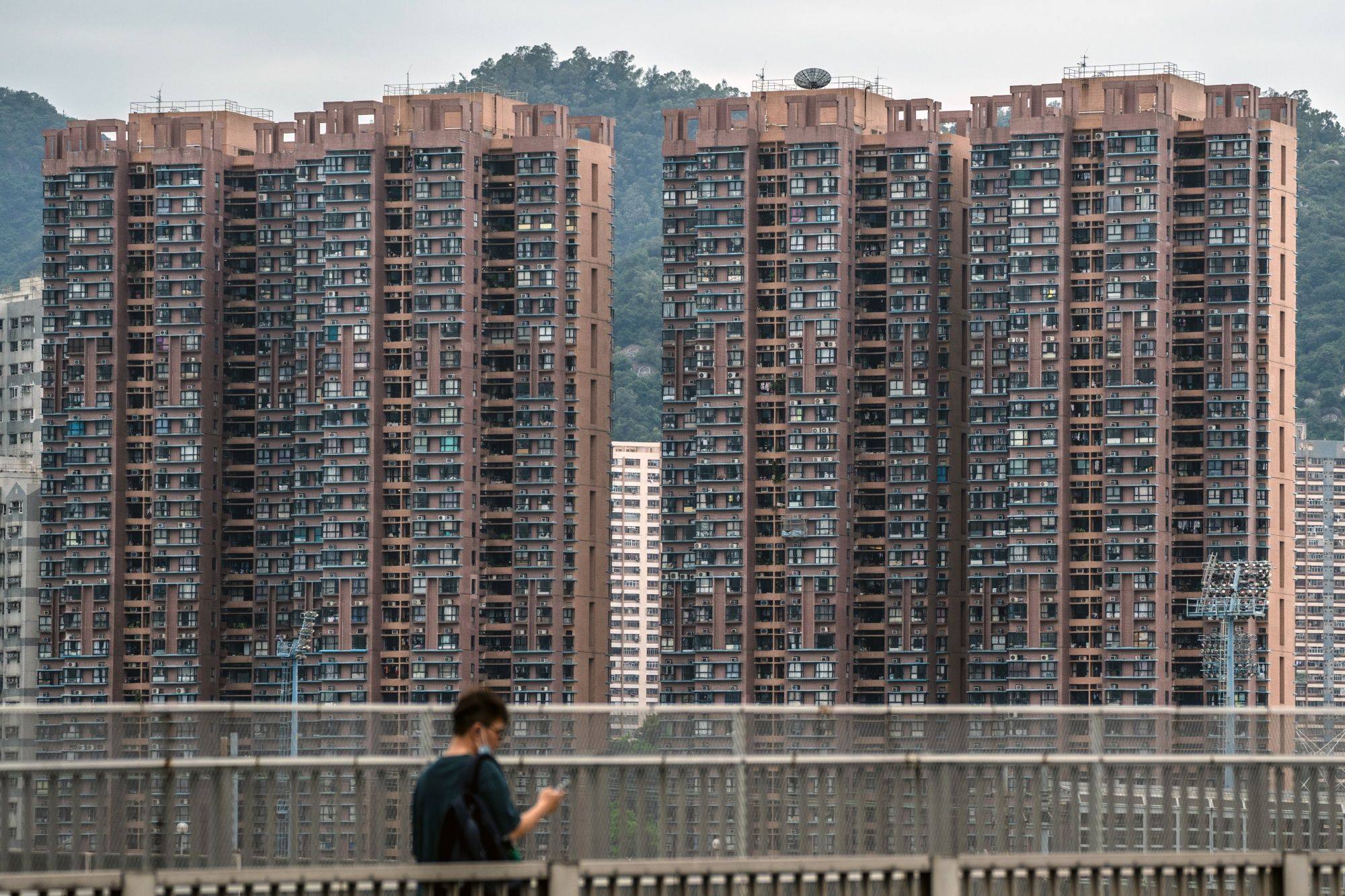 "The equity market is weak, and with the possible interest rate hike in November we expect home prices to correct by about 1 to 2 percentage points towards the end of the year, bringing the full year correction to about 10 per cent," said Buggle Lau Kai-fai, chief analyst at Midland Realty.
Midland's property price index for October, Lau said, showed home prices had fallen by 1 per cent.
September's drop is the biggest since December 2018, according to Ricacorp Properties, which expects home prices to fall by 10.81 per cent this year – the largest year-on-year decline in 19 years.
Earlier this week, the bellwether Hang Seng Index fell below 16,000 points for the first time in more than 13 years following the Chinese Communist Party's 20th national congress, where President Xi Jinping secured an unprecedented third term as the party boss. During Xi's previous terms, Beijing initiated various crackdowns that led to tough new rules for private companies in the world's second-largest economy.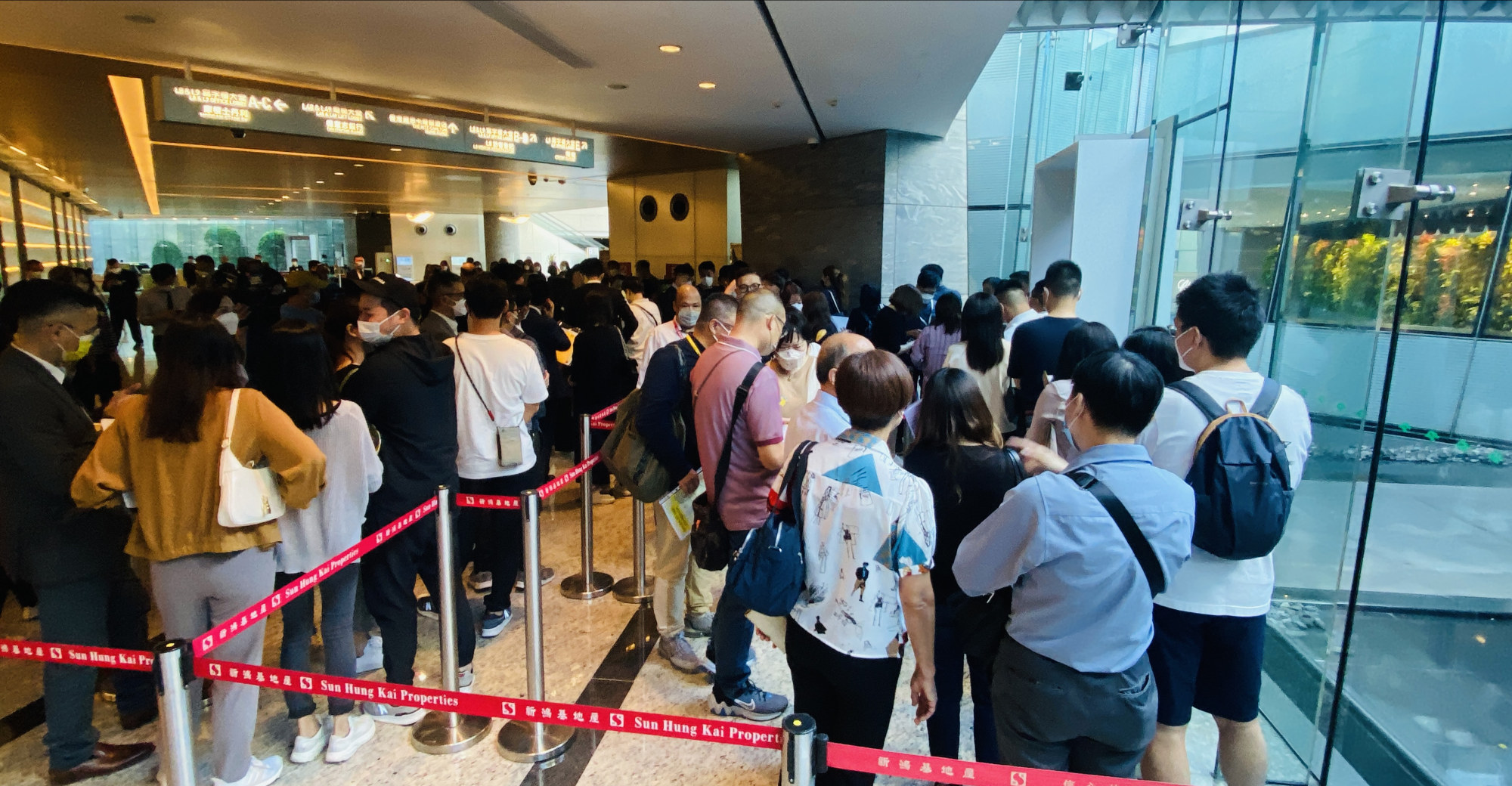 The benchmark index has rebounded in the past two days and was trading about 2 per cent higher on Thursday.
Sun Hung Kai Properties (SHKP), Hong Kong's biggest developer by value, sold 58 out of 60 flats as of 6pm at Park Yoho Bologna in Yuen Long, the first project to go on sale after Chief Executive John Lee Ca-chiu's Policy Address.
Prices of the development start at HK$3.91 million for 279 square feet. The sale fetched 2,577 registrations of intent, which means almost 43 buyers competed for each flat.
Centaline Property Agency, however, expects this month's sales of new homes to be lower than 400, the lowest since March. It expected the downtrend of home prices to continue as the Policy Address did not relax cooling measures and the chances remain high that the US Federal Reserve will raise interest rates by 0.75 per cent next week.
Meanwhile, the Federal Reserve is likely to further raise interest rates to curb the fastest-rising inflation in 40 years, continuing a tightening of monetary policy since March.
The Hong Kong Monetary Authority (HKMA) has lifted its base interest rate five times this year to 3.5 per cent, a 14-year high, in lockstep with the Fed. Commercial banks including HSBC and Bank of China (Hong Kong)
raised their prime rates to a four-year high
.
"In 2008, during the global financial crisis, the secondary market saw a 12.5 per cent drop, so what we have now is not the worst," Lau said. "But if you look at home sales, this year is likely to be a
31-year low
and that will have a profound impact on the economy."
Prices of flats measuring at least 752 sq ft fell 2.1 per cent, while prices of smaller units retreated by 0.29 per cent.
"The index is expected to continue to find a bottom for the rest of the year, but the price decline for the full year is likely to be less than 10 per cent," said Martin Wong, director and head of research and consultancy for Greater China at Knight Frank.
He added that measures announced by Hong Kong Chief Executive John Lee Ka-chiu to boost the property market, including a refund of the extra stamp duty for eligible non-locals, "would have very limited impact on property prices".
Meanwhile, rents rose for the fifth consecutive month in September, up 0.16 per cent month on month.
Midland's Lau said the trend reflected Hongkongers' preference to rent homes amid economic uncertainties.