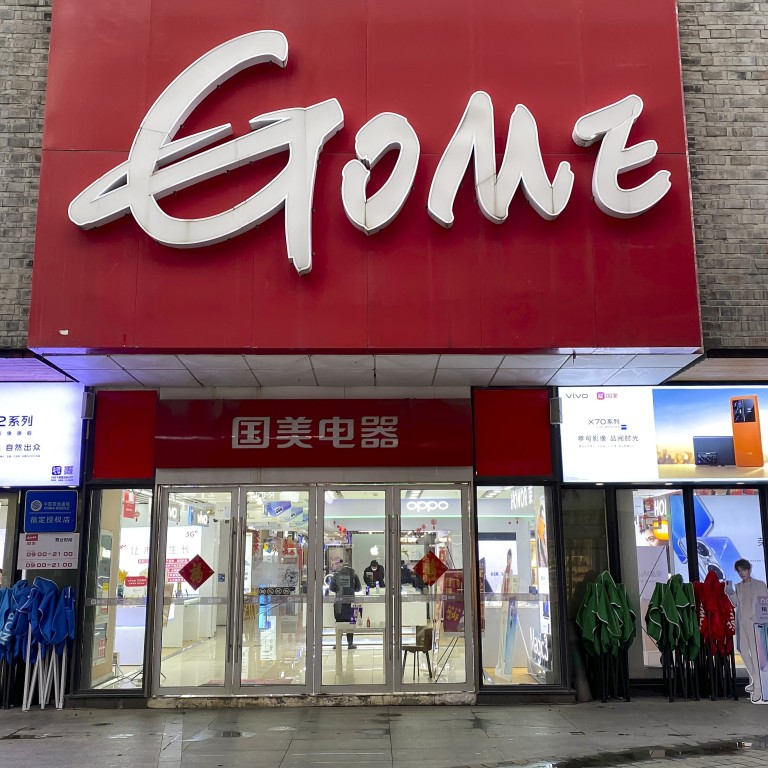 Chinese electronics retailer Gome's stock rises despite media reports that it has suspended staff pay
The stock dropped 3.88 per cent on Wednesday following speculation on Chinese social media about the pay cuts
Company released a profit warning on October 28 saying its sales revenue for the first three quarters of 2022 had declined by about 55 to 60 per cent
Gome Retail Holdings
, one of China's largest electronics retailers, which is said to have suspended staff payments and is seeking a debt restructuring, saw its shares rise in Hong Kong
on Friday
.
The stock closed 1.61 per cent higher at HK$0.126. On Thursday, its shares closed at HK$0.124, dropping 3.88 per cent following speculation on Chinese social media about the pay cuts.
Staff were asked to sign a letter acknowledging the suspension of pay, photos of which have been circulated online. "Since October 2022, I understand the company may suspend salary payment in the following six months to a year, and I am ready to go through [this] difficult time with the company," a photo circulating online shows.
Both Gome Retail and parent firm Gome Holdings Group did not respond to requests for comment on Friday.
Huang Xiuhong, an executive director at Gome Retail, told staff during an internal meeting on October 28 that the company would not pay their salaries until the end of December, some Chinese media reported on Thursday and Friday.
The company also released a profit warning on October 28 and said that the group's sales revenue for the first three quarters of 2022 had declined by about 55 to 60 per cent compared with the same period last year, due to a complex and
volatile consumer market environment
created by the coronavirus pandemic.
"Accordingly, the group's results for the full year of 2022 are expected to decline significantly, as compared with the previous year," the announcement said.
As of the end of June, Gome Retail's revenue had decreased 53.46 per cent year on year to 12.1 billion yuan (US$1.6 billion), while losses attributable to owners of Gome Holdings Group amounted to 2.97 billion yuan, 50.24 per cent more than the amount last year, according to an interim report by Gome Retail.
The retailer is seeking financing opportunities with a Xiamen-based enterprise to support its operations, Chinese media outlet Yicai reported on Friday without providing details of the deal.
Two months ago, the company was reportedly facing issues paying contracted businesses and had downsized its staffing levels. A spokesperson said in late September that Gome had hit some bottlenecks in its "transformation" process, and had made some temporary and emergency adjustments to salary payments to ensure continuity of operations.
The spokesperson said this was a "short-term" move and that the company would immediately pay off salaries owed to employees and compensate those who had quit the firm, once business became positive. The company, however, did not exclude the possibility of further staff reductions, they said.