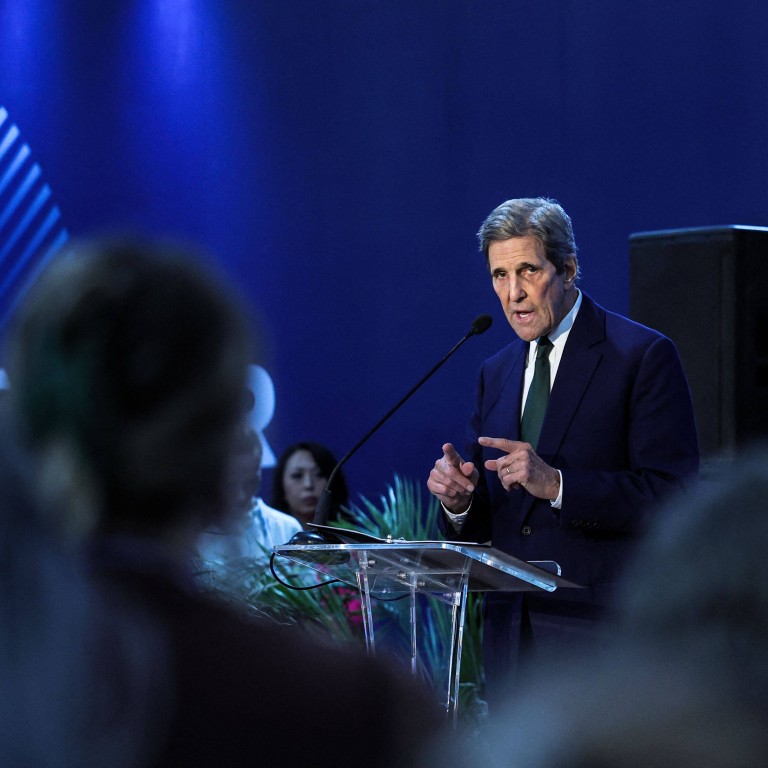 COP27: John Kerry calls on private sector to lead decarbonisation efforts, keep goal of 1.5 degrees 'alive'
We have the enormous challenge of harnessing the private sector and entrepreneurs, former US secretary of state tells First Movers Coalition event
Tackling climate change 'increasingly in the hands of the private sector', he says
John Kerry, a former US secretary of state and now the special presidential envoy for climate, has called for the private sector to lead global decarbonisation efforts and keep alive the goal of limiting temperature increases within a
key global warming threshold of 1.5 degrees Celsius
.
"If we're going to keep 1.5 degrees alive – and that is our goal – we have an enormous challenge ahead of us to bring to scale new technologies, and to harness the deeply capable capacity of the private sector and entrepreneurs, to bring them to the table," Kerry told the First Movers Coalition leaders event at the Climate Action Innovation Zone of the 27th UN Climate Change Conference (COP27) in Sharm el-Sheikh, Egypt on Tuesday.
"Without it, no government has enough money to accelerate to support the process. We need everybody engaged in this."
Kerry said the coalition, launched at last year's climate summit in Glasgow by US President Joe Biden and the World Economic Forum, should "bring the private sector to the table … to accelerate almost every aspect of what we are doing".
Nearly 100 heads of state and government are meeting for two days starting Monday in the Red Sea resort, amid calls to deepen carbon emissions cuts and to financially back developing countries already devastated by the effects of rising temperatures.
Antonio Guterres, Secretary-General of the United Nations,
warned world leaders on Monday
that humanity faces a stark choice between working together or "collective suicide" in the battle against climate change.
The First Movers Coalition is a global initiative that aims to harness the purchasing power of companies to decarbonise seven "hard to abate" industrial sectors – aluminium, aviation, chemicals, concrete, shipping, steel and trucking – that account for about 30 per cent of global emissions.
About 65 global companies, including the likes of Orsted, Volvo, Microsoft and General Motors (GM), as well as nine countries, have joined the coalition since its establishment as part of efforts to invest in and scale green technologies by 2030 to make critical contributions towards achieving net-zero emissions by 2050.
Such "companies with major impact on shareholders and stockholders around the world, with major impact on Wall Street … and the whole investment chain, they're setting an example that other people will have a hard time ignoring. And we will get there because the marketplace itself is making these decisions", Kerry said.
"Do you think that if Ford, [GM] and Volvo and others have spent billions of dollars retooling their plants to produce electric [vehicles] today, that suddenly tomorrow they're going to change and go backwards?
"No politician, no election can change the full direction of this, because it is increasingly in the hands of the private sector. So have confidence," Kerry told the event.
He did not comment on talks with Xie Zhenhua, his Chinese counterpart, nor did he mention potential collaborations with China.
China will continue to actively participate in international efforts and negotiations on climate change, Foreign Minister Wang Yi said at a virtual meeting with Csaba Korosi, the president of 77th Session of the UN General Assembly on Monday, according to a statement by China's Ministry of Foreign Affairs.
China will also provide help to developing countries within its capacity, and make positive contributions towards the success of COP27, Wang said. "We will unswervingly follow the path to green, low-carbon and sustainable development," he added.
Korosi said the UN looked forward to strengthening cooperation with China to promote COP27 and tackle climate change, according to the statement.
Xie,
China's top climate diplomat
, called on wealthy nations to offer more support for developing countries that have the most to lose from climate change in comments made at the start of the event on Monday.
He said he hoped this year's summit would address the needs of developing countries in the areas of emissions reductions, financing, adaptation and capacity building, and that there would be progress in addressing their losses because of climate change.