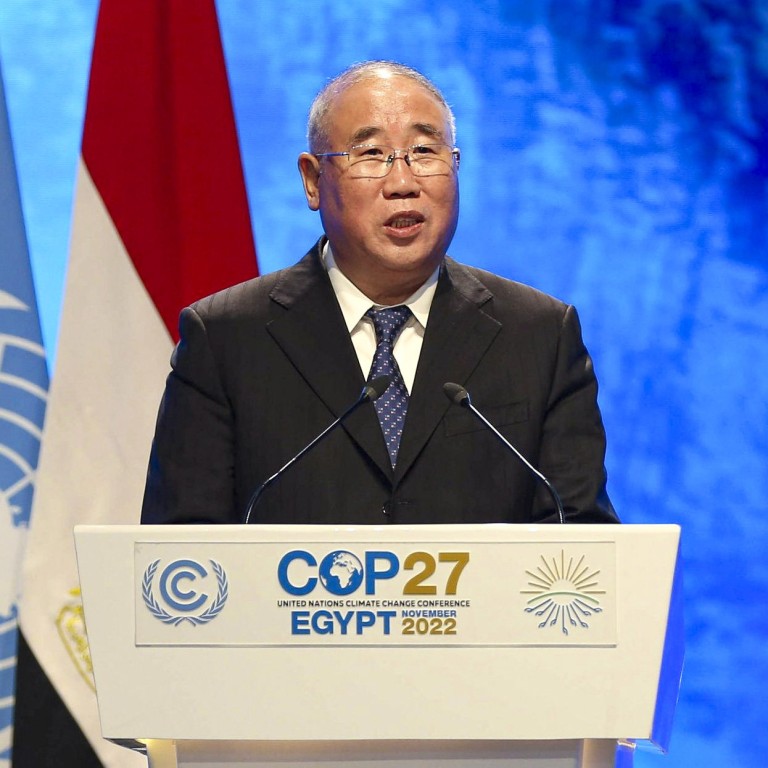 COP27: Top climate envoy says Beijing committed to carbon neutrality
China will steadfastly deliver on its carbon neutrality goal, top climate diplomat Xie Zhenhua tells summit
Developed nations must redouble decarbonisation efforts, bring forward target dates for carbon neutrality, and provide extra funds to help developing nations, envoy says
Xie, Beijing's special envoy for climate change, called on developed nations to lead by redoubling their decarbonisation efforts, bringing forward substantially their target dates for reaching carbon neutrality, and providing extra funds and delivering on their promise to provide US$100 billion of financing help to developing countries.
China has pledged that its carbon emissions will peak before 2030 and that it will become carbon neutral by 2060. Most developed nations such as the United States and European Union members have agreed to do so by 2050. India aims to do so by 2070.
Carbon neutral means residual emissions after extensive decarbonisation efforts will be fully offset by carbon dioxide captured and stored away safely. This can be achieved either naturally, such as by planting trees, or artificially by facilities that suck up, transport and store the gas in underground caverns.
Emerging economies such as Pakistan, which are minor contributors to global greenhouse gas emissions historically but have suffered disproportionately as a result of these emissions, have called on rich nations to help pay for losses and damages caused by climate change. These countries want help with funding infrastructure projects to cope with extreme climate events.
"We call on all sides to deliver on their promises and shoulder their responsibilities to deliver on the Paris climate agreement," Xie said. "We hope developed nations will fulfil their pledge to provide US$100 billion [annually] and provide a road map to double adaptation finance, in order to foster mutual trust between the richer industrialised nations of the north and the developing nations in the south."
Emerging economies will need between US$160 billion and US$340 billion annually by 2030 for areas such as agriculture, water supply, flood prevention and ecosystems, the UN Environment Programme projected in a report published last Thursday. This requirement rises to between US$315 billion and US$565 billion by 2050.
Only US$28.6 billion of such funding was provided in 2020. Last year, developed countries agreed to lift that to US$40 billion a year by 2025.
Combined with funding for greenhouse gas reduction projects, total climate finance flowing from developed to developing nations amounted to US$83.2 billion in 2020, well short of the US$100 billion promise made in 2009.
During a two-day climate implementation summit that concluded on Tuesday, a joint call was made for concessional finance to be based on a climate vulnerability basis rather than on an income capacity basis, Egypt's President Abdel-Fattah El-Sisi said in a statement.
On the same day, UN Secretary-General Antonio Guterres called on governments and businesses to ensure their net-zero emission targets are stringent enough to be aligned with the Paris Agreement's goal of containing global warming to 1.5 degrees Celsius.
That means global emissions must decline by at least 45 per cent by 2030 – and reach net zero by 2050. "A growing number of governments and non-state actors are pledging to be carbon-free – and that's good news," Guterres said.
"The problem is that the criteria and benchmarks for these net-zero commitments have varying levels of rigour and loopholes wide enough to drive a diesel truck through. We must have zero tolerance for net-zero greenwashing."
Greenwashing refers to sustainability benefit claims without clear and agreed definitions of sustainable investment, which could sometimes lead to a false impression of the overall benefits.
Pledges should have interim targets every five years starting in 2025, and these targets must cover all greenhouse gas emissions and all scopes of emissions, Guterres said.