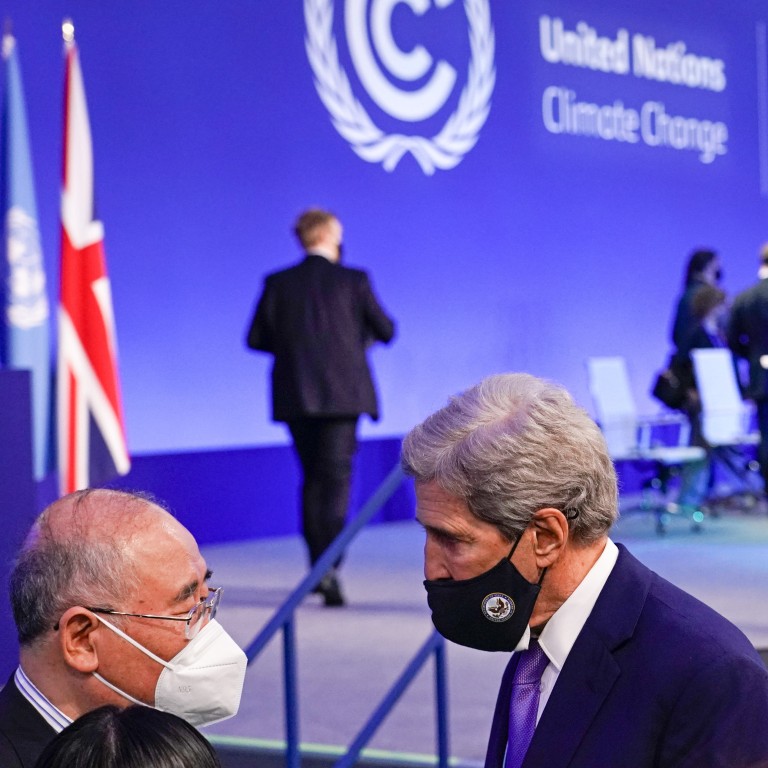 COP27: top Chinese and US climate envoys hold informal talks, potentially setting stage for Biden-Xi meeting during G20 summit in Bali
Xie Zhenhua is a friend of mine, certainly ready to negotiate, John Kerry tells COP27
China and US are working to arrange talks between Joe Biden and Xi Jinping during the two-day Group of 20 summit in Bali, which starts on November 15
The top climate envoys of China and the United States have held informal talks on climate cooperation, in a sign that tentative steps are being taken to pave the way for negotiations by the top leaders of the world's two largest greenhouse gas emitters later this month.
"We've had some informal talks, but we are not in any formal negotiations at this point in time," US Special Presidential Envoy for Climate Change John Kerry told the Bloomberg Green summit held during the COP27 global climate talks in Egypt on Wednesday, referring to discussions this week with
Xie Zhenhua, his Chinese counterpart
.
"Xie Zhenhua is genuinely a friend of mine … I certainly stand ready to negotiate. As we've said, climate crisis is not a bilateral issue," he said.
China and the US are working to arrange talks between President Joe Biden and President Xi Jinping during the two-day Group of 20 summit in Bali, which starts on November 15, the South China Morning Post has learned. COP27 is expected to close on November 18.
"We were poised to deploy a major negotiating session doing something for [COP27], and that did get interrupted by [Speaker of the US House of Representatives Nancy Pelosi's] trip to Taiwan," Kerry said. "We'll see what happens in the next few days."
Climate talks
between China and the US on topics including methane emissions have been suspended since August, after Pelosi's visit to Taiwan infuriated Beijing, which regards Taiwan as a renegade province.
Before the talks were suspended, the two countries were looking at exploring ways to turn into concrete action collaboration intentions set out a year ago in a joint declaration during the COP26 summit in Glasgow. The declaration calls for cooperation on reducing emissions, including the potent greenhouse gas methane that is often released in agriculture and coal mining; eliminating deforestation; improving technology and information exchanges; and accelerating the use of renewable energy.
Pelosi's visit had "hurt the Chinese people's feelings", Xie said on Wednesday, noting that informal discussions with US climate officials had continued.
"The door was absolutely closed by [the US]," Reuters quoted Xie as saying at COP27. "It is we, China, who are trying to keep it open."
The world will be unable to reach the Paris Agreement's target of limiting global warming to 1.5 degrees Celsius by 2100 without China, Kerry said. The world has already warmed by 1.1 degrees since the 1850s, just before industrialisation began, scientists have said.
"We need China to move faster," he said, while acknowledging that China had already contributed a lot by producing more renewable energy, and manufacturing more renewable energy equipment than any other country in the world. "But they're a huge country with a huge amount of coal, and they need to do more … We need China at the table."
Beijing, meanwhile, said it would support a global mechanism for compensating developing nations that have suffered disproportionally from climate change compared to their historical greenhouse gas emissions.
"We strongly support claims from developing countries, especially the most vulnerable countries … because China is also a developing country, and we have also suffered a lot from extreme weather events," Xie said. "It is not the obligation of China, but we are willing to make our contribution and to make an effort."
A spokesperson from the Chinese delegation later said that China would not contribute financially, Reuters reported. During their informal talks, Kerry had not raised the issue that China should contribute financially to the mechanism, it quoted Xie as saying.
Emerging economies will need between US$160 billion and US$340 billion annually by 2030 for areas such as agriculture, water supply, flood prevention and ecosystems, the UN Environment Programme projected in a report published last Thursday. This requirement rises to between US$315 billion and US$565 billion by 2050.
Only US$28.6 billion of such funding was provided in 2020. Last year, developed countries agreed to lift that to US$40 billion a year by 2025.
Combined with funding for greenhouse gas reduction projects, total climate finance flowing from developed to developing nations amounted to US$83.2 billion in 2020, well short of the US$100 billion promise made in 2009.