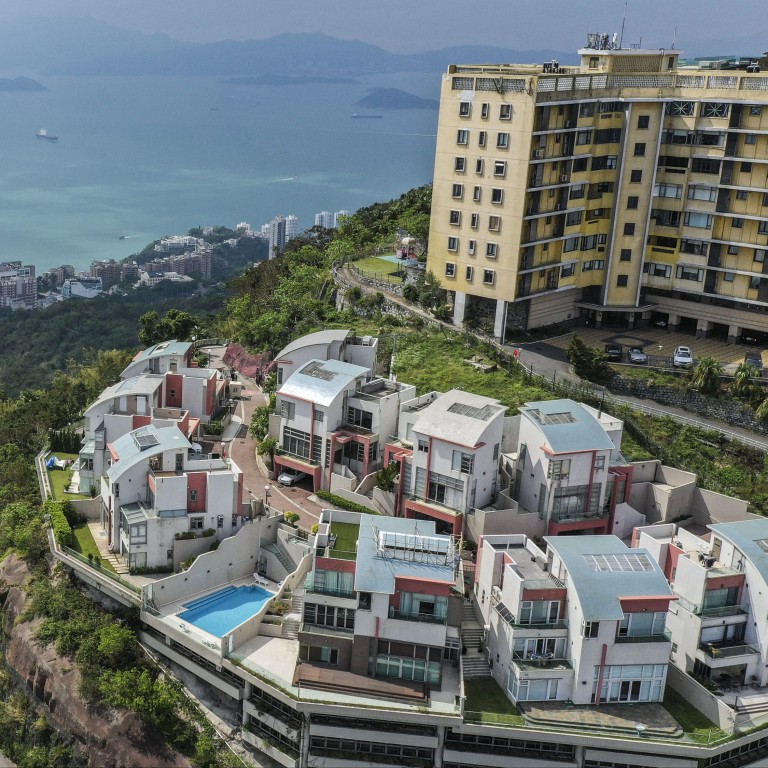 Luxury home sales in Hong Kong expected to hit a 9-year low in 2022 amid rising interest rates and pandemic effects, Centaline says
Only 1,800 new and used homes worth more than HK$20 million are expected to be sold this year, according to forecast
Analysts say the luxury property market in the city has been hit by a double whammy of US interest rate hikes and negative pandemic effects
Luxury home sales in Hong Kong have not been spared the effects of a slumping property market, with the number of transactions expected to hit a nine-year low in 2022 amid rising interest rates and a negative impact from the pandemic.
Only 1,800 new and used homes worth more than HK$20 million (US$2.55 million) are expected to be sold this year, the lowest number since 1,430 in 2013, according to a forecast by Centaline Property Agency. The agency also estimated that luxury home sales will total HK$100 billion this year, the lowest since HK$96.81 billion in 2014.
"This reflects the impact of the pandemic and continued US interest rate hikes, which have hindered fund inflows," said Wong Leung-sing, senior associate director of research at Centaline Property Agency. "Coupled with a correction of the Hong Kong property market, buyers have been cautious entering the market, resulting in significantly weaker sentiment in the luxury property market."
The number of luxury property transactions fell 59.7 per cent in the first 10 months year on year to 1,570. New luxury homes saw a 71.6 per cent drop in the same period to 534 transactions due to limited supply.
The most notable new luxury home sale recently was news that the office of Beijing's national security arm in Hong Kong had spent a record HK$508 million on a villa in Kowloon Tong.
The national security office bought the three-storey Villa No 1 in Mont Rouge – which measures 7,171 sq ft with five bedrooms, a rooftop, a garden and three parking spaces – from Kerry Properties last month, according to official documents.
The price tag, which works out at HK$70,841 per square foot, is the highest for a new villa in Kowloon, according to market experts.
Meanwhile, The Centa-City Leading Index, a gauge of lived-in homes compiled by Centaline, fell 2 per cent to 164.91 for the week ending October 30, the lowest level since December 2017 and the biggest drop since March 2016. It fell another 0.1 per cent for the week ending November 6.
The index has lost nearly 14 per cent since its peak in early August 2021, and Centaline expects it to fall a further 2.9 per cent by the end of November.
For the luxury Peak and Southern district, Centaline expects home prices to slide 3 to 5 per cent in the fourth quarter alone as homeowners settle for bigger discounts.
Goldman Sachs has forecast a 30 per cent decline in overall home prices in the city over two years, while DBS expects a 5 per cent drop in 2023. Morgan Stanley, HSBC, JLL and Colliers also predict lower prices.
With sluggish housing market turnover, and a continuous slide in home prices, the number of mortgage insurance deals has fallen across the board, said Eric Tso, chief vice-president at mReferral Mortgage Brokerage Services.
With the Mortgage Insurance Programme providing mortgage insurance to banks, banks can provide mortgage loans to customers with higher loan-to-value ratios, without incurring additional credit risk.
But the number of new mortgage insurance loans approved in October and the total value, have both slumped for five consecutive months and reached an eight-month low in October, according to data from mReferral and The Hong Kong Mortgage Corporation.
"Amid the upcycle in interest rates, future mortgage interest expenses and stress tests will increase," said Tso. "The housing mortgage market is expected to continue the slide this quarter. Annual mortgage insurance deals will drop by more than 20 per cent year-on-year."
Additional reporting by Salina Li