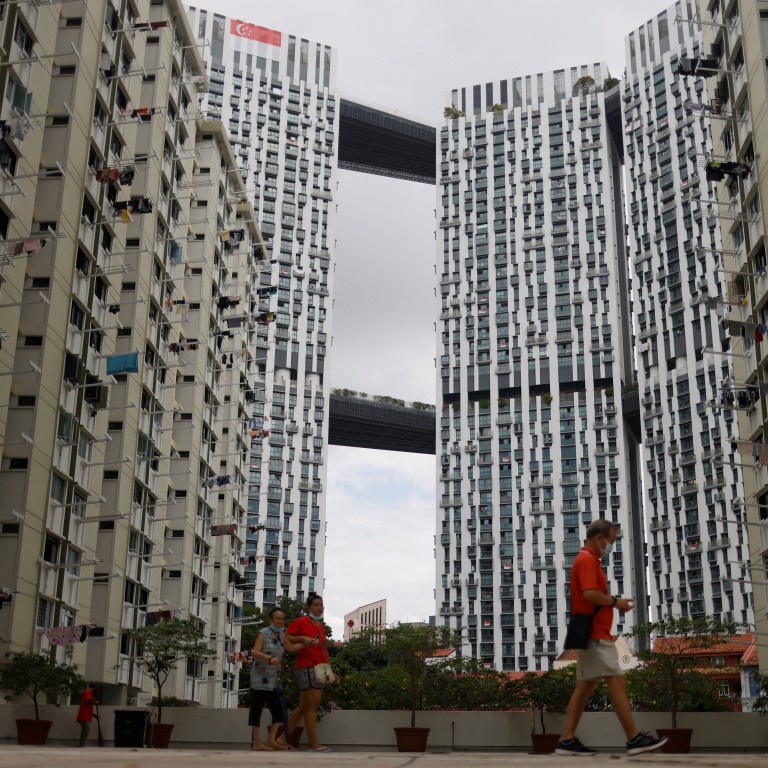 Singapore new-home sales plunge to two-year low as cooling measures kick in while analysts expect prices to soften
Developers sold 312 new homes in Singapore in October, down 68.4 per cent from 987 in September, according to the Urban Redevelopment Authority
Wait-and-see approach among buyers in wake of new cooling measures should lead to price softening, analysts say
Sales of new private homes in Singapore in October dropped to the lowest level in more than two years as property cooling measures introduced in September and a lack of new launches sidelined buyers, according to analysts.
Developers sold 312 new homes in the city in October, down 68.4 per cent from 987 in September, according to official figures from the Urban Redevelopment Authority. It was the lowest monthly sales total since April 2020 when 277 units were sold, and a 65.8 per cent decline from a year ago.
Prices, however, have remained firm so far, recording a 3.8 per cent increase in the third quarter following a 3.5 per cent rise in the previous one, according to property agency One Global Group. In the first nine months of the year, prices have climbed by 8.2 per cent.
The lull in the market is likely to provide an impetus for foreign investors to buy homes in Southeast Asia's main financial and business hub, according to Wong Siew Ying, head of research and content at Singapore-listed PropNex Realty.
The decline in sales is also likely to impact home prices in the coming months, which could make it a good time for
foreign homebuyers
to start scouting for potential acquisitions, said Mohan Sandrasegeran, senior analyst, research and content creation at One Global Group.
"The September cooling measures and low unsold inventory in the market delivered a one-two punch to new home sales in October, as the monthly transaction volume retreated to its lowest since April 2020, when the circuit breaker was first imposed to curb the spread of Covid-19," Wong said.
The pattern matches previous rounds of cooling measures and indicates that buyers likely deferred their property purchases to monitor the measures' impact on the market before buying, Wong added.
The government's new cooling measures include raising the medium-term interest rate, which is used in the computation of the loan amounts borrowers can get under a framework for residential property purchases, from 3.5 per cent to 4.5 per cent. The government also introduced a requirement that private homeowners wait 15 months following the sale of a private property before they can buy a resale flat from the government's Housing and Development Board (HDB). In addition, the HDB decreased the loan-to-value limit from 85 per cent to 80 per cent and introduced a new interest rate floor of 3 per cent for the computation of loan amounts for home loans granted by the HDB.
"It may be an opportune time for investors to enter the market, potentially taking advantage of the sense of apprehension among buyers and sellers in the wake of new cooling measures being introduced," Wong said. "The initial moderation in buying interest due to buyers taking a wait-and-see approach may encourage developers and sellers in the resale market to hold off on raising prices."
So far this year,
Hong Kong-based buyers
have bought 24 private homes in Singapore, according to Alan Cheong, executive director, research and consultancy, at Savills in Singapore. Only two such purchases were recorded in October, he added.
Singapore raised the additional buyer's stamp duty for foreigners from 20 per cent to 30 per cent in December 2021, Cheong said, so foreign investors looking to buy "should not be those looking for a quick speculative gain".
"This group of people should therefore be those who have enough investible funds to be dedicated to real estate to diversify their portfolio across countries," he said.
One Global's Sandrasegeran, however, believes that the impact of the latest cooling measures will be felt in coming months.
"As the cooling measures were only recently announced in late September, we would likely only start observing the true impact of these regulations in the upcoming quarters," he said. "We can expect a softening of overall private property prices. Hence, we can expect the velocity of the overall property price growth to moderate and will likely be inching close to 10 to 11 per cent for the entire year in 2022."