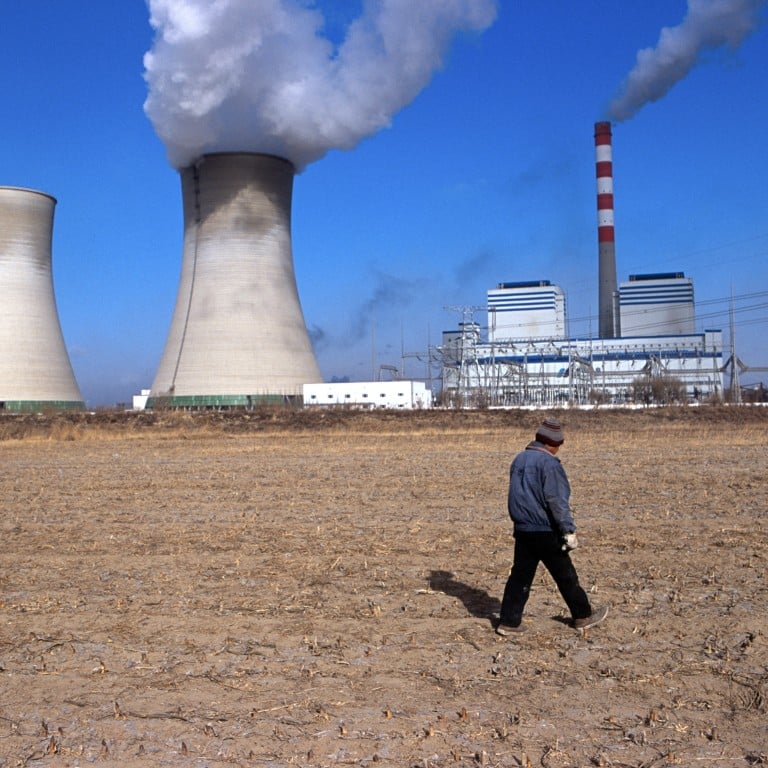 Climate change: Why green hydrogen is a long way off replacing fossil fuels in power plants
Even though its potential as a clean energy has been well known in the sector for many years, mass commercialisation has yet to happen
It will need to overcome technical complexities, supply chain risks and high costs to meet global climate goals, say experts
Green hydrogen, a promising energy for replacing fossil-fuelled power plants, will need to overcome technical complexities, supply chain risks and high costs to meet global climate goals, according to experts.
Despite the fact
its potential as a clean energy
– through direct combustion – has been well known to the power sector for many years, mass commercialisation has yet to happen.
"At the moment there is no economic benefit to
shift to hydrogen
, but policies will drive this change," said Kevin Snowdon, Asia director of risk and analytics at insurance consultancy WTW.
Increasing global efforts to fight climate change through policies that incentivise
greener energy production
will see hydrogen gradually replace natural gas in power stations, he said.
Last year power plants accounted for 40 per cent of global energy-related emissions, according to the International Energy Agency. China contributed nearly all of the global increase in electricity and heat sector emissions between 2019 and last year.
The industry already has the capability to upgrade equipment so that power stations can run on 30 per cent hydrogen, 70 per cent natural gas commercially, Snowdon said.
To get to 100 per cent hydrogen, it may take another five years for pilot plants to prove it is safe and efficient to run before power utilities, their lenders and insurers will be comfortable financing mass adoption, he added.
So-called green hydrogen
is already being produced internationally at pilot facilities that split water into hydrogen and oxygen using renewable energy.
Major equipment makers have for years been producing gas turbines that can burn a small amount of hydrogen together with natural gas.
The American giant GE, for example, said it has produced more than 100 such gas turbines that are now deployed around the world.
"The large turbine manufacturers have now seen a massive market to switch out [natural gas] for hydrogen, and are going through a fast track technology development programme to ... convert to hydrogen use," Snowdon said.
In April, GE said it had successfully tested the US's first gas-to-hydrogen power plant retrofitting project. Located in Ohio, it blends 15 to 20 per cent hydrogen into the fuel mix, expandable to 100 per cent over time.
Germany's Siemens is supplying equipment to several power stations under construction that will be partially or fully hydrogen-fired, including one in Lombardy, Italy, which can operate with up to 30 per cent hydrogen when completed in 2025.
In June, Japan's Mitsubishi conducted a successful test on a 20 per cent hydrogen, 80 per cent natural gas fuel blend at a client's retrofitted power plant in Georgia, US. Mitsubishi said this can reduce carbon emissions by 7 per cent compared to natural gas.
In China, hydrogen use in power plants is almost non-existent. Steps are being taken to pave way for its use, with multiple pilot plants being built.
In Hong Kong, electricity provider CLP Power is working with GE to develop a decarbonisation road map for using hydrogen at its gas-fired power generation facilities.
Last month, Singapore's government outlined a strategy that could see hydrogen meet up to half its projected electricity demand by 2050.
Around 87 per cent of Singapore's power generation capacity is fired by natural gas, said S&P Global's Asia hydrogen analyst Ankit Sachan.
However, for the transition to happen, engineers have to contend with a difference in the combustion characteristics of hydrogen and natural gas.
It means they need to evaluate the design of burners and the materials used to build them, to ensure safe operations.
Environmental impact is another concern.
"The widely claimed benefit that only water is released as a product is only accurate when it is used in fuel cells," said a research paper by the UK's Royal Society of Chemistry last year. "The burning of hydrogen can lead to the formation of nitrogen oxides."
Nitrogen oxides are air pollutants involved in the formation of acid rain, fine particulate matter and ozone.
Minimising them can be achieved by controlling combustion conditions in boilers and engines, but this could result in lower power output, the paper said.
While post-combustion removal is possible, costs and design complexity need to considered, it added.
The need to mass-produce hydrogen, transportation and storage facilities to allow for the sufficient, reliable and affordable supply of the fuel is another challenge.
"The reason why it is difficult to go from natural gas to hydrogen is that all these challenges really contribute to supply chain risks," Snowdon said.