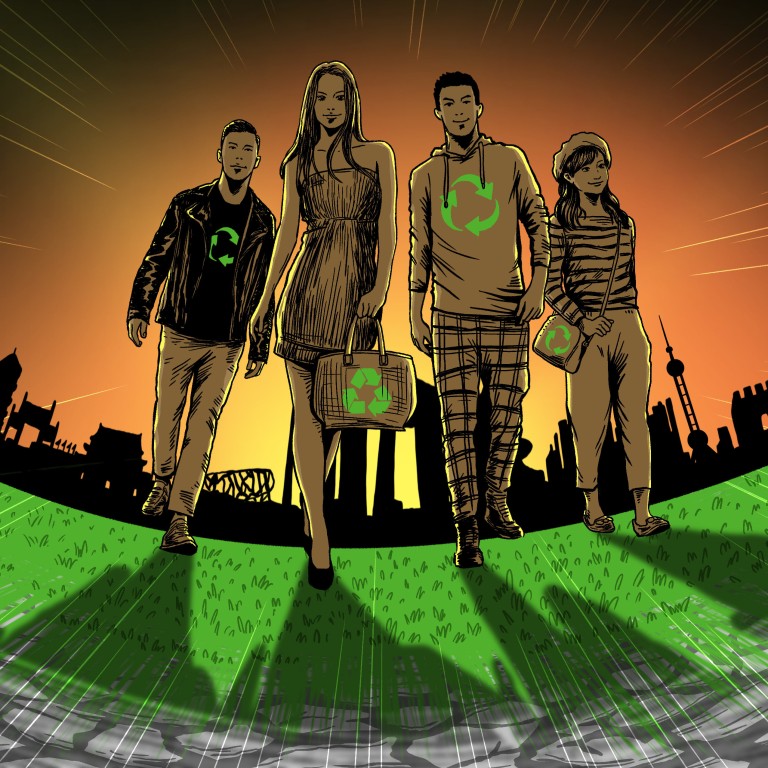 China's fashion industry struts its stuff for sustainability: can small players match Uniqlo, Nike in going green?
Environmentally friendly innovations are bubbling up in China's fashion industry, such as a synthetic leather made from beer-brewing waste
But sustainability efforts are fragmented, and insiders say more coordination is needed to ensure progress toward climate-change targets
Shanghai Fashion Week is China's biggest fashion gala, a chance for domestic designers and brands to showcase their latest collections and spark off trends.
But this year, some catwalk shows during the autumn event were about more than the new looks adorning the models.
At a quiet garden hidden in the city's busy Xuhui District, Karen Du, the head of Shanghai-based R.I.S.E. Lab, an organisation dedicated to sustainable fashion, delivered a speech to around 100 well-dressed guests who were gathered to watch a fashion show.
"Climate change is an overwhelming and heavy topic, but if we don't take it seriously, the
summer we had this year
will be the coolest in the future," she said. "Today, we want to present a different way to deal with climate change. It is not distant or heavy, but something that can be light, beautiful and inspiring."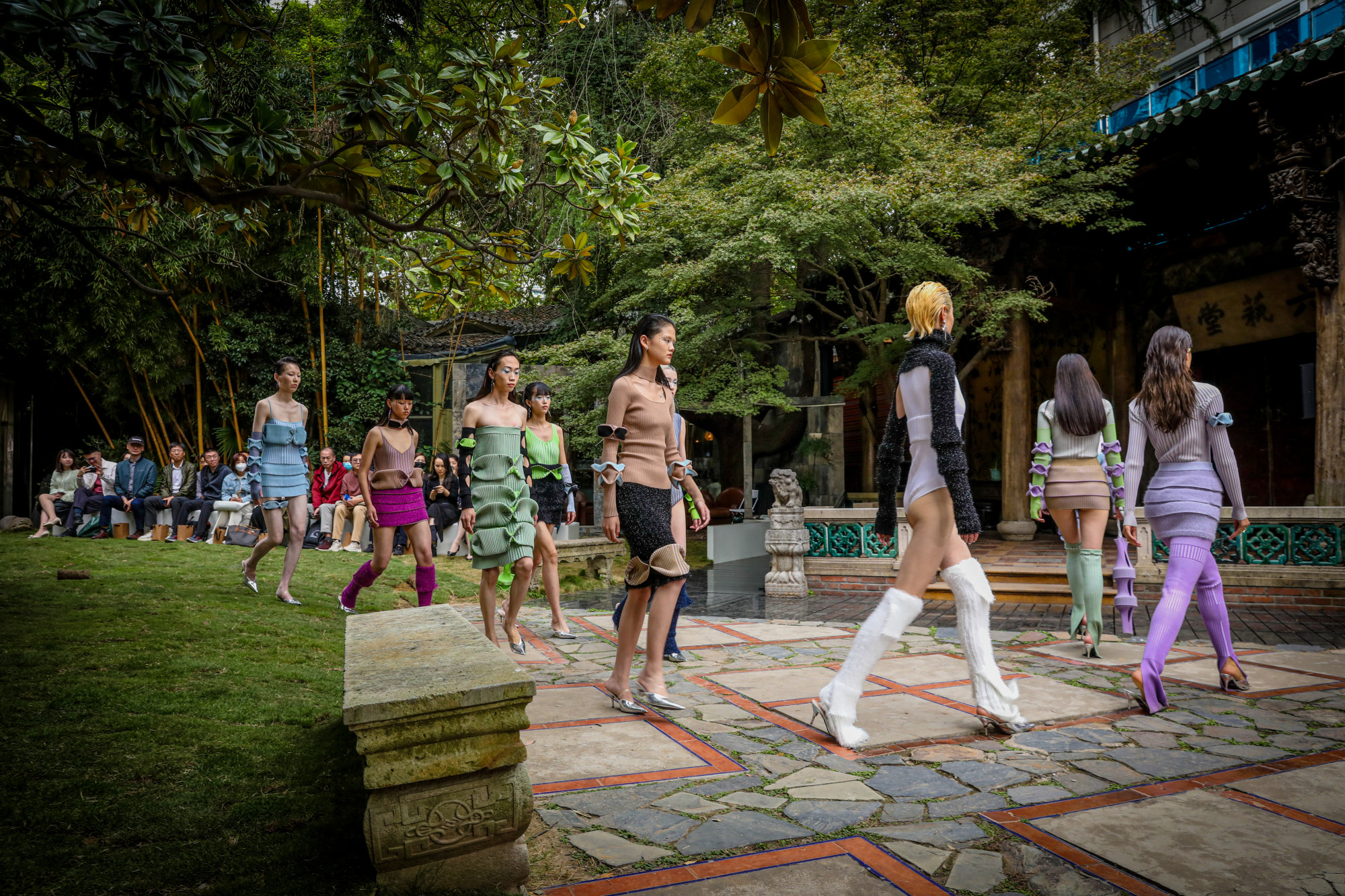 The show that followed featured striking designs from three young Chinese designers from prestigious fashion institutes including Central Saint Martins and the Royal College of Art. All of the clothes had one thing in common: they were made with Vegatex, a vegan leather derived from beer residue provided by Budweiser Brewing Company APAC, the Asia-Pacific arm of AB InBev, the world's largest brewer.
Vegatex, made by a Shanghai start-up of the same name, is billed as the world's first barley-based leather. By-products from the brewing process account for 30 per cent of the material's composition, replacing petroleum-based chemicals normally used in synthetic leathers. The production process is also pollution-free, and the material is odourless and free of harmful substances, according to the company.
The collaboration between Budweiser and Vegatex is just one example of how China is catching up to its Western peers as a laboratory for creating a greener and cleaner fashion value chain. However, sustainable fashion to date is far from the mainstream force it needs to be to help China – and the world – meet the climate-change challenge.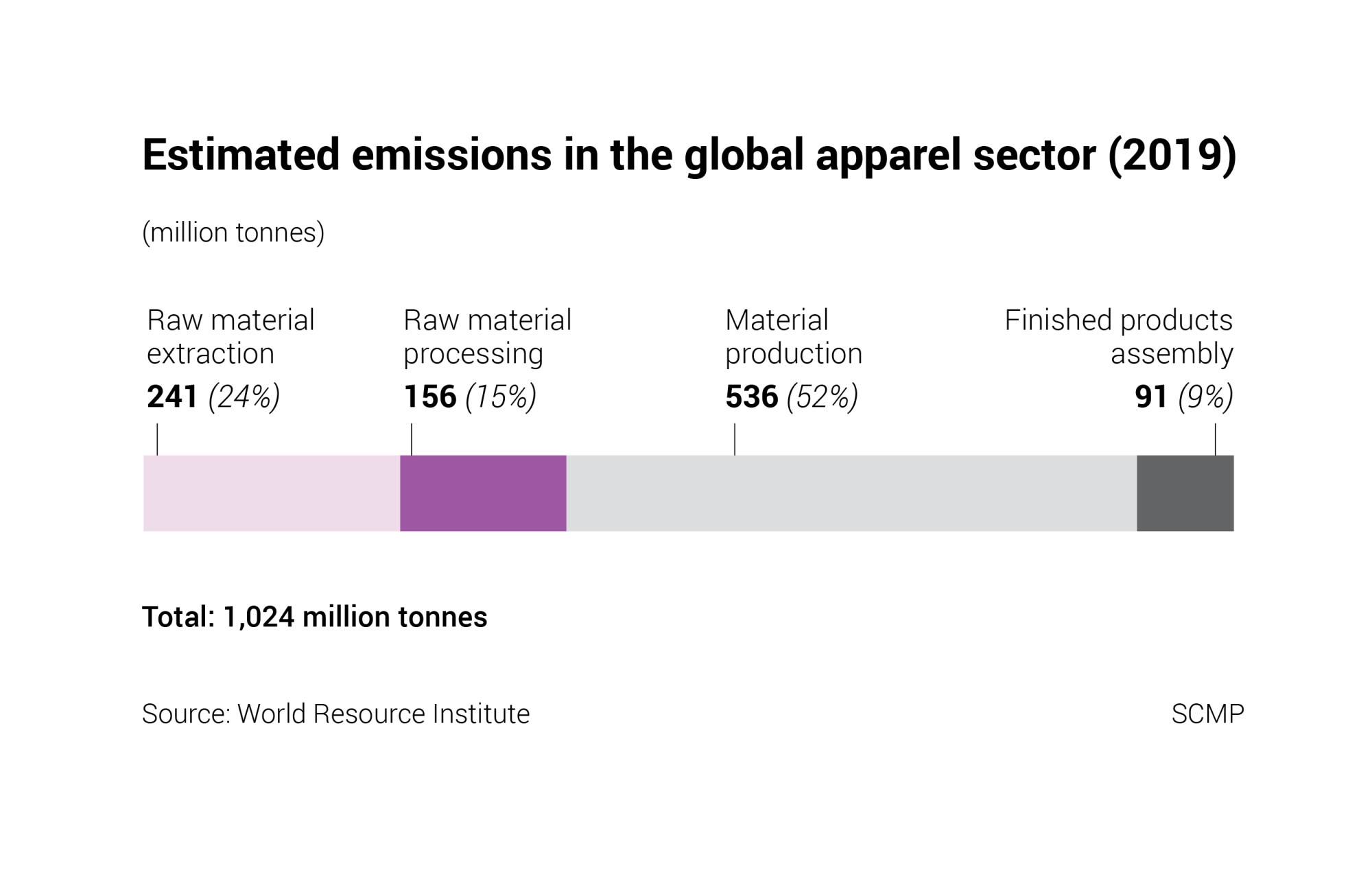 Globally, the fashion sector emitted 2.1 billion tons of greenhouse gases in 2018. That equates to about 4 per cent of the global total, or the same quantity of greenhouse gases emitted per year by France, Germany, and the United Kingdom combined, according to McKinsey research.
If the fashion industry continues on its current trajectory, it will fall 50 per cent short of the decarbonisation target it must hit to help limit global warming to 1.5 degrees Celsius by mid-century, the United Nations Environment Programme said during the COP27 climate summit in Egypt this month.
China's textile, garment, and apparel industries consumed energy equivalent to 88.42 million tons of standard coal in 2019, accounting for 1.8 per cent of the country's total energy consumption the same year, according to the National Bureau of Statistics.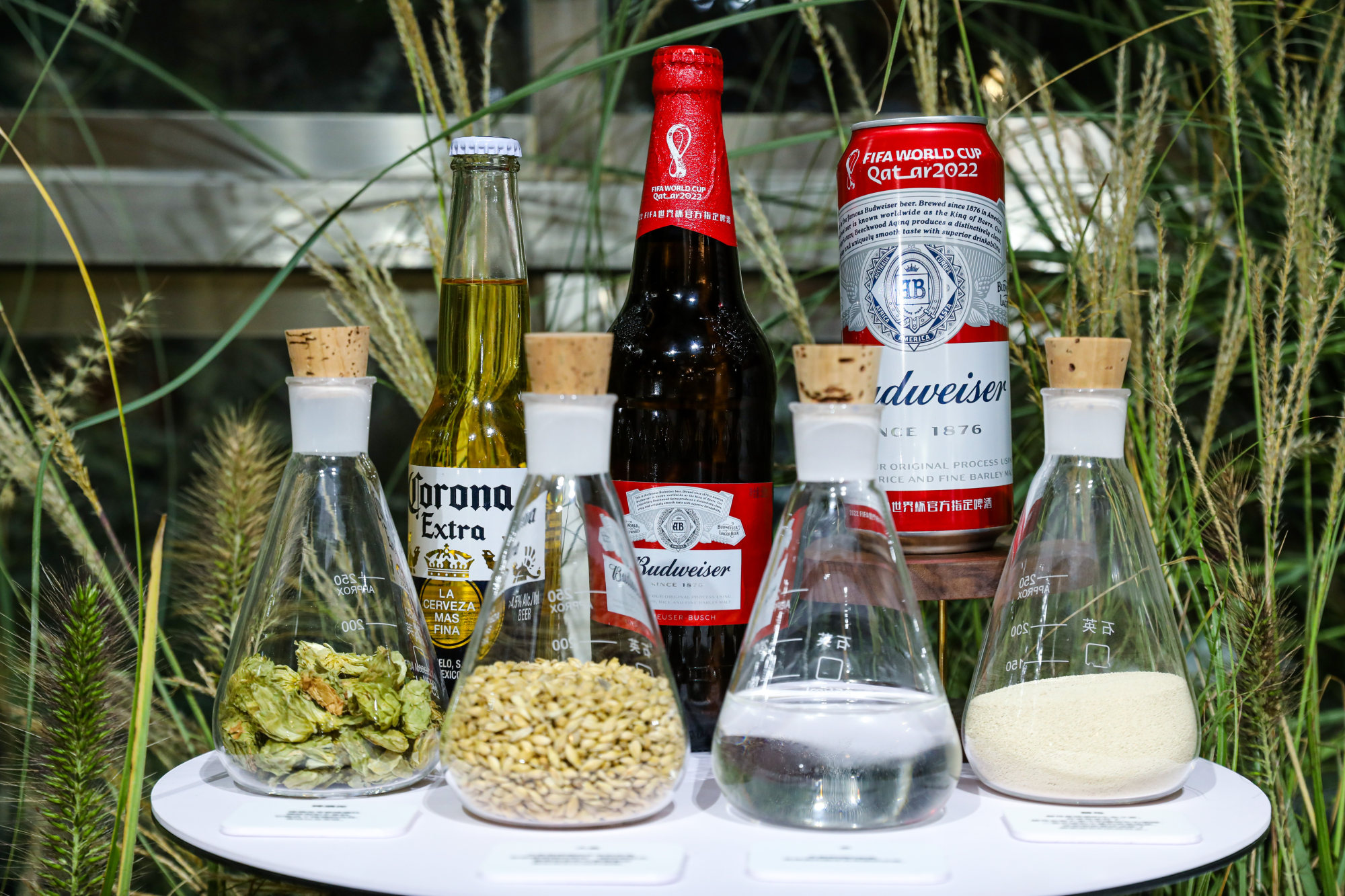 When it comes to carbon emissions, the textile industry ranked sixth among 31 subdivisions of the manufacturing sector in 2019, according to the China National Textile and Apparel Council. The chemical fibre manufacturing industry ranked 15th, and the garment and apparel industry ranked 22nd.
Meanwhile, less than 1 per cent of post-consumption fashion items in China get recycled, with many used clothing items sent to landfills, incinerators, or waste-to-energy facilities, according to state news agency Xinhua.
The Chinese government, well aware of the industry's contribution to climate change, in April issued an implementation plan that aims to increase the recycling rate of textile waste from 20 per cent to 30 per cent and to produce 3 million tonnes of recycled fibre a year by 2030. It also plans to develop a "more comprehensive" recycling mechanism and launch campaigns to raise awareness of recycling among consumers and producers.
China's latest five-year development plan for the textile industry, which was released last year, includes energy conservation and carbon-emissions targets that textile manufacturers must meet by 2025. It also highlights recycling and environmentally friendly materials as priorities for the sector to support China's
2060 carbon neutral goal
.
"Since the Chinese government announced its official carbon-neutral goals, there is growing interest from more companies around the concept of sustainability," said Jan Clysner, vice-president of sustainability and procurement at Budweiser APAC.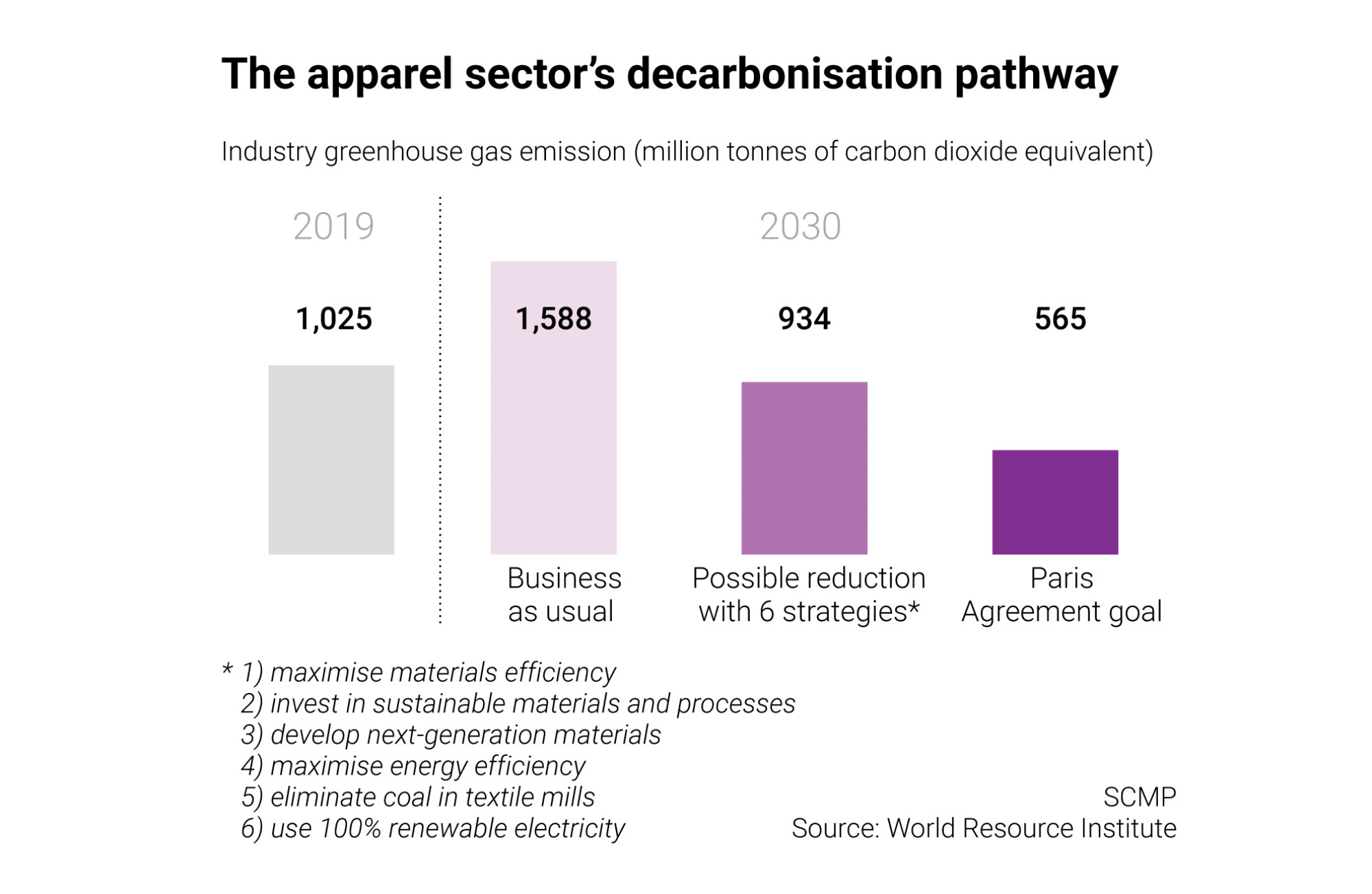 Nike announced in September that it had joined Chinese fintech giant Ant Group's Green Energy Initiative and launched an official mini program on the digital platform Alipay to encourage more consumers to recycle worn-out shoes. Hong Kong-based Esquel Group, one of the world's largest garment producers, developed a
waterless dyeing technology
that also cuts energy consumption by almost 40 per cent.
For its part, Budweiser established a China Innovation Hub in 2020 to promote sustainable innovation, including its work with Vegatex on the barley-based leather. The development road map for the material includes a more durable leather for use in a wider range of products, such as car seats and trainers.
"I see huge potential in China for developing new technologies and new methodologies that could also help other countries make progress in achieving sustainability," Clysner said. "And we would love to bring those new ideas to other parts of the world as well."
Despite the increasing attention, sustainable fashion is only a piecemeal affair in China's fashion industry.
Globally, discussions around sustainable fashion encompass the environmental impacts of making, wearing, caring for, and disposing of clothing, as well as social justice and animal welfare issues. It therefore requires participation from players in every part of the sector's long value chain, said R.I.S.E. Lab's Du.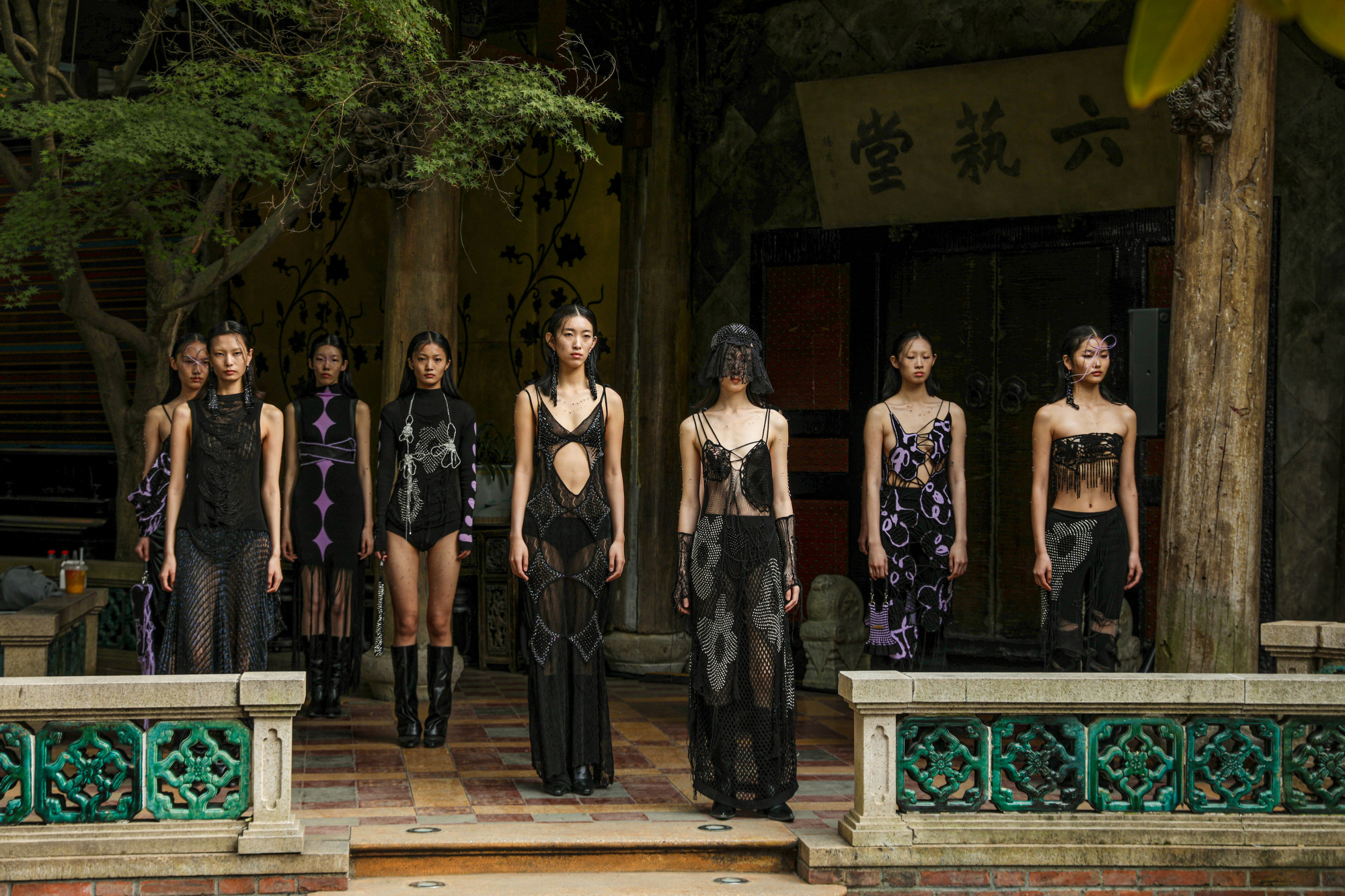 Innovative practices in sustainable fashion can take many forms. For example, Hong Kong-based TextileGenesis wants to promote transparency by using blockchain to digitise the supply chain. This would help brands track production from raw materials to finished articles. Virtual- and augmented-reality technologies could help reduce environmental impact in the design and fitting processes, as well as allow fashion shows to go digital.
"There are innovative sustainable practices in almost every different step of the fashion value chain," Du said. "But there is a lack of a platform or an effective organisation to integrate them together to bring systematic changes."
For example, Chinese universities and institutes that have majors in fashion and textiles do not yet offer courses related to sustainability, according to Du.
"The sustainable fashion sector is currently still very much fragmented, so designers, manufacturers, entrepreneurs, and consumers are not able to find each other," she said.
One of the biggest challenges independent sustainable brands and designers face is finding textile suppliers that are genuinely environmentally friendly and also willing to sell in small volumes, said Yang Suye, a former designer at Japanese fast-fashion brand Uniqlo who founded her own sustainable brand, Permission To Be Human, in 2020.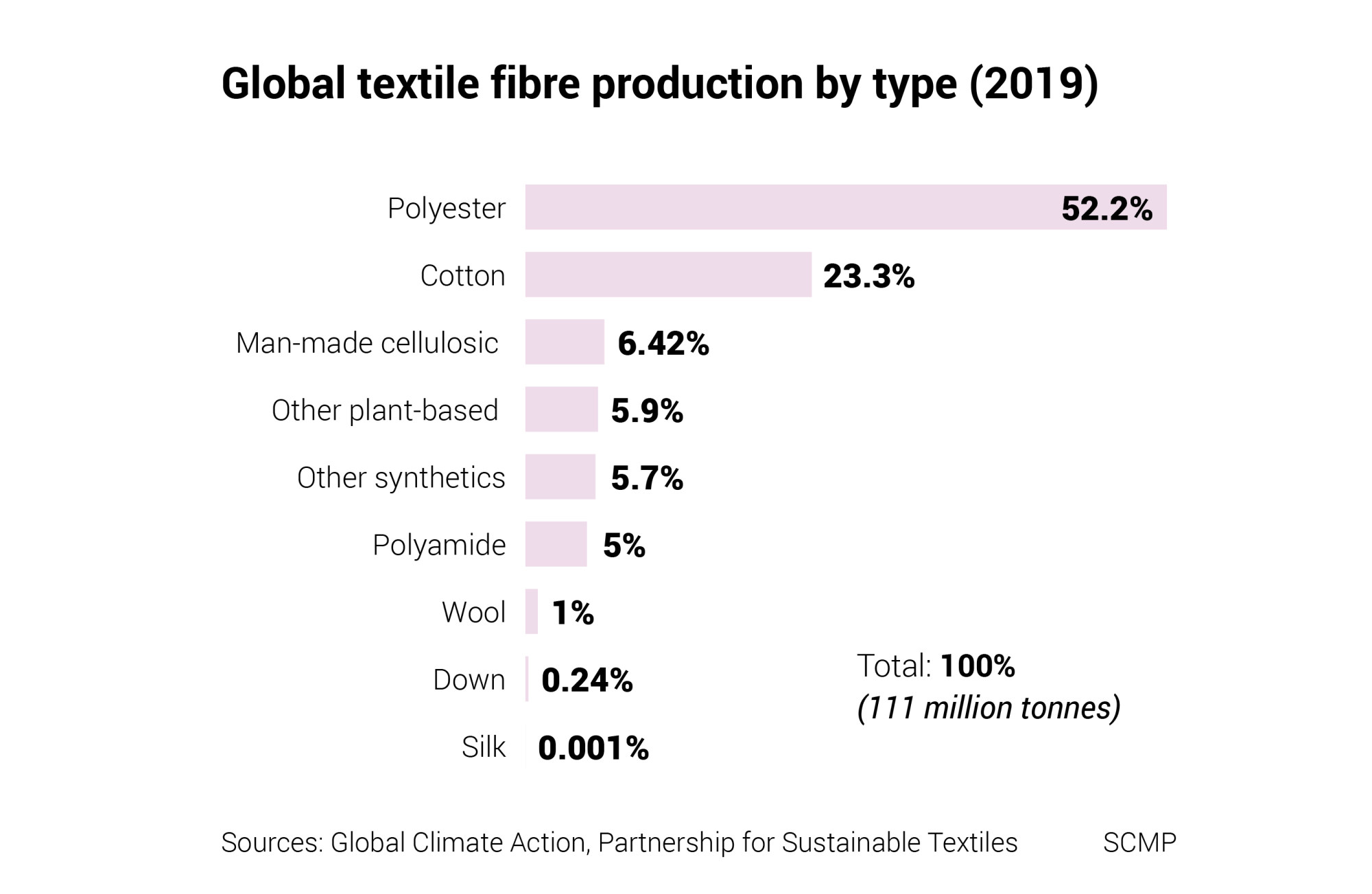 The difficulty of obtaining sustainably produced textiles forces most smaller fashion designers to limit their sustainable practices to upcycling – transforming by-products and waste materials into new materials or products.
"Sustainable fabric manufacturers generally deal with big brands such as Nike and Uniqlo," said Yang, who has used leftover textiles to make handbags and accessories. "And those big brands also have more channels to find their ideal textile suppliers. I think it will be a very good start if independent fashion designers can also have more access to materials."
Meanwhile, textile suppliers face the challenge of reaching out to more Chinese brands, according to Kang Jian, Vegatex's founder. In addition to its barley-based leather, Vegatex also produces a plant-based leather made from apple pulp created during the juicing process, which has found use with clients including Muji and Gap.
However, almost 99 per cent of Vegatex's products are exported overseas because of the small demand in China, according to Kang.
"Plant-based leather is the best option – it's twice to three times cheaper than animal leather and more environmentally friendly than synthetic leather," said Kang. "The story just needs to be told to more Chinese brands."
Current sustainable products tend to be more expensive than mainstream products, due to complex manufacturing processes and the technical challenges of ensuring that sustainable textiles will make durable, comfortable, and beautiful clothes, Yang said. Those factors drive up costs, forcing sustainable materials into the high-end market, which in turn limits awareness and mainstream demand.
There should be more government- or industry-led incentives to help the fashion industry achieve its sustainable transition and create a healthy ecosystem, according to Du.
The participation of retail platforms is also crucial for bringing positive change, she said. Online shopping platforms and malls can offer guidance to consumers to help them better navigate brands and products that are environmentally and socially friendly.
For example, Alibaba's online marketplace Tmall has a page dedicated to sustainable consumption, which offers information on green-living products from clothes to electronic devices to electric cars. Tmall also partnered in March with brands including Max Mara and Timberland to promote sustainable fashion trends and raise consumer awareness.
On the demand side, although sustainability continues to make headlines on the Chinese internet, consumer attitudes and motivations seem to be complicated.
"People who live a sustainable lifestyle do not necessarily always pay for sustainable fashion," said Su Yige, a social-media influencer with over 60,000 followers on the Chinese video streaming platform Bilibili, where she posts content about aspects of her sustainable lifestyle, including minimalism and plant-based diets.
One reason: A thriving second-hand market. A stockpile of excess goods after China's years of rapid economic growth allows consumers to find their ideal items with low prices and in good condition, rather than purchasing anything new, Su said.
There are around 243 million second-hand e-commerce shoppers in China on platforms including Alibaba's Idlefish and Plum. According to Chinese market research platform 100ec, the value of second-hand e-commerce transactions in China is likely to reach 480 billion yuan (US$67 billion) by the end of the year, up 20 per cent from 2021.
In addition, many eco-conscious consumers are calling the very concept of fashion into question. They believe it encourages overconsumption driven by people's demand for social comparison and vanity, according to Su.
Virtual fashion – digital outfits people can wear in online metaverse environments and share on social media – may satisfy fashionistas without actually generating emissions from making the clothes, Su said.
"Minimalism and environmental protection are inseparable," she said. "If you want to be sustainable, the first step is to figure out whether you need or want something before you make the purchase."
Designer Yang agrees. Shock over marine litter on her first scuba diving experience triggered her to pursue a career in the sustainable side of fashion.
"One cannot imagine sustainable fashion without living a sustainable lifestyle," she said. "You have to agree to the values of sustainability before purchasing sustainable fashion."