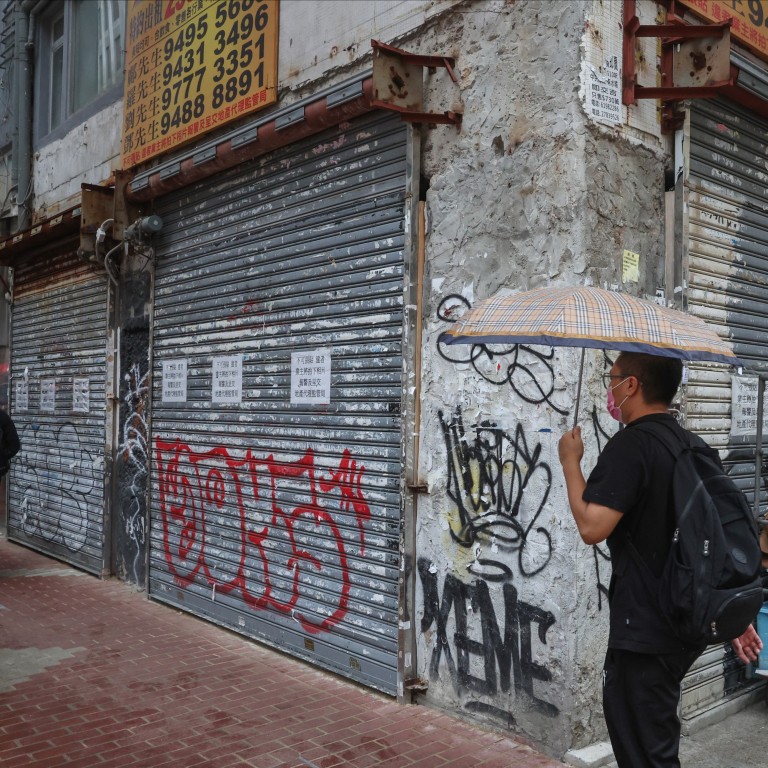 Street level shops, offices and industrial property bear the brunt of Hong Kong's stuttering economy
Midland IC&I slashes forecast for industrial property, office and shop transactions by 15 per cent to about 4,700 this year, the lowest since 2020
A street level shop in Wan Chai sold recently for less than half the original purchase price of HK$33.5 million (US$4.3 million) nine years ago as sentiment remains weak
Hong Kong's non-residential property market is reeling from downbeat retail sentiment and recession, with street shops changing hands at losses of more than half and leases 70 per cent lower than the market peak.
Midland IC&I slashed its forecast for
industrial property
, office and shop transactions by 15 per cent to about 4,700 this year, the lowest since 2020 when deals totalled 3,799. It expects a total of around 700 transactions for such properties in November and December.
"The industrial property, office and shop market can hardly be expected to return to the previous peak in the short term despite a mild improvement in October," said Tony Lo, executive director and CEO of the ICI Property unit of Legend Upstar Holdings, the parent company of Midland IC&I.
The forecast of 4,700 deals is about a quarter of an all-time high of 18,063 in 2012, according to Land Registry data, way before the social unrest in 2019 and the coronavirus outbreak that followed in 2020.
From July to October this year, 1,357 industrial property, office and shop transactions were completed, a decline of 39 per cent year on year, according to Midland IC&I.
Hong Kong's economy, which has weakened for three straight quarters, has weighed on property market sentiment. Last week, the government
downgraded its full-year economic forecast
from between 0.5 per cent growth and 0.5 per cent contraction to a 3.2 per cent drop, citing a deteriorating external environment and the Covid-19 pandemic. Provisional figures released by the Census and Statistics Department showed that retail sales for the first nine months fell 1.3 per cent compared with the same period in 2021.
Investors were disappointed that Chief Executive John Lee Ka-chiu's policy address last month mainly focused on medium and long-term development strategies and did not address the easing of anti-pandemic restrictions that are needed to bring back tourists and revive retail activity, Lo said.
"In addition, the recent fluctuations in the Hong Kong stock market may also have affected investors' confidence on the market outlook," he said.
Deals involving shops have risen slightly amid sharply lower prices recently.
A 608 sq ft unit at Goodfit Commercial Building in Wan Chai changed hands for HK$16 million (US$2.04 million) this month, 52 per cent lower than the purchase price of HK$33.5 million nine years ago, making it one of the biggest loss-making transactions in recent times.
At the peak of the Individual Visit Scheme from 2012 to 2014, financially sound buyers preferred investing in shops in locations such as Causeway Bay and Central on Hong Kong Island, or Tsim Sha Tsui and Mong Kok in Kowloon, with the rest going for Wan Chai and Jordan, said Edwin Lee, founder and CEO of Bridgeway Prime Shop Fund Management.
The financially weaker buyers may sell at losses more easily, he said, adding that some of their property investments may have become foreclosed.
Meanwhile, on Canton Road in Tsim Sha Tsui, the world's priciest retail strip, Nanyang Commercial Bank recently leased a 2,500 sq ft shop at Hanley House for HK$720,000 per month, 78 per cent lower than the market peak of HK$3.3 million in 2014 paid by cosmetic chain Bonjour, according to Sheraton Valuers.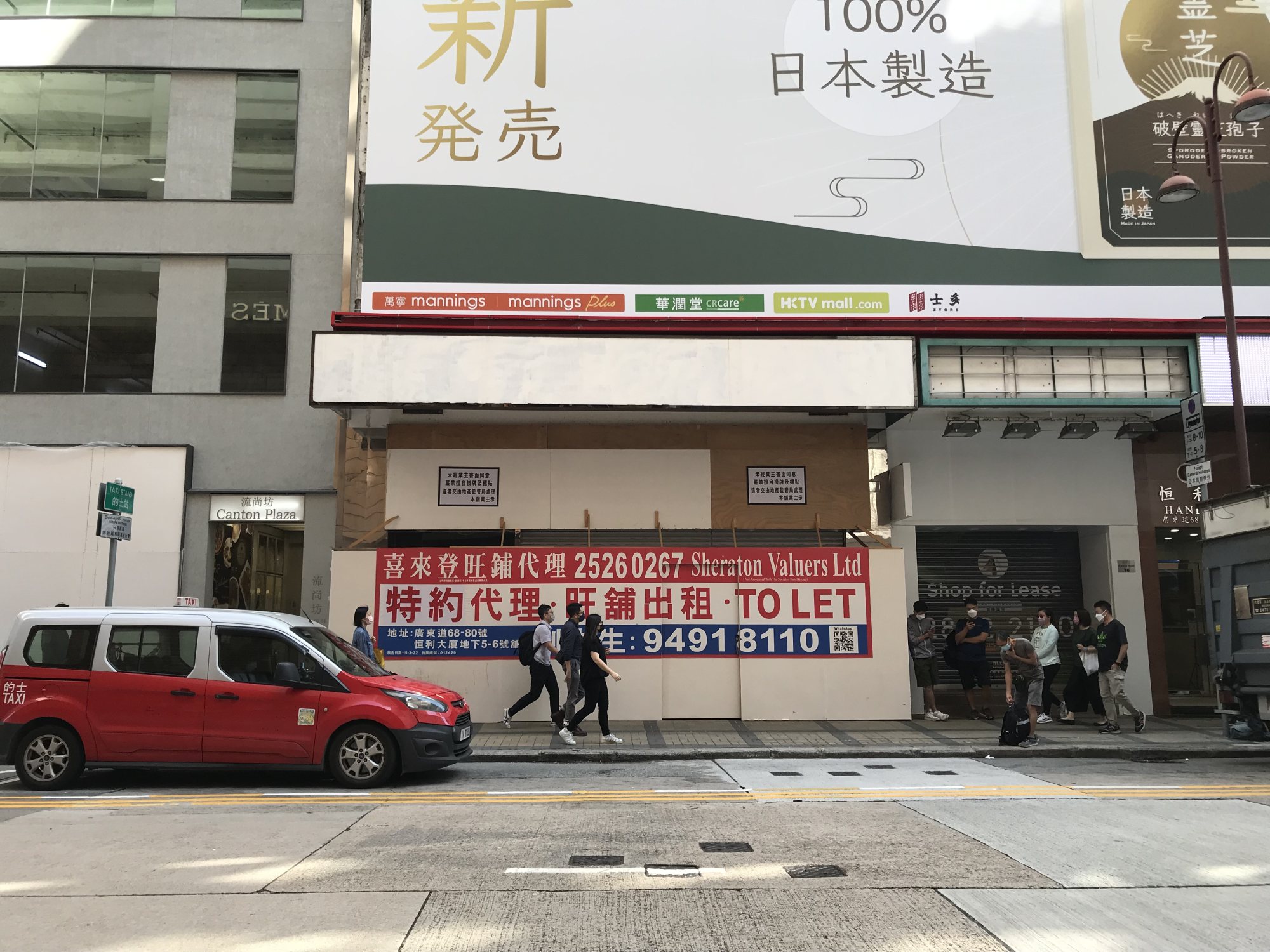 The lease has a fixed term of six years, with the right to renew for another three years, according to Patrick Lau, Sheraton Valuers' agent, adding that previously such long-term leases were rare for prime street shops on Canton Road.
The long lease "reflects the expectations of tenants that the rents have reached a bottom", Lau said, noting that banks were less likely to ask for rental relief.
On the whole, overall prime street shop rents in areas such as Central, Causeway Bay, Tsim Sha Tsui and Mong Kok have plunged 33.2 per cent since 2019, according to Savills.
The reduced level of transactions is also affecting property brokerages.
Midland Realty has not renewed leases for nearly 30 shops since August in a bid to cut costs. The company expects the overall number of property transactions in Hong Kong to shrink to a 32-year low. Midland had 339 branches in the city as of June 30, according to its website.
"If market sentiment does not change, we will back out from a lease if the landlord does not reduce the rent to the extent we need [of generally] 30 to 50 per cent," said Sammy Po Siu-ming, the CEO of Midland Realty's residential division for Hong Kong and Macau.
For some of its branches in shopping centres, where the rents are high, Midland will ask for rent cuts of as much as 80 per cent, Po added.
Centaline Property Agency, which has nearly 460 branches, may also slash the number of branches by 30 per cent, said Louis Chan, Asia-Pacific ­vice-chairman and chief executive of the residential division at Centaline.
Chan said Centaline would ask landlords of all 460 branches to cut rents by half.