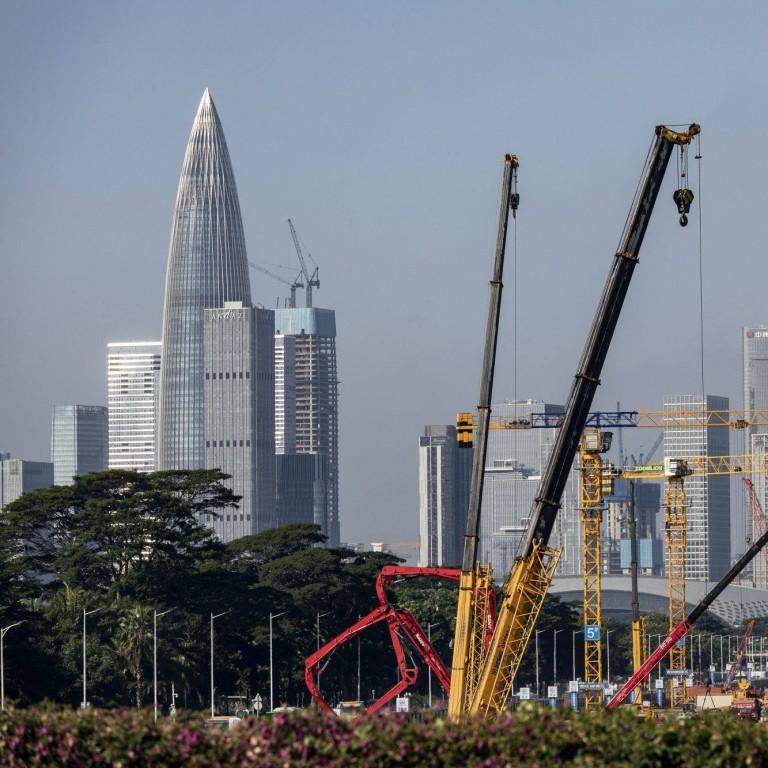 China property: will mortgage rates at 13-year low help Beijing attract buyers back to stagnant market?
Mortgage rates for first homes in 100 cities have fallen to 4.09 per cent from a peak of 5.74 per cent in September 2021, according to data compiled by Beike Research Institute
Backed by Beijing's 16-point policy, local governments have more room to optimise their policies and stimulate demand, analyst says
China's efforts to attract more buyers to
the housing market
and rebuild a major pillar of economic growth are being aided by a key advantage: average borrowing costs have fallen to a 13-year low and are possibly cheaper in certain cities.
Mortgage rates for first homes in 100 mainland Chinese cities have fallen to 4.09 per cent from a peak of 5.74 per cent in September 2021, according to data compiled by Beike Research Institute. In Qingyuan city in southern Guangdong province, for example, rates have dropped to as low as 3.7 per cent.
This means that homebuyers in Qingyuan can save as much as 0.35 million yuan (US$48,953) on a 30-year home loan of 1 million yuan, according to Beike Research.
"Backed by the 16-point policy, which clarifies the floor level of mortgage rates for individual houses, local governments have more room to optimise their policies to stimulate demand," said Liu Lijie, an analyst at the institute. "Mortgage rates for first homes could be shaved further."
The latest move is the biggest policy boost yet for the industry since the PBOC last cut its five-year loan prime rate to a record low of 4.3 per cent in August. The cut helped lower the national average home mortgage rate charged by commercial banks to 4.34 per cent, the cheapest since the central bank started publishing data in 2009.
Sales at China's top 100 property developers have plunged by 43.4 per cent year on year in the first 10 months of 2022 to 6.1 trillion yuan, data compiled by the China Real Estate Index System (CREIS) shows.
Local governments are, as a result, using a number of tactics to boost the sector. They have rolled out rounds of relaxation measures, including lifting caps on home purchase quotas and reselling restrictions.
Chengdu, for example, launched three rounds of loosening measures this month with the aim of easing home lottery restrictions, home purchases across different districts, as well as the eligibility criteria for homebuyers.
Homes prices in the city, which is home to 9.48 million people, rose 7.2 per cent year on year in October, but the transaction volume for the first 10 months of this year fell 14 per cent year on year to only 12.03 million square metres.
The government of Hangzhou also announced this month support measures such as cutting down payments for second homes to 40 per cent within some districts. Prices of new homes in the city increased 0.3 per cent month on month in October, but the sales volume dropped 7 per cent compared with September, and 24 per cent year on year, to 1.01 million square metres, data from the National Bureau of Statistics of China and CREIS shows.
Even Beijing and Shanghai, home to some of China's most expensive homes and its most strict property policies, have seen some districts gradually easing some restrictions.
Beijing's Tongzhou district and Shanghai's Lingang district have launched favourable measures to support home purchase over the past month. Some eligible residents whose household registration is not in Beijing or Shanghai can also now buy houses within specific districts.
More than 100 cities have lowered down payments for first homes to below 20 per cent, according to calculations carried out by state-owned media The Paper. These cities previously strictly required more than 30 per cent in down payments before the housing market crisis.
"These favourable measures will definitely help the sector to some extent, but it's hard to see a rebound soon after the measures are rolled out, due to many factors," said Yang Kewei, vice general manager of the CRIC Research Center.
"The market is adjusting in terms of that and other internal and external factors, and I believe the whole sector will eventually move towards stabilisation," he said.
China's property market has been in crisis since mid last year, with private developers such as China Evergrande Group and state-backed firms such as CIFI Holdings struggling for cash flow and to reduce debt. Beijing's "three red lines" policy, introduced to stem systemic risk, has forced developers to default on more than US$20 billion in offshore debt.
Some major banks are offering billions in credit to struggling developers after the central government unveiled its 16 measures.
Market observers, however, believe that all the policies require time to take effect.