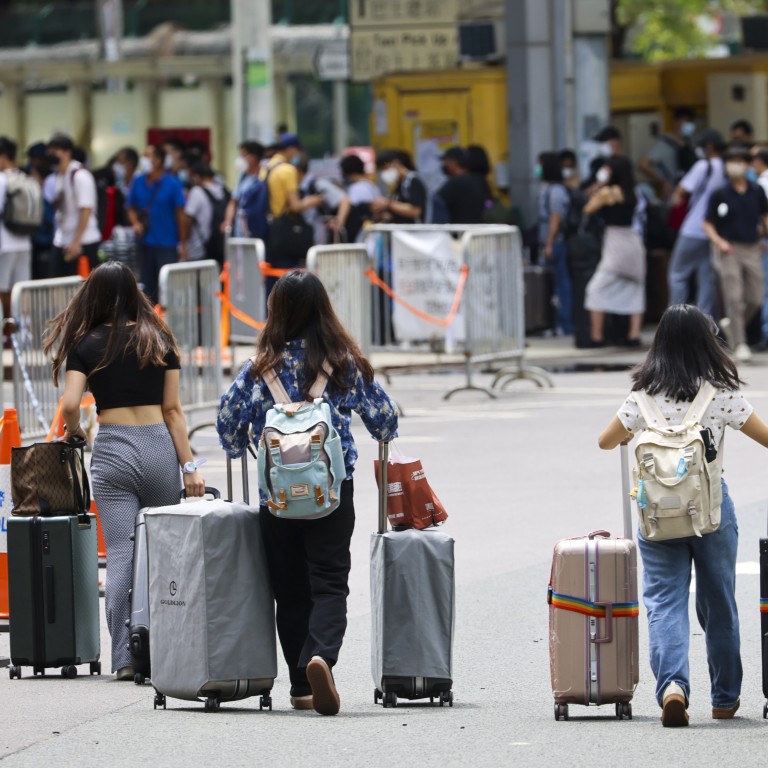 Sales of new life insurance policies in Hong Kong dropped 8 per cent in first 9 months amid market volatility, Insurance Authority data shows
Revenue from the new sales of investment-linked assurance schemes plummets 46 per cent
Customers are waiting for a better time to buy these investment-linked products, Zurich Insurance (HK) CEO says
Sales of new life
insurance policies
in Hong Kong dropped 8.4 per cent year on year in the first nine months of this year to HK$112.2 billion (US$14.4 billion), Insurance Authority data shows, as investors avoided investment-linked insurance products amid market volatility.
Revenue from new sales of investment-linked assurance schemes (ILAS) plummeted by 46 per cent year on year to HK$11.86 billion in this period, according to the data, which was released on Wednesday.
ILAS work like a hybrid life insurance policy and investment fund product. Unlike traditional life insurance policies, where insurers decide how to invest premiums, ILAS allow policyholders to invest in different investment funds.
Policyholders who invest in these products might earn higher returns during a rising market, or incur losses in a downturn. Hong Kong's benchmark Hang Seng Index fell 26 per cent during the first nine months of this year, which has discouraged purchases of such products.
Market sentiment must improve and the border with mainland China must reopen for sales to bounce back, insurers said.
"Volatile markets are leading to a fall in sales of ILAS this year. Customers are waiting for a better time to buy these investment-linked products for better returns," said Eric Hui, CEO of Zurich Insurance (HK).
The decline in sales of new life insurance policies this year is in contrast with a sharp 24 per cent rise during the same period last year, which was driven mainly by a 180 per cent increase in sales of ILAS.
This year's performance, however, improves upon the HK$98.7 billion in sales reported during the same period in 2020, when Covid-19 started limiting cross-border traffic from mainland China and affected purchases by mainland Chinese buyers. Overall, it is still far behind the pre-Covid-19 tally of HK$139.8 billion reported in the first nine months of 2019.
Mainland Chinese buyers were the biggest spenders on Hong Kong insurance policies before cross-border traffic ground to a halt two years ago. During a peak in 2016, they bought HK$72.68 billion worth of policies and represented 39 per cent of all premiums collected in the city.
"Once the border is reopened sometime next year, mainland visitors will come to Hong Kong to buy life policies again," said Edward Moncreiffe, CEO of HSBC Life Hong Kong.
HSBC Life had the most new sales and the highest market share at 24.7 per cent in the first nine months period. The firm maintained strong sales during this period by introducing many new medical products and digital services to customers, Moncreiffe said.
The market, however, needs mainland visitors for sales to return to pre-pandemic levels, he said. Mainland visitors represented about 40 per cent of all sales at HSBC Life in the pre-Covid-19 era.
Mainland visitors bought HK$1 billion of new life insurance policies in the first nine months this year, a year-on-year increase of 110 per cent. This is because travel from mainland China rose 338 per cent to 201,585 arrivals in the first nine months of this year, after Hong Kong relaxed its Covid-19 restrictions, according to Hong Kong Tourism Board data.
The Hong Kong insurance market was impacted by weak consumer sentiment and Covid-19 measures in Hong Kong, which only ended its hotel quarantine rules at the end of September, said Pankaj Banerjee, interim CEO of Manulife Hong Kong and Macau.
"We are encouraged by Hong Kong's gradual return to normality and we will continue to invest in preparations for the full reopening of Hong Kong's borders with the mainland," he said.