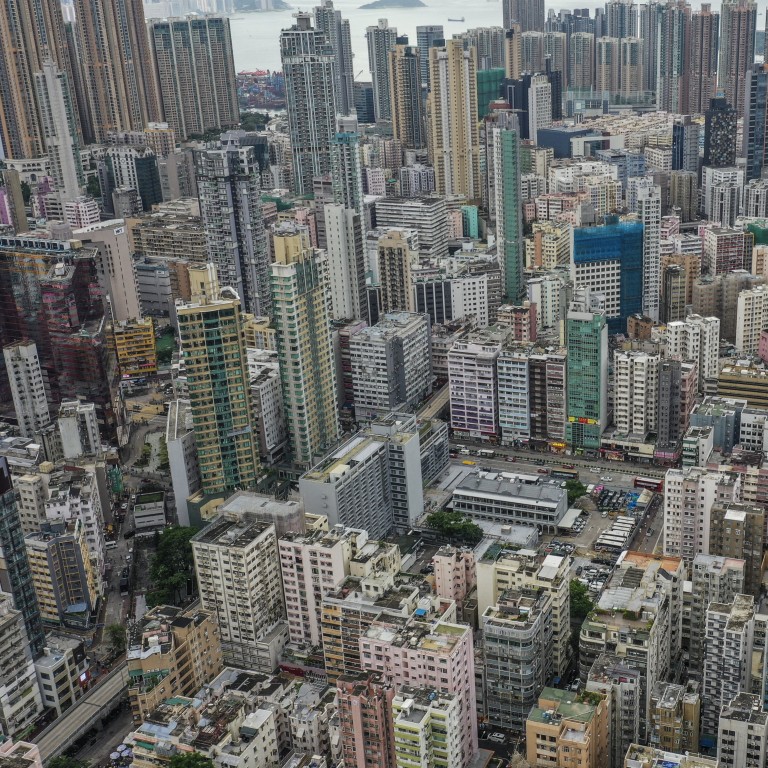 Fusion Bank, Midland Realty bring buy now, pay later business model to Hong Kong housing market
Under the scheme, tenants can apply to Fusion Bank for loans, and use the money for lump-sum prepayment of leases
Landlords will be more confident about tenants making payments on time, which will also boost supply, CUHK analyst says
The popular
buy now, pay later
(BNPL) business model has reached the Hong Kong property market, with
virtual lender
Fusion Bank and Midland Realty teaming up to offer the scheme to Hongkongers.
Under the scheme, tenants can apply to Fusion Bank for loans for monthly rent payments. One-off loans can then be used for lump-sum prepayment of leases. It is expected that on the basis of sure payments to landlords, tenants can negotiate for better rents, as the landlords will not have to worry about missed payments.
The first offering of its kind in Hong Kong, the Fusion Bank and Midland scheme will gain traction in the coming months, given that rents typically take up a significant portion of incomes in the city, according to an analyst.
"Housing as a consumption good fits well into the buy now, pay later scheme as often offered by banks and financial companies," said Maggie Hu, assistant professor of real estate and finance at the Chinese University of Hong Kong (CUHK).
The scheme offers more flexibility in terms of the number of instalments and the repayment period, and would boost demand for rental housing, especially among financially constrained would-be tenants, she added.
"As the tenancy is implicitly backed by the banks and financial companies that lent the money, landlords will be more confident about tenants making payments on time, which will also boost the supply to the market," Hu said.
The scheme comes at a time when
Hong Kong's property market
is
in a slump
, with the city's economy tipped to contract by as much as 0.5 per cent this year. Secondary home prices fell to a near five-year low in October, while home rents have declined by 1.75 per cent so far this year, according to government data.
Property transactions are also expected to fall to historic lows this year, according to Centaline Property Agency, with the first half of the year affected by Covid-19 lockdowns and the second half hit by rising interest rates. Property sales are likely to hit 65,000 this year, Centaline said. If the forecast holds, it will be the lowest annual property transactions tally since 1996, according to government records. The previous record low, of 70,503 registrations, was reported in 2013.
Under the Fusion Bank and Midland scheme, tenants can start repaying the loan a month after its withdrawal, and the repayment period can be amortised to up to 60 months. Depending on the amount and the tenor, interest rates range between 1.63 per cent and 2.65 per cent, making it likely that loans will be cheaper than the original rents.
The scheme's other perks include giving tenants and landlords up to HK$2,000 in rewards and discounts on furniture and electrical appliances.
The programme was first launched in August, but Fusion Bank has recently partnered with Midland. BNPL schemes are popular in Hong Kong, with the likes of Atome partnering with merchants such as Sasa Hong Kong, 6ixty8ight and On The List.
Midland provides a link on WhatsApp for customers who wish to avail the scheme or make an inquiry. "The link recorded about 300 clicks in the first six days after we launched it, and we think it is a very good result," a Midland spokesman said.
With its low interest rates, the scheme seemed attractive and affordable to Stanley Lam, 31, who works in the e-commerce department of a Hong Kong-based wines distribution company.
"If indeed we could negotiate with potential landlords to get discounts on monthly rents, then we can use the money supposedly set aside for rents to pay interest on such loans," he said. "That's attractive."
Lam, however, said he would not be availing the scheme any time soon, as he preferred his current housing arrangements.
The scheme would be less risky if lenders and borrowers ensured loan amounts involved in one-year or two-year rent contracts are comparable to the usual personal term loans, said CUHK's Hu.
"As long as the routine risk management procedures for personal loans are applied, [the scheme] does not really pose additional specific risks for renters, landlords, property companies or the financial companies," she said.
However, not everyone agrees that the scheme would work. Jordan Miller, managing director of property agency Okay.com, said Hong Kong's specific rental market conditions do not make it an ideal place for BNPL programmes.
"In contrast to the current leasing market practice, the value proposition for landlords is not skewed positively from our perspective," he said. "BNPL works well in B2C [business to consumer] businesses, but the vast majority of rental properties are owned by individual landlords in a C2C [consumer to consumer] marketplace."
A BNPL scheme's draw for B2C businesses is that it could lead to higher order volumes and higher sales conversion rates at a point of sale, and this "doesn't quite apply to rental properties", Miller said.