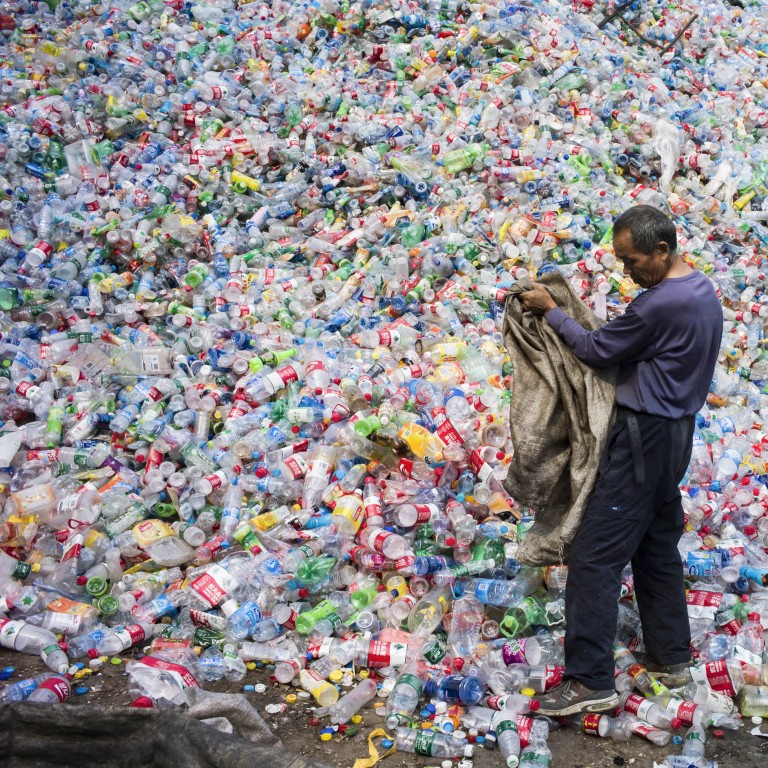 How Beijing's circular economy policy is driving recycling in carbon-intensive sectors
The combined recycled waste volume of 7,400 Chinese companies listed in Hong Kong, Shenzhen and Shanghai rose 46 per cent last year, Miotech says
Increased recycling could be a long-term trend, despite a 'short-term hiccup' in 2022
A major policy push by Beijing to increase waste recycling in several energy and carbon emissions-intensive industries has helped lift materials recycling among listed Chinese firms, according to a sustainability data provider.
Based on disclosures by the around 7,400 Chinese companies listed in Hong Kong, Shenzhen and Shanghai, their combined recycled waste volume rose 46 per cent to 52.5 million tonnes last year from 2020, said Hong Kong-based environment, social and corporate governance (ESG) data provider Miotech.
Their average waste recycling rate – the ratio of recycled waste volume to total waste generated – improved significantly to 69.2 per cent last year from 60.5 per cent in 2020. It was higher than 57.3 per cent among Singapore-listed firms and 58.7 per cent among Taiwan-listed companies.
Success in raising waste recovery and repurposing is key to developing a so-called circular economy, which helps China meet its goals of peaking carbon emissions before 2030 and achieving net zero emissions by 2060 to fight climate change.
Increased recycling
could be a long-term trend, despite a "short-term hiccup" this year, Wu said. Widespread social-distancing measures imposed to suppress the spread of Covid-19 caused logistics difficulties for the movement of recyclable materials, she said.
The recycling of steel, aluminium, plastic and paper, four carbon-intensive commodities, is expected to contribute to a total reduction of 670 million tonnes of carbon dioxide emissions this year. This is forecast to rise to 765 million tonnes in 2025, Miotech said in a report last month.
The savings are significant, given China's carbon dioxide emissions – the world's largest – were estimated by energy giant BP at 10.5 billion tonnes last year.
"Recycling can reduce the demand for feedstock processing," the report said. "In the case of energy-intensive industries, recycled products can significantly reduce the carbon footprint by replacing processes of high-energy consumption with lower ones."
Recycling rates vary a lot by industries, and companies that report on their sustainable materials initiatives are in the minority. Heavy industries showed the highest reporting rates.
Just 70 companies out of 2,675 industrial sector listed Chinese companies monitored by Miotech shared information on their sustainable raw materials usage activities last year, while 37 described their product recycling initiatives.
That was, however, a marked increase from just six firms that reported on sustainable materials utilisation progress in 2020, while none disclosed recycling initiatives.
China aims to lift from 2020 levels its usage of recycled paper by 9.3 per cent to 60 million tonnes in 2025, reused scrap steel by 23 per cent to 320 million tonnes and recycled aluminium by 55.4 per cent to 11.5 million tonnes.
The targets were set by the National Development and Reform Commission (NDRC) in its 2021-25 development plan for the nation's circular economy issued last year. Together with other targets for the utilisation of construction and agricultural waste, scrap copper and lead, the NDRC projected that the output of the nation's wider recycling sector could reach 5 trillion yuan (US$718 billion) in 2025.
The NDRC's targets for recycled steel, aluminium, paper and plastic can be translated into a potential 765 million tonnes of carbon dioxide emissions reduction in 2025, Miotech said, based on emission-reduction efficiency ratios generated from the state-backed China Products Carbon Footprint Factors Database.
In the steel sector, emissions are reduced through a production method that melts scrap steel in electric arc furnaces. This can save 0.68 tonnes of greenhouse gas emissions per tonne of output, compared to steel produced in conventional coal-fired blast furnaces.
Aluminium production from scrap can save 15 tonnes of carbon emissions for each tonne of output, versus producing from mineral sources, while every 1.25 tonnes of waste paper can make one tonne of pulp and avoid 5.4 tonnes of emissions.
Reducing the emissions intensity of China's paper, steel and aluminium sectors is particularly important for global efforts to fight climate change, since the nation is the world's largest producer of these three commodities.