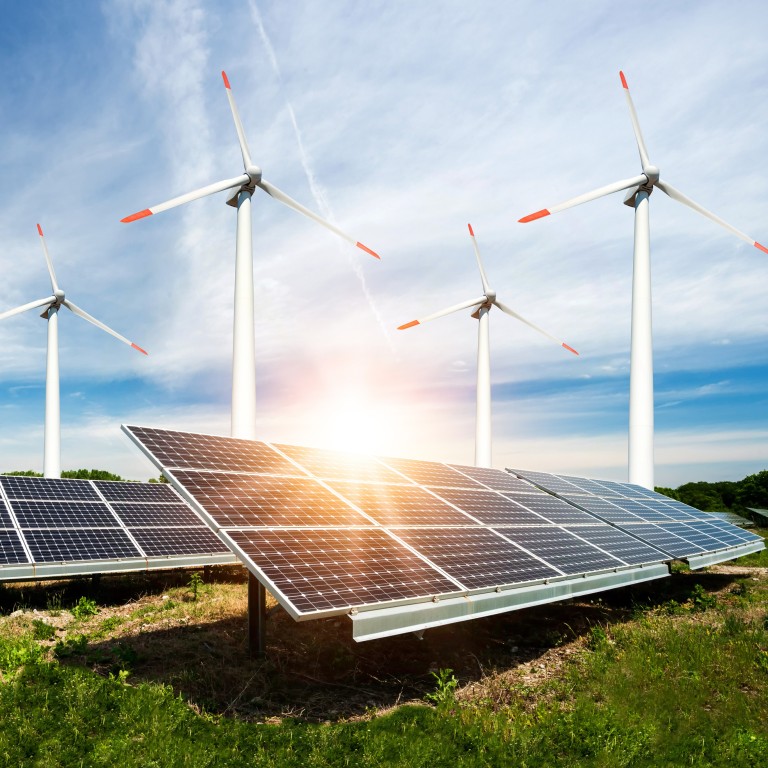 China seen accelerating wind, solar power installation under 5-year plan, reaching 2030 renewable target ahead of time
While China has not unveiled the national targets for 2025, plans by 30 provinces suggest its 2030 targets are likely to be surpassed early
China may revise its 2030 targets to account for speedier installation pace under the current five-year plan, Refinitiv's Jin says
China is expected to achieve its 2030 target of installing renewable energy capacity ahead of schedule by about five years, after at least 30 provinces unveiled their respective programmes under the national five-year plan, climate analysts said.
The provinces are set to install more than 300 gigawatt (GW) of wind power and 550GW of solar power under the plan, taking their combined capacity for both sources to 1,500GW by the end of the period, according to Jin Boyang, a senior analyst at data provider Refinitiv. That would surpass Beijing's goal of 1,200GW by 2030.
"There's a chance that China might increase its renewable target for 2030 by the end of 2025, if not sooner," given the expected pace of installation, said Jin.
While China has not set its national-level targets under the 2021-2025 plan, a National Energy Administration (NEA) report last week suggests the central government is accelerating its efforts this year to add more renewable sources to its future energy mix.
China would have a total installed capacity of 430GW of wind energy, 490GW of solar energy and 423GW of hydropower by the end of 2023, the NEA said on December 31 when disclosing the sector's key tasks for the new year. Nuclear power capacity could reach 2.89GW, it added.
The combined capacity of 920GW from wind and solar power in 2023 would represent more than 70 per cent of China's 2030 goal.
"Based on this rapid growth, the midterm targets, and China's tendency to under-promise and over-deliver when it comes to national targets, we expect China will exceed its 2030 renewables and non-fossil energy targets," said Matt Gray, CEO of TransitionZero, a non-profit climate analytics firm.
Given that investment and provincial government incentives continue developing solar and wind capacity with associated grid infrastructure, the ambitious renewable expansion targets are likely to be achievable, said Lucas Zhang Liutong, director of Hong Kong-based consultancy WaterRock Energy Economics. The power-market tariff is expected to stay relatively high in many provinces, he added.
The NEA targets for 2023 could have different implications for the industry supply chains, as wind power is expected to increase by about 29 per cent while solar power is set for a 5 per cent gain in terms of net installation, according to Jin at Refinitiv.
"The new target is a big win for wind power," he said, which will benefit from cheaper wind turbines and steel bars. "In terms of the solar industry, the target increase is a sign that the government is trying to prevent a possible overheating of the industry."
China's solar industry, the biggest in the world, is facing a price war with producers slashing their prices by around 20 per cent last month to clear excessive inventories that piled up during the post-pandemic production surge last year. For example, production of silicon wafers rose by 41 per cent during January-to-October from a year earlier, official data showed.
Despite the rosy outlook, the speed in increased renewable installation will make China's many electricity market inefficiencies more difficult to ignore, said Gray from TransitionZero. This will inject more urgency into China's long-overdue power sector reforms, he added.
Challenges remain around grid connectivity and storage, especially for large-scale projects in more remote provinces. Another hurdle is increasing the share of renewable energy in the total electricity generation as China is still admitting new coal power plants into the mix, said Belinda Schäpe, climate diplomacy researcher at E3G, a climate change think tank.
China wants 25 per cent of its energy consumption to be met by non-fossil fuels by 2030. Despite plans to reduce coal consumption by 2026 to fulfil its carbon-neutral pledge, Beijing has continued to support coal production to ensure energy security after a massive outage last summer.
"It is necessary to pay more attention to indicators of power generation and accelerate the replacement of coal power by renewable energy power generation," said Xie Wenwen, a programme director at environmental group Greenpeace East Asia.