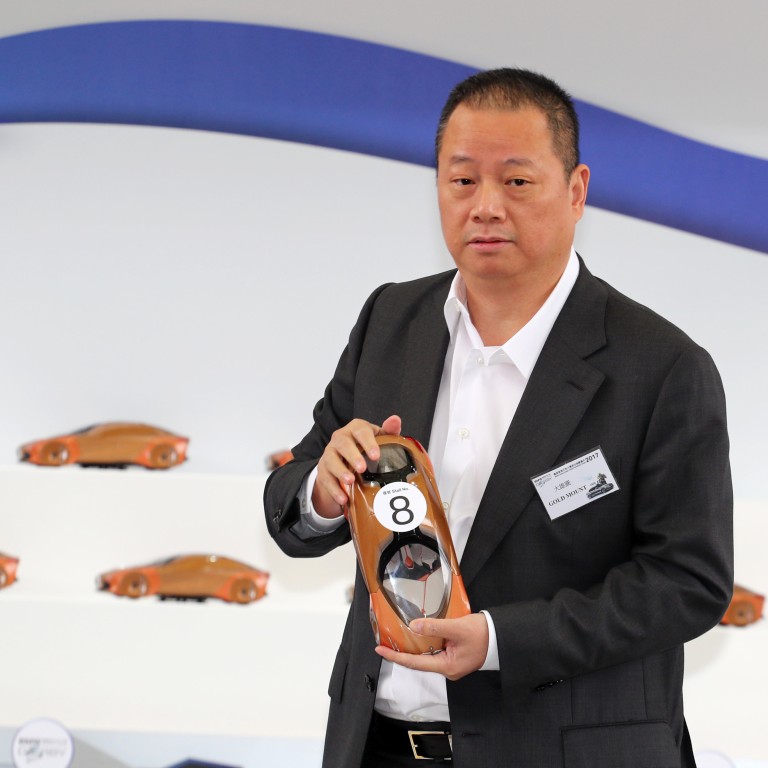 Debt-laden Goldin's former Hong Kong headquarters sells for 'significant discount' of US$713 million to PAG and Singaporean investment firm
Deal ends more than two years of legal wrangling over the 28-storey Goldin Financial Global Centre
The price agreed on by PAG and Singapore's Mapletree Investments is well below market value, PAG said
The former headquarters of
embattled Goldin Financial Holdings
has been bought by PAG and a Singaporean investment firm for HK$5.6 billion (US$713 million), according to a statement from the joint venture.
The confirmation of the acquisition ends more than two years of legal wrangling over
the 28-storey office building
, known as the Goldin Financial Global Centre (GFGC).
The price agreed on by PAG, a pan-Asian investment company, and Singapore government-backed Mapletree Investments, is well below market value, PAG said.
"GFGC is an iconic building in Hong Kong's [second central business district], and represents very good value at a significant discount to replacement cost," said J-P Toppino, PAG's president, in the statement.
"This transaction further expands PAG Real Assets' footprint in Hong Kong, where we see the ongoing post-Covid recovery creating attractive opportunities for us and our investors."
In September, several local media outlets reported that the property in the Kowloon Bay district was sold for between HK$6.5 billion and HK$7 billion, a long way shy of its estimated value of HK$10 billion. It is unclear whether the acquisition confirmed on Thursday is
the same deal referred to in those reports
.
The acquisition is a "great opportunity to own a high-quality office building, boosting our presence in Hong Kong's commercial sector at an attractive price," said Wong Mun Hoong, regional chief executive officer, Australia and North Asia, for Mapletree.
"With the reopening of the border with China and the easing of travel restrictions, we are confident in the recovery of the office sector in Hong Kong," he added.
Hong Kong-listed Goldin Financial holds Chinese tycoon Pan Sutong's finance and property development businesses. The firm and its creditors have been
engaged in a tussle since July 2020
over who controlled the building, which the developer has used as collateral for loans. Pan resigned as Goldin's chairman in June last year.
In September 2020, the receivers appointed Knight Frank to sell the tower after the developer failed to meet its debt obligations. But two days later, Goldin said it had entered into a provisional sale-and-purchase agreement for the building with an independent third party for HK$14.3 billion.
Two months after that, however, the receivers said the company had no right to sell it. Then, in October the same year, the Hong Kong High Court ruled that Pan, Goldin's chairman back then, had
lost control of its assets to creditors
.
The receivers sold the building, located at 17 Kai Cheung Road, for a reported HK$14 billion later that year, but failed to complete the deal.
The property received LEED platinum and BEAM Plus platinum certification upon completion in 2016, the highest global and Hong Kong local industry standards for healthy, sustainable and cost-saving green buildings.
Goldin has been selling its assets in recent years to pare down a mountain of debt. In 2020, the company agreed to sell a residential plot at Kai Tak at an estimated record loss of HK$2.57 billion.
It is also looking for a buyer for half-completed twin towers in Guangzhou Science City, with a starting price of 1.64 billion yuan (US$242 million).
Goldin is facing a petition for liquidation in Bermuda and a bankruptcy petition in Hong Kong owing to its debts. Pan, a billionaire, was also ordered by the Hong Kong High Court in July to wind up one of his holding companies over unpaid liabilities of HK$8 billion owed to China Citic Bank. The order is being appealed.
PAG Real Assets, the property business of PAG, has more than US$10 billion in equity under management across the Asia-Pacific region. Over the past two decades, it has bought and managed over 7,000 properties across the Asia-Pacific region, in sectors that include office and logistics, hotel, retail, digital infrastructure and renewables.
Mapletree, a unit of Singapore's Temasek Holdings, owns Festival Walk, an upscale Hong Kong shopping centre. It manages a portfolio of S$78.7 billion (US$59.1 billion) in property assets including offices, industrial buildings, data centres, retail and residential premises in markets such as Asia-Pacific, Europe and the US.