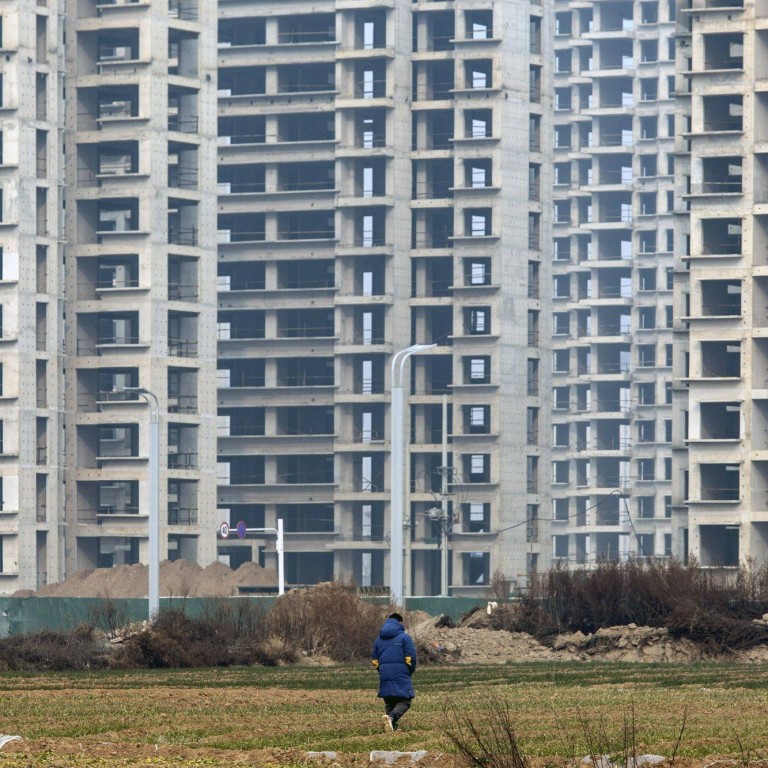 China property crisis: Beijing drafts 21-point plan to aid developers with financing, debt extensions, state media says
Top regulators have drafted a 21-task action plan aimed at easing the liquidity crunch for developers Beijing deems to be of 'good quality', Xinhua reports
Xinhua reported that regulators will ease the 'three red lines' borrowing restrictions on 30 pilot property firms, without giving specific names
China is drafting a comprehensive action plan to aid embattled developers with 450 billion yuan (US$67 billion) in financing, as well as debt extensions, as Beijing prioritises shoring up the housing market as one of the key pillars of the country's economic growth, state-run news agency Xinhua reported on Friday.
Top financial regulators have drafted a package of 21 major tasks aimed at alleviating a liquidity crunch for what Beijing deems "good quality developers", according to Xinhua.
The plan aims to speed up the lending of 150 billion yuan in previously announced loans focusing on home deliveries and to set up an additional 200 billion yuan special fund for deliveries of residential properties. The country will also roll out a 100 billion yuan support plan for rental housing loans.
The package also mentions negotiations between financial institutions and developers over "reasonable debt extension", Xinhua said.
"The goal is to guide the good quality developers' balance sheets back to a safe range and move forward the industry into a new business model smoothly," Xinhua said.
Speculation about which developers are considered good enough to receive help persists, with different versions of a supposed white list being circulated online recently.
Xinhua reported that regulators will ease the "three red lines" borrowing restrictions on 30 pilot property firms, without giving specific names.
But the plan does mention some criteria, Xinhua said, describing developers that have a relatively large size, projects scattered in different regions and "systemic importance".
The "three red lines" policy, rolled out in August 2021, restricts the amount of new borrowing property developers can raise each year by placing caps on their debt ratios. It is seen as a major force that helped push many Chinese developers off the cliff.
Some 50 Chinese developers have defaulted on an estimated US$100 billion worth of offshore bonds over the past two years, according to JPMorgan.
The new work plan comes after the central government emphatically stepped in to support beleaguered developers in an attempt to arrest the market's free fall in November, signalling a policy shift to save the bruised sector.
Beijing unveiled a liquidity package, dubbed "three arrows" – bank credit, bond issuance and equity financing – within some 20 days in November.
But analysts believe that despite the stimulus measures, not every developer will survive the crisis.
"Regulatory support over the past months, including the expansion of support via the second arrow, has made clear that Beijing will bolster the fortunes of certain developers that it deems as winners and smooth the deleveraging of those destined to be losers," said Janz Chiang, a Beijing-based property analyst at Trivium China.
"That means bond issuance support will be limited to healthy developers in the hopes that they will take over overdue projects from their struggling peers."
People's Bank of China said on Friday that the average new mortgage rate in December was 4.26 per cent, 1.37 basis point lower than that in last year, hitting the lowest level since 2008.
Earlier in January, the central bank said if prices for newly-built homes drop for three consecutive months in a year, local authorities can choose to maintain, lower or even eliminate minimum interest rates on loans for a first home.
China's property market, one of the country's most important sectors, supporting its rapid economic growth, has been rattled by slumping home prices, weak sales and a crippling debt crisis among major developers.
According to data from the National Bureau of Statistics, 38 cities including the port city of Tianjin, manufacturing hub Changchun, and the coastal city of Xiamen, saw new home prices drop for three consecutive months recently, up from 23 in early 2022.