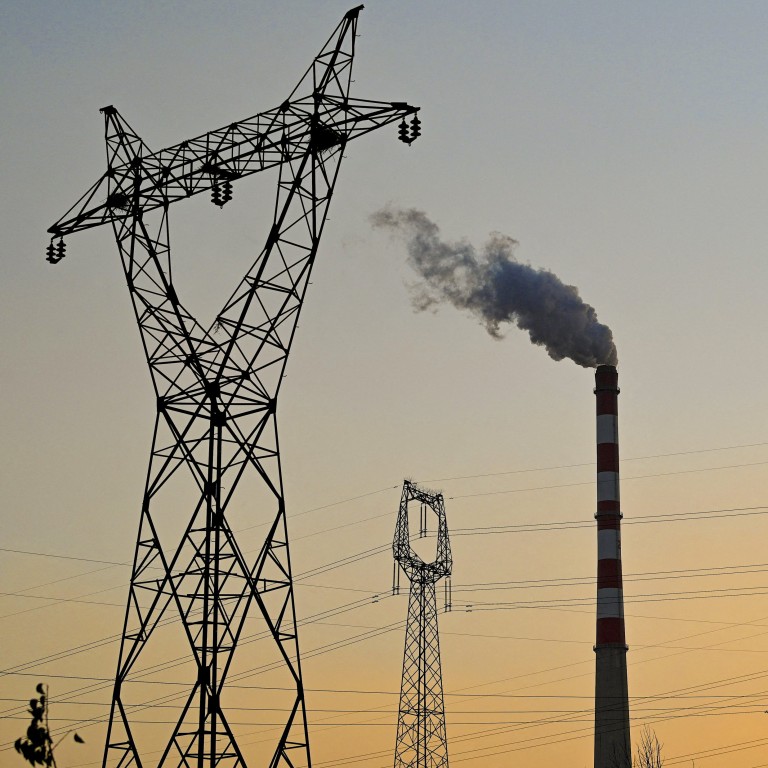 China's measures to fix energy sector's emissions data will improve credibility of carbon trading market, analysts say
The guidelines provide clear and detailed verification methods and instructions for evaluating emissions, including coal consumption, carbon content and calorific values
The measures are by far one of the most important developments in China's emissions trading scheme policy framework, Refinitiv analyst Qin Yan says
China's latest move to tackle
emissions
data quality in the power sector will greatly improve the development of its national carbon market, a crucial tool in China's efforts to fight
climate change
, according to analysts.
China's Ministry of Ecology and Environment issued detailed technical guidelines on the reporting and auditing of greenhouse gas emissions from power companies covered under China's
emissions trading scheme
(ETS).
The guidelines, which came into effect this year, provide clear and detailed verification methods and instructions on key parameters for evaluating emissions, including coal consumption volumes, carbon content and calorific values.
The recommendations are likely to improve the data quality under the ETS as inconsistencies have been found in early 80 per cent of the power companies' reported and actual emissions, according to the ministry.
The guidelines are by far one of the most important developments in China's ETS policy framework, according Qin Yan, lead carbon analyst at data provider Refinitiv.
"One of the goals of the ETS is to help China build a robust emissions accountability system covering all the sectors," she said. "Overall, China's energy statistics system is still less developed and less comprehensive compared to Europe. This has led to some difficulties regarding emissions data collection in the ETS, compared to the European carbon market."
China,
the world's biggest greenhouse gas emitter
, launched its national ETS in July 2021. It is the world's largest carbon market in terms of covered emissions and currently regulates more than 2,000 companies in the power sector with annual emissions of almost 4.5 billion tonnes of carbon dioxide, or around 40 per cent of the nation's total.
The ETS is eventually expected to expand to seven other heavy-emitting industries covering more than 70 per cent of China's total emissions, but transparency and accuracy of emissions data within the power sector remain a big concern.
Calculating the greenhouse emissions of power plants is especially complicated in China, as the emissions are not measured but estimated based on the type of coal used and plant efficiency. Lack of solid data on coal consumption and proper procedures to monitor their consumption and quality are key challenges in measuring the power sector's emissions, especially for smaller plants that use several types of coal for producing electricity, according to Qin.
The calculation and verification of the emissions is also prone to error and cheating by data verification firms. Last March, the ministry slammed several firms for falsifying carbon data, including tampering with and forging test reports and coal samples, and writing distorted and inaccurate conclusions.
"The technical guidelines can standardise the process to make sure that all the firms involved can estimate greenhouse gas emissions [accurately]," said Lucas Zhang Liutong, a director at Hong Kong-based consultancy WaterRock Energy Economics.
The guidelines will be a good template for other sectors, which are in the process of being included in the ETS, analysts said, adding that accurate data could help the policymakers adjust their emissions reduction policy.
In addition, correct emissions data is crucial for China's efforts to peak carbon emissions by the end of the decade and achieve
net-zero emissions
by 2060, Qin said.
"To date, China has not officially announced its greenhouse emissions for recent years [and] to correctly measure China's contribution to global climate efforts, one needs precise data," said Qin.
"China's huge emissions mean that a small margin of error could lead to a difference of many hundred million tonnes of carbon emissions, equal to the yearly emissions of a European country."