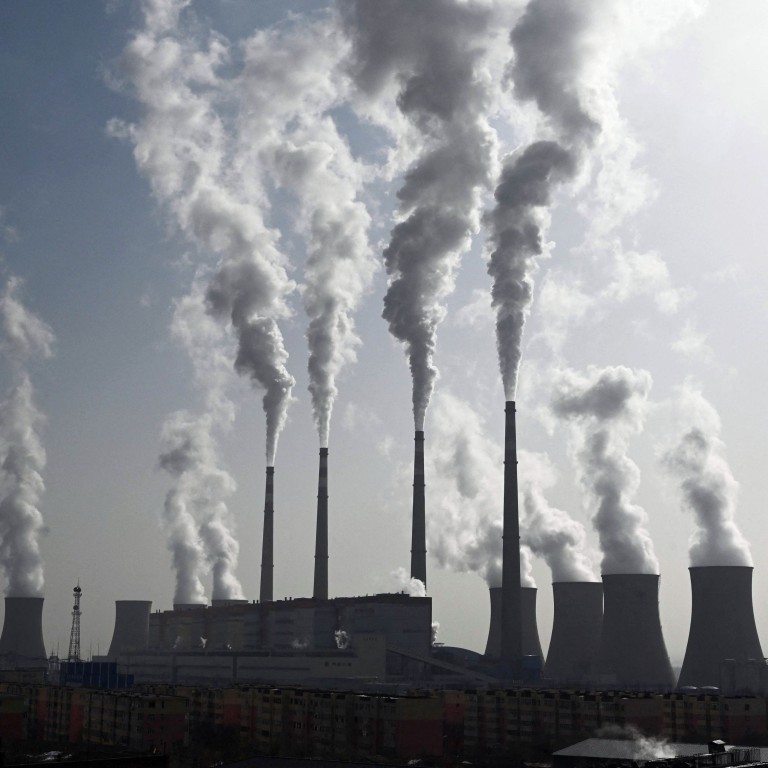 Climate change: how asset managers use clients' voting power to press Asia's polluters to act
Fidelity, State Street, Abrdn and Allianz are among the investors who are increasingly wielding their voting power to force companies to act against climate change
Fidelity said it would engage with the investees for up to three years before considering divesting if it sees no prospect of increasing their transition potential
Asia's listed companies face increasing scrutiny on their climate-related disclosure and commitments, as fund managers and institutional investors use their voting power to pressure them to act to mitigate effects on a warming climate.
Fidelity International, which manages US$663 billion of assets for 2.88 million clients, prioritises investees in energy and greenhouse gas emission-intensive sectors, from which the fund manager has sought disclosure of direct and indirect emissions and reduction targets.
For the 166 companies identified by investor-led initiative Climate Action 100+ to account for over 80 per cent of global industrial emissions, Fidelity has also demanded detailed mitigation plans aligned to pathways for reaching net zero emissions by 2050, key for the world to avoid the worst climate change impacts.
"Where companies have not shown alignment, we have voted against the chair or another suitable director," said Fidelity's director of sustainable investing Paul Milon. "In the few cases where no director was on the ballot, we elected to vote against other items such as board [duties] discharge or financial statements."
In 2022, Fidelity's first year of implementing its climate voting policy, it voted against responsible directors at 52 companies due to climate concerns, Milon said. Alternative actions were taken against seven companies where voting at director elections was not feasible.
Opposing votes were casted on 24 firms based in North America, followed by 19 companies in Asia – with most votes found in India, followed by Indonesia and the Philippines. It voted at a total of 4,090 company meetings in 2022.
The asset manager will engage with the investees for up to three years before considering divesting if it sees no prospect of increasing their transition potential, according to its climate investing policy.
State Street Global Advisors, which manages US$3.48 trillion in assets, said more climate-related shareholder proposals were submitted to its portfolio companies in 2021 with over 100 proposals going to vote, up from 58 in 2020 and 47 in 2019.
The asset manager has launched an engagement campaign targeting the climate transition disclosure plans of major emitters in carbon-intensive sectors, according to Jia Xinting, the company's ESG investment strategist for Asia-Pacific.
"As is typical across environment, social and governance issues, we will first approach … the companies through engagements," she said. "If we encounter laggards that are not making sufficient progress as a result of our engagements, we will consider taking action using our votes."
UK-based Abrdn, which manages £508 billion (US$615 billion) of client assets, sets time-bound milestones and expected outcomes for high-emitting companies in its portfolios, said David Smith, senior investment director of Asian equities.
The asset manager deploys its own analytical model to assess the companies where the investees sit along the pathway to net zero emissions.
"If we find that our engagement efforts are not as effective as we would hope, we will vote our clients' shares accordingly," Smith said. "Where we find that there is limited progress despite intensive engagements, we will of course consider the ultimate option of selling our holdings."
Asia lags behind Europe on climate proposals, according to Chris Liu, the Hong Kong-based stewardship analyst at Allianz Global Investors, which oversees €521 billion (US$555 billion) of client assets.
"Unlike in Europe, [climate] proposals have not gained traction in Asia," he said in a statement on Wednesday. "Yet, Japan continues to stand out … with [a] steady increase in climate-related shareholder resolutions urging Japanese companies [to commit] to developing robust decarbonisation strategies."
In 2022, Allianz voted on 52 climate-related proposals from management and supported 70 of 87 shareholder climate proposals globally. It took part in 10,205 shareholder meetings.
In the US, some 273 resolutions on environmental and social themes were put forward for voting by shareholders of listed firms in 2022, up from 171 in 2021, funds researcher Morningstar said in a report in January.
This was after the Securities and Exchange Commission broadened in late 2021 the definition of permissible shareholder resolutions addressing "significant social policy issues".