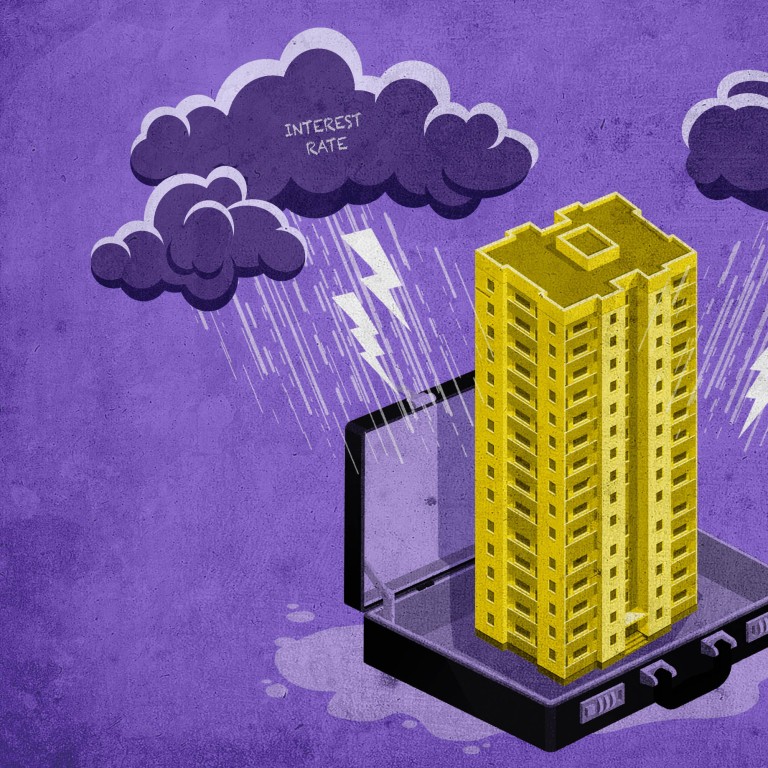 Hong Kong developers whipsawed by 16-year high inventories, lofty interest rates and China slowdown
Hong Kong property, which has for years benefited from a combination of low US rates and strong Chinese growth, is seeing a reversal of fortunes
The city's inventory of unsold units is the highest since 2007 at a time when there is a strong pipeline of launches and this is one of the reasons behind the rush to cut prices
Dark clouds have gathered for Hong Kong developers as mainland China's property crisis intensifies at a time when the city's builders are already grappling with the deadly combination of rising interest rates, an economic slowdown, and a robust pipeline of new office space.
Weakening residential transaction volumes in recent months have doused hopes of a sustained recovery from the pandemic lows as China's reopening failed to generate the expected inflows. Adding to the sector's misery were higher mortgage rates, at least a third more expensive compared with a year ago.
"Optimism is in short supply for Hong Kong's real estate companies in the near term, and earnings are likely to disappoint. The mainland downturn is far from over and authorities remain reluctant to accept that the real estate profit model has changed," said Brock Silvers, chief investment officer at private equity investment firm Kaiyuan Capital in Hong Kong.
Hong Kong property has benefited from years of low US interest rates and strong Chinese growth but fortunes are in reverse gear now. Hong Kong's commercial banks raised their mortgage rates by nearly a fifth in the past year and China's economic troubles has had a swathe of research houses lowering their growth estimates.
In the second quarter of 2023, the stock of unsold residential units rose to 19,085, the highest since 2003 when it had piled up to 22,000 units, according to Centaline Property Agency. Since then, mortgage rates have risen further with the latest round of increments announced last month following the Hong Kong monetary authorities.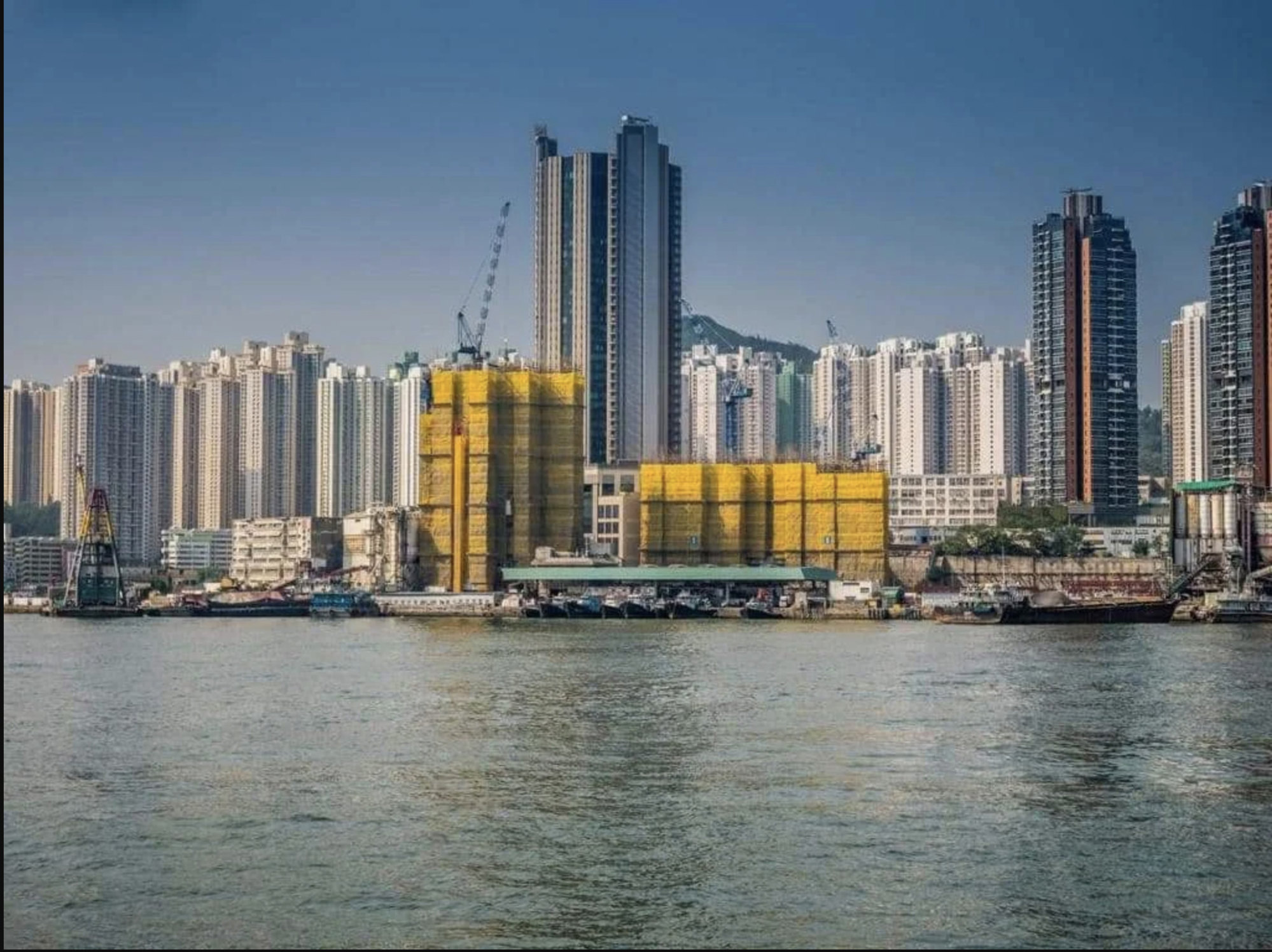 "Lower average selling prices and higher interest rates are likely to erode developers' margins and will have a lasting impact on bookings in the coming one to two years," Sam Wong, equity analyst at US investment bank Jefferies told the Post. In a recent note, he trimmed earnings estimates of Hong Kong developers across the board, citing margins, higher interest expenses and the yuan depreciation, which factor in the sizeable mainland exposures of some of these companies.
"Yuan depreciation could be a headwind to select HK property names with relatively sizeable China exposures," said Wong. "Historically New World Development, CK Asset, Hang Lung and Hongkong Land tend to perform more weakly in yuan depreciation cycles."
Earlier this year, a pickup in demand against a backdrop of better macro economic conditions was met with abundant backlog supply carried over from the second half of last year in the form of 12,000 units which had obtained presale approval and yet to be launched, according to Jefferies.
The inventory overhang meant that the average price of new homes sold in June this year at HK$19,600 (US$2,508) per square foot was the lowest since HK$18,800 per square foot in September 2022, according to data from Dataelements, a data provider that tracks new residential properties in Hong Kong. The June price was also 20 per cent lower than a year before.
Overall sell-through, which refers to the percentage of homes offered that were sold, in the first half of 2023 is close to 80 per cent, according to Jefferies, but despite the decent sell-through, homebuyers demand is constrained by rising rates, according to Wong.
Last month, Hong Kong's commercial banks raised their prime rates for the second time this year, after the Hong Kong Monetary Authority nudged up the city's base rate by a quarter point in lockstep with the US Federal Reserve. Bank of China (Hong Kong), HSBC and Hang Seng Bank raised the lending rate for their best customers by 12.5 basis points to 5.875 per cent. A year ago the best rates were around 5 per cent.
"Developers are likely to prioritise destocking over aggressive pricing in the meantime," said Jefferies analyst Wong.
Hong Kong's inventory of unsold units in completed projects is at its highest since 2007, according to property services company JLL, which said a total of 83,000 housing units are currently available and about 25,000 more units are expected to hit the market in 2023.
For sure, inventory offloading has begun in earnest amid hurried launches by developers capitalising on this demand revival, seeking to pre-empt their rivals. Earlier this month, the developers behind Villa Garda III housing project rushed to the market releasing its first price list at discounts after CK Asset, Hong Kong billionaire Li Ka-shing's flagship developer, cut prices and sold out all 626 standard units at its Coast Line II development in Kowloon. The prices were around 16 per cent below market rates in the area and eyes are now on the sale of Coast Line I and the Villa Garda III projects which begin on Sunday, August 20.
"We expect elevated interest rates and capital market volatility to constrain homebuyer sentiment over the next several quarters," said Moody's Investors Service in a report this week. "We expect these conditions will result in a mid-to-high single digit decline in prices in the next six to 12 months, largely giving up gains accumulated in the first half of 2023."
Hong Kong home prices are better placed for a material recovery in 2024 given rate normalisation, supply returning to more normal levels and population inflows to support housing demand, according to Jefferies analysts.
But things are likely to worsen before improving.
New homes sales in the third quarter will fall back to about 3,000, down about 500 cases quarter-on-quarter, according to Centaline. With the recent slowdown in the market, new home sales will decline in the second half of the year. Centaline slashed the estimate of new home sales in 2023 to 13,000, which is 2,000 lower than the previous estimate in the previous quarter. The number of first-hand cases in 2023 will be the second lowest level in the past 10 years after 9,753 cases in 2013.
The number of new home sales in the second quarter of this year was 2,753, down about 20.6 per cent from 3,468 in the first quarter, according to Midland Realty.
Due to the slowdown in large-scale luxury new home sales, the sales value of new homes plunged 26.2 per cent to HK$29.36 billion in the second quarter, according to Midland.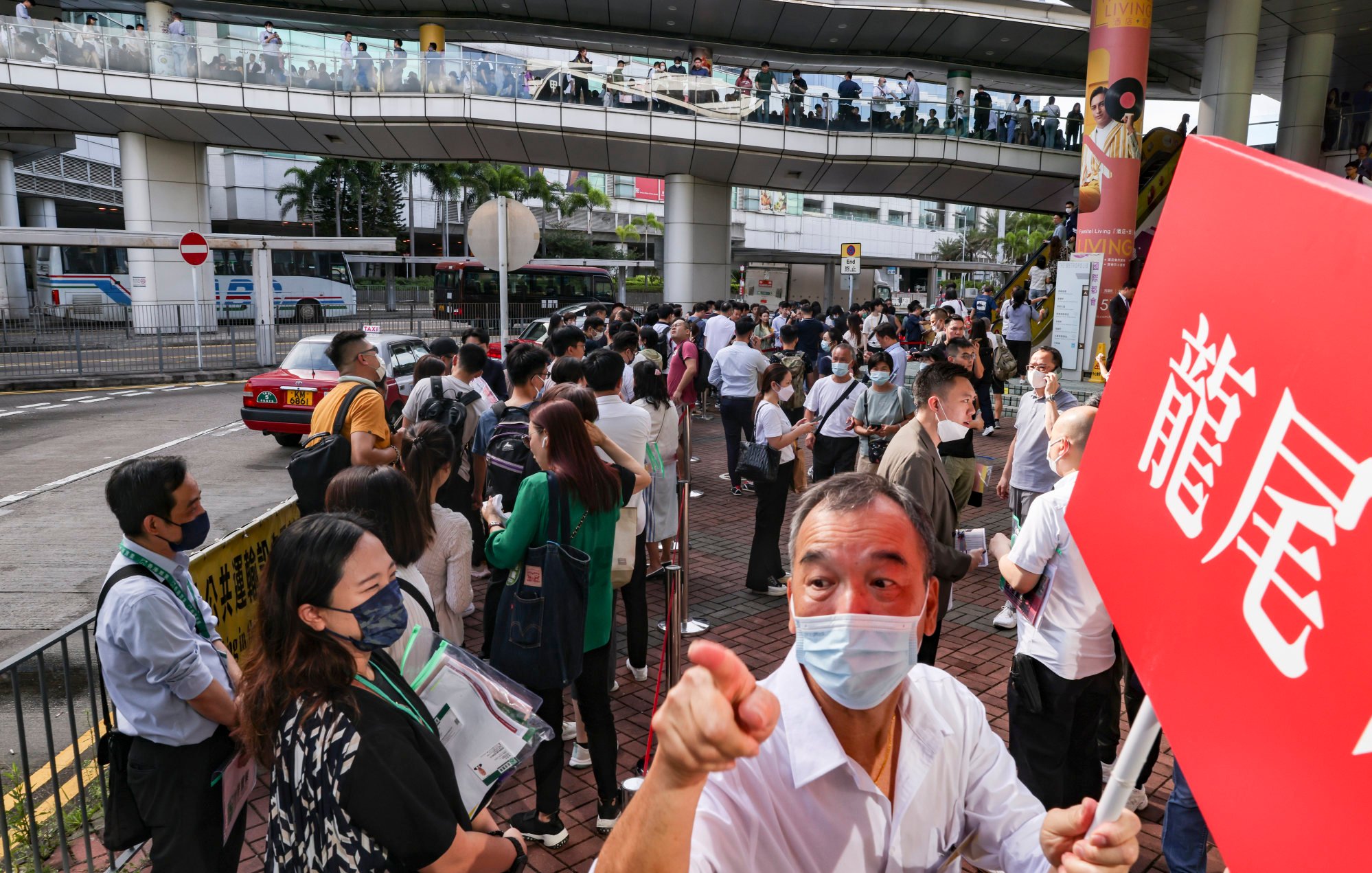 "Interest rates will continue to plague the investment market in the short term," said Sammy Po, Midland Realty's residential ­division chief executive for Hong Kong and Macau. "Home prices have shown signs of softening. Since it is difficult to determine when the interest rate hike cycle will end, Hong Kong property market in the third quarter will continue to be under pressure."
New homes are more attractive to homebuyers due to developers' aggressive pricing strategies. Po expects new home sales to edge up only 2 per cent on quarter to 2,800 in the third quarter.
Raymond Tsoi, chairman of Asia Property Holdings who has 38 years of real estate industry experience and is president for Hong Kong Kong Chamber of Professional Property Consultants with over 3,000 members, sees a slow deterioration.
"Home prices will keep declining," Tsoi told the Post. "It will not be a sharp plunge, but a gradual decline."
Tsoi expects a decline of 5 to 7 per cent in the second half and a full-year decline of 2 to 3 per cent this year, to be followed by a 10 per cent tumble next year.
The gloomy outlook is backed by forecasts that the private home market will be flooded with new supply in the next couple of years.
An annual average of about 20,200 private residential units is seen completed this year and in 2024 before rising to 20,900 units in 2025, according to a forecast from Our Hong Kong Foundation cited by Bloomberg Intelligence.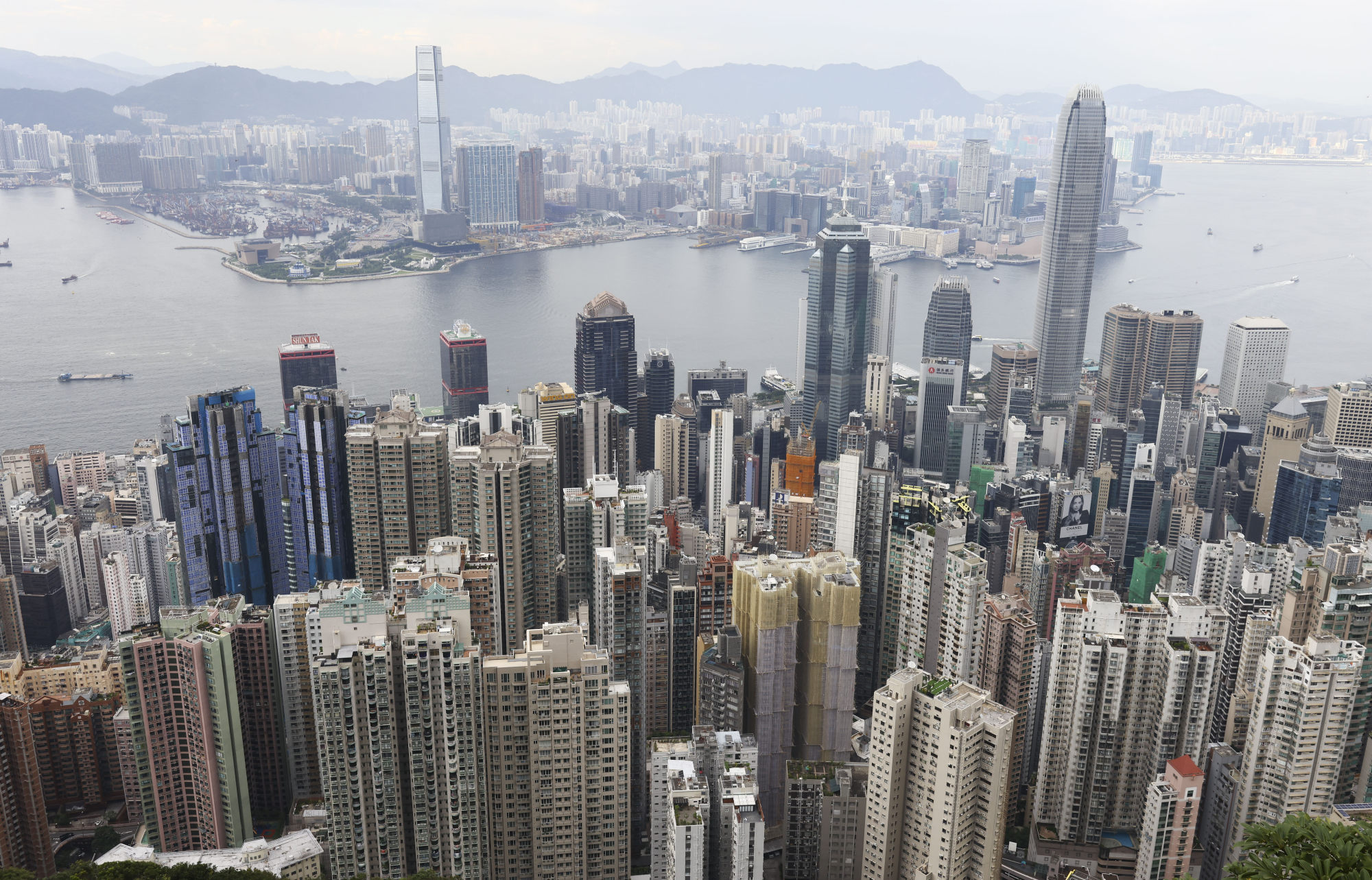 This stacks up unfavourably with the 6,310 units sold in the first half of the year, according to Centaline.
"Developers, for the sake of interest, will rush and compete by selling cheaply. Many developments will need to be launched," said Tsoi. "Developers have to launch. Otherwise they have no results. If the market is weak, do they have to cut prices? Several major developers that sold well had to [incentivise sales] with rebates, high loan-to-value ratio, high commission and low prices."
The Corniche in Ap Lei Chau, developed by mainland-based developers KWG Group Holdings and Logan Group, has sold just three out of 295 units since its first offer for tender in January, according to its Register of Transactions as of late July.
"The transaction volume now is at a record low," said Tsoi. "There have also been plenty of loss-making deals."
The city saw 1,964 loss-making lived-in housing deals, or 14.6 per cent of the total, in the first half, the highest since cooling measues were launched in the second half of 2010, according to Ricacorp Properties. The property agency blamed it on the 15 per cent decline in home prices last year and the emigration wave.
The overall number of property transactions hit an eight-month low of 4,426 in July, according to Centaline, with losses piling for those desperate to sell.
Tsoi also pointed to the plunge in land prices as a sign of the weak sentiment. The government's first land tender of the financial year in early July fetched the lowest price for Hong Kong Island since June 2002 and is more than 25 per cent lower than prices seen in November at the previous tender.
Meanwhile this slump presents an opportunity to do some housekeeping and clean up their balance sheets.
"Hong Kong property companies should weather the storm by reducing debt, increasing efficiency, & focusing on the home market. Once China begins to restructure the onshore real estate sector, perhaps a few rays of sunshine will finally be seen in Hong Kong," said Silvers.