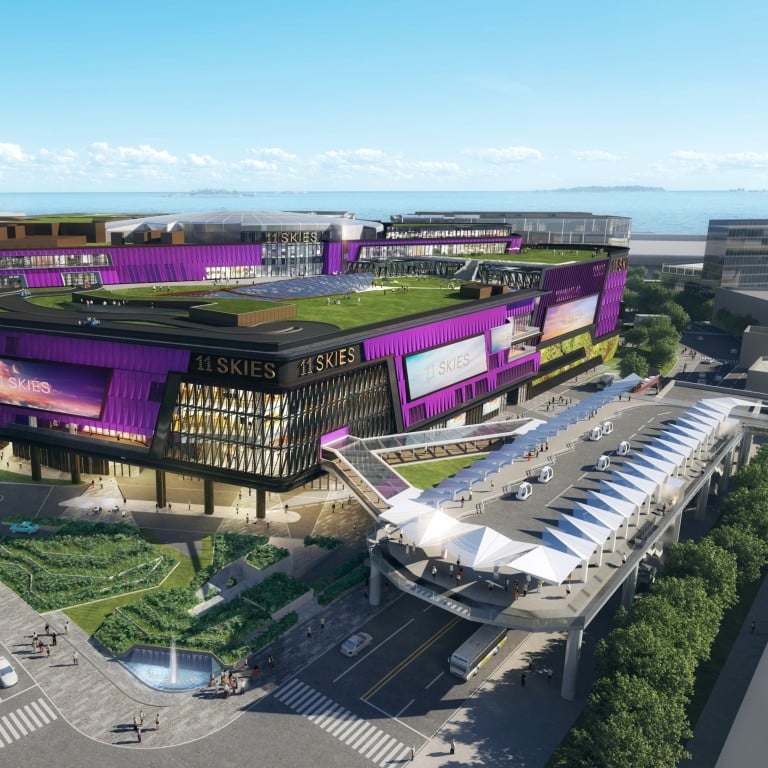 Hong Kong airport's 11 Skies complex to get 'deep-sea adventure experience' as shopping mall landlords beef up entertainment offerings
The 3.8 million square-foot complex is adding 'Vquarium' to its list of attractions, says operator K11 Group
Hong Kong's malls and shopping centres have been increasingly boosting their entertainment offerings
11 Skies, the 3.8 million square-foot complex touted as Hong Kong's largest indoor entertainment hub, is adding Vquarium, the city's first-ever "virtual deep-ocean adventure experience", to its list of attractions, according to the K11 Group, a unit of
New World Development
.
As part of the Hong Kong International Airport's Skycity, the 11 Skies complex will house more than 800 shops and 120 dining options. It also has an
office property component
with three grade-A office buildings that have already opened, combining leisure, business, wealth management and wellness services, aiming to serve the Greater Bay Area.
The complex – whose retail and entertainment elements are scheduled to open in phases from the end of this year – is located close to the Hong Kong-Zhuhai-Macau Bridge.
Scheduled to open in 2025, Vquarium is a joint venture between the K11 Group and the US entertainment technology firm Falcon's Beyond, which has worked with the likes of Marvel Studio and Lotte World in South Korea.
The museum will have three levels with areas divided into different themes. The levels will have a vertical space of up to 13 metres to create a sense of the deep-ocean environment, enhanced by simulators with special effects and mixed reality technology.
Other attractions in the entertainment section of 11 Skies are the "Paddington Play Adventures" that features the much-loved and well-mannered bear named Paddington that lives in London, and a children's educational zone called KidZania.
"As a new generation of consumers and tourists are always hunting for Instagram spots, entertainment experiences, besides shopping only, 11 Skies [will offer] world-class … retailtainment highlights," a K11 Group spokesman said.
Meanwhile, Kai Tak Sports Park Retail will allocate a third of its mall area to sports and entertainment attractions, said Lucia Leung, director, research and consultancy, Greater China at Knight Frank.
Retail sales in the city ranged from HK$326.4 billion (US$41.7 billion) to HK$352.9 billion from 2020 to 2022, much lower than those recorded from 2011 to 2019, which ranged from HK$405.7 billion to HK$494.4 billion, according to government data.
"Given the shift in consumer behaviours and preferences, shopping mall landlords have been more active in recent years to optimise their mall layout to build family-friendly shopping malls that integrate leisure, entertainment and shopping," said Leung.
The additional attraction of entertainment ensures better footfall as consumers that may not need to buy typically still need to find something to do during weekends, Leung added.
"In recent years, with the shift of consumer shopping preferences, customer profile and demographics and changes in tourist spending patterns, entertainment and leisure components in shopping malls have become more important," Leung said.
"The availability of online shopping is causing consumers to visit shopping malls less. More consumers are visiting malls for dining, entertainment and social and leisure purposes. They are looking for unique shopping experience, lifestyles and convenience."
These trends, she added, are driving malls to position themselves as a "one-stop shopping, entertainment and socialising places for people of all ages."
"From the landlords' point of view, this can help establish a unique mall identity and stand out from other shopping malls," Wan said. "To ensure malls are consistently appealing to customers, it's important to tap into festive seasons, update and add new attractions on a regular basis."
In the second quarter of the year, the amount of vacant retail space in Hong Kong fell to 9 per cent, a three-year low, according to a report by Cushman & Wakefield.
However, analysts believe that a V-shaped recovery or a sharp upswing in the retail property market is unlikely as 29 million Hong Kong residents who had been cooped up during the pandemic headed abroad for holidays in the first six months of the year.
On the other hand, 12.9 million visitors came to Hong Kong from January to June, a huge increase from the 76,000 a year earlier. Almost 80 per cent of them were mainland Chinese.
Tourists from the mainland have also shifted their preferences. Instead of buying luxury goods in Hong Kong – a common sight before the anti-government protests and Covid-19 – they have become more interested in Instagram-worthy sights and less expensive goods, according to tour executives.