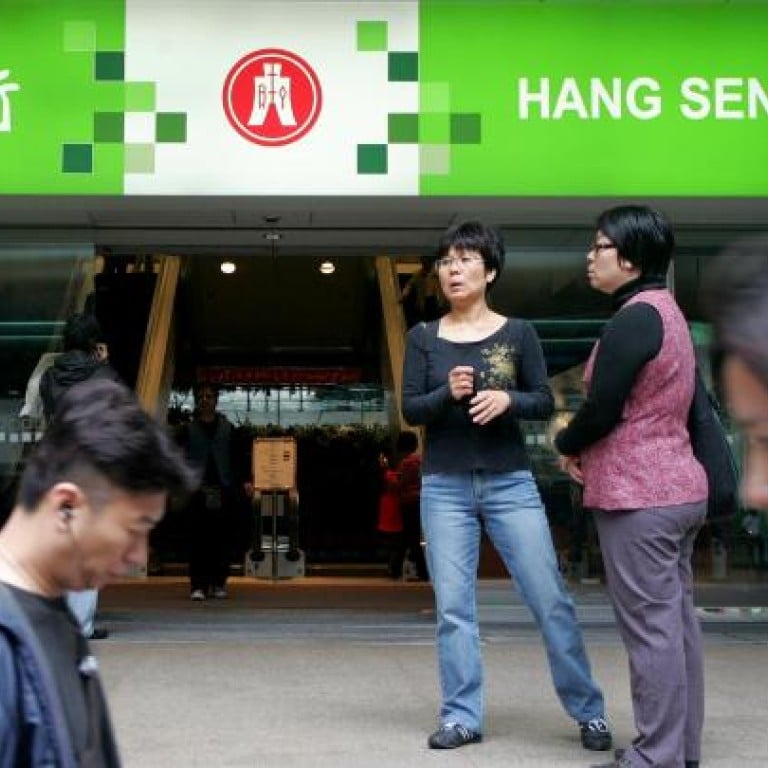 Hang Seng customers seek havens in uncertain times, says bank chief
Hang Seng customers seek havens, including bonds and low-risk products, says bank chief
Hang Seng Bank would continue to offer low-risk investment product services to meet customer demand, executive director Andrew Fung Hau-chung said.
In the current climate, investors preferred bonds or low-risk products over high-risk high-return products, said Fung, who is in charge of investment and treasury at Hang Seng.
He also oversees the bank's bullion, asset management and securities services subsidiary companies.
"Investors' risk appetite has changed since the global financial crisis in 2008," Fung said. "Before the crisis, investors were more aggressive and they liked to bet on short-term gains. Now they want more stable long-term investment products, which are simple and transparent."
Besides bond funds, exchange-traded funds had also become popular among investors, Fung said.
ETFs track their underlying indices, giving investors exposure to a basket of the constituent stocks in the index.
"ETFs have been popular in recent years because they are very transparent, since their performance replicates movements in the underlying index," he said. "When the market is having a bull run, investors like to invest in actively managed equity funds. However, during a market downturn like the current market situation, actively managed funds may not outperform the market and investors would prefer to invest in passively managed products like ETFs."
Fung said Hang Seng would continue to expand its yuan-related business but said it would be a challenge to develop yuan investment products because expectations of continuing appreciation of the yuan had slowed this year.
Yuan investment products were popular over the past two years as the currency has risen by more than 20 per cent against the US dollar since 2004. But this year the yuan has been flat.
"When the yuan is likely to remain stable or even depreciate against the dollar, fewer investors want to buy yuan products," Fung said. "But this is also the time that more companies are willing to borrow in yuan.
"In addition, the dim sum bonds issued by some big names would continue to be attractive to investors."
Dim sum bonds are yuan-denominated bonds issued outside the mainland, mainly in Hong Kong.
This article appeared in the South China Morning Post print edition as: Risk takes a holiday in uncertain times