CNOOC
Get more with myNEWS
A personalised news feed of stories that matter to you
Learn more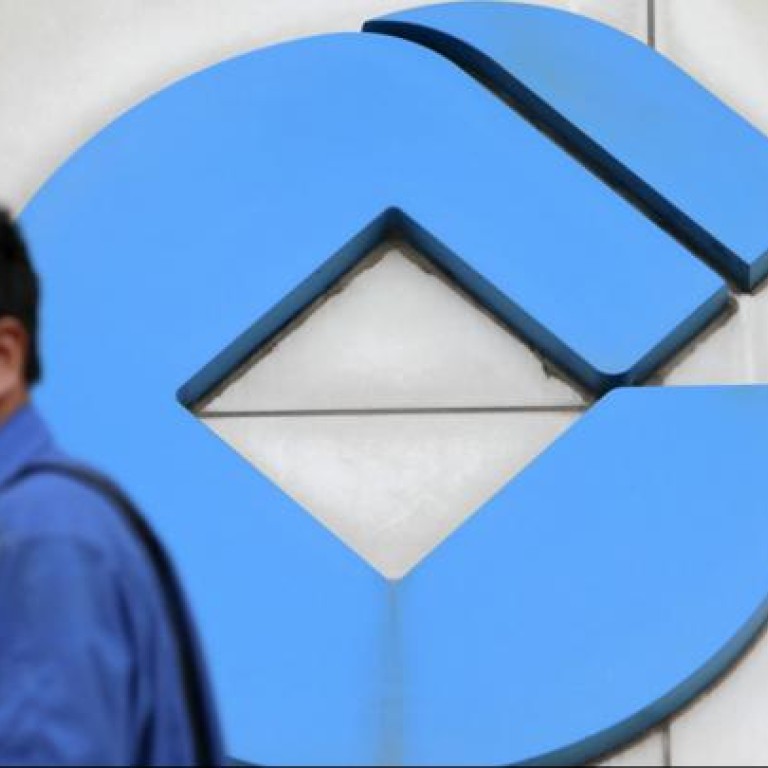 China Construction Bank on the prowl for European lender
Mainland property lender may spend up to 100 billion yuan to take a stake of 30 to 50 per cent in British, French or German peer
China Construction Bank surprised its industry peers and bank analysts yesterday with a disclosure by the bank's chairman that the mainland's No1 property lender might spend as much as 100 billion yuan (HK$122.5 billion) to acquire a stake in a European bank.
Wang Hongzhang, chairman of Beijing-based China Construction Bank (CCB), told British newspaper the that the mainland's second-largest bank by assets may buy all of its target, or 30 to 50 per cent of a larger institution. Wang did not name a specific target, but he noted that an investment in Britain, Germany or France would be most attractive.
If such a deal takes place, it would become the largest-ever overseas acquisition by a Chinese bank. A CCB spokesman declined to comment.
The disclosure comes on top of a US$15.1 billion bid in July by Hong Kong-listed Chinese oil giant CNOOC for Canada's Nexen, the largest overseas acquisition so far announced by a Chinese company. That deal is awaiting regulatory approval.
But investors were not impressed that CCB may be on the prowl. The price of CCB shares - dual-listed in Shanghai and Hong Kong - ended flat at HK$5.17 each in Hong Kong in a firmer overall market, and were down 1.25 per cent to close at 3.94 yuan each in Shanghai, where the broader market dropped more than 2 per cent yesterday.
Immediate speculation centred on Britain's Royal Bank of Scotland (RBS) and Germany's Commerzbank as acquisition targets. Loss-making RBS is already majority-owned by the British government. Commerzbank is Germany's second-largest and 25 per cent-owned by the German government. RBS and Commerzbank both declined to comment.
"If they are willing to spend 100 billion yuan and buy 30 to 50 per cent, then very few European banks are excluded by those criteria," said Bill Stacey, an analyst at Keefe, Bruyette & Woods, citing Deutsche Bank and France's Societe Generale in addition to RBS and Commerzbank as potential targets.
"Spending 100 billion yuan would take about 1.4 per cent off tier one capital. This is still above the regulatory requirements, but would be pressured under the Basel III requirements [to be] introduced next year," Stacey said. CCB's tier one capital ratio is 11.19 per cent, according to its financial statement for the first half of the year.
Still, most analysts are cautious, and even doubtful, about any potential acquisition for CCB.
"CCB is still under capital pressure; the possibility of such a deal is less likely," said a Beijing-based analyst who declined to be named. "And I don't see good synergy between European banks and a Chinese bank."
Some analysts say it is not a good time to buy assets in Europe because the debt crisis in the euro zone is far from over, and investors are still worried whether Greece or more euro-zone nations will eventually leave the currency union, which could drag the world economy into deeper trouble.
"The prices of banking assets in Europe are not attractive enough," said the Beijing-based analyst.