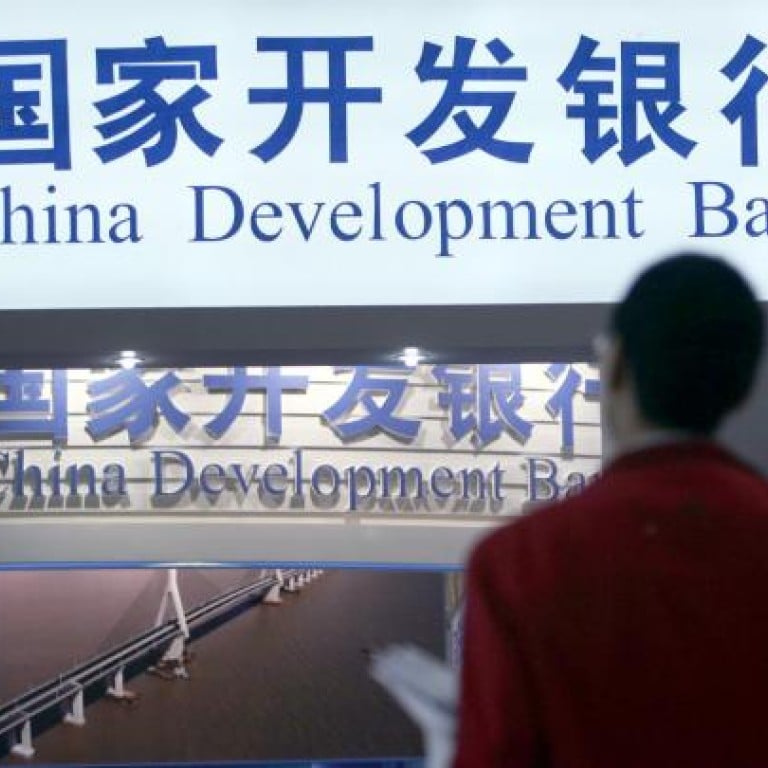 China Development Bank grabs chance for aggressive global loan expansion
China Development Bank is now the world's largest for overseas loans and is playing a leading role in promoting Beijing's economic interests abroad
Beijing's growing prominence on the global political and economic stage has been mirrored in the transformation of one Chinese bank. China Development Bank is now the world's largest financial institution for overseas loans, overtaking both the World Bank and Asian Development Bank.
China Development Bank (CDB), established in 1994 and wholly owned by the government, initially served as one of the mainland's three policy lenders whose main mandates were to support state-backed projects, such as airports, railways and bridges.
But since the 2008 global financial crisis engulfed Wall Street, CDB has grabbed a rare, historic opportunity for aggressive loan expansion outside the mainland.
The 2008 financial crisis changed the landscape of the world's financial industry. Many big Western companies such as Citigroup of the United States and London-based HSBC were forced to limit their lending due to pressure on their capital base and risk controls, which were damaged during the crisis.
For CDB, it was the other way round. The crisis had a minimal effect and the bank took the chance to expand loans abroad, making it the new hope for many resource-rich but capital-poor nations.
At the end of 2011, the size of CDB's outstanding loans reached 5.52 trillion yuan (HK$6.88 trillion). CDB did not provide a breakdown of its domestic and overseas loans but industry sources familiar with the situation said that typically about a quarter to one-third of CDB's total loans were US dollar-denominated offshore loans. "For the next few years, as Beijing has increasing demands for natural resources, I expect that the percentage of overseas loans in CDB's total loans could easily increase at the current pace or even more rapidly," said one of the industry sources.
"Meanwhile, CDB is also turning itself into more of a commercial bank than a policy lender, so it is keen to expand business abroad, just like any other big Chinese bank is doing, for example, ICBC," he added, referring to Industrial and Commercial Bank of China, one of the mainland's well-known "Big Four" state-owned lenders and now the world's largest bank by market value. ICBC has accelerated its international expansion in recent years by adding branches in London and New York.
Compared with CDB's loan position, the Asian Development Bank had outstanding loans of US$71.4 billion as of June last year and the World Bank's outstanding loans reached US$136.3 billion as of its 2012 fiscal year, according to official data and reports. CDB chairman Chen Yuan said in a speech last April that CDB's outstanding foreign exchange loans reached about US$220 billion by the end of March 2012.
The World Bank, founded in the early 1940s and headquartered in Washington, is an international organisation providing loans to developing countries, mainly to support their policies and projects to reduce poverty. The US has a strong influence on the World Bank as the bank is traditionally headed by an American citizen. The Asian Development Bank, established in 1966 and based in Manila, is widely considered the Asian version of the World Bank.
Ironically, just a decade ago in 2003, China became the biggest recipient of loans from the World Bank. China has also been one of the largest borrowers from the ADB since the early 1990s.
The two institutions did much to help China boost its economy and improve its standard of living after Deng Xiaoping came to power in the late 1970s and agreed to open up the country to foreign investment.
China received US$10.4 billion in loans from the World Bank in the five years from 2007 to last year and has an outstanding loan balance of US$13 billion, according to the World Bank's website. It "remained one of the bank's largest borrowers", according to a review of lending to China in that period by the bank's independent evaluation group.
According to the Asia Development Bank's website, China has been its second biggest borrower historically, receiving almost US$26 billion in loans since joining the bank in 1986.
But in recent years, in particular since the 2008 financial crisis, Beijing has gradually increased its influence and contributions to the World Bank and ADB. Some political analysts say the contributions are an effort by China to showcase its economic power.
Outside those international and regional institutions, Beijing is also keen to have its own big institution to show the rest of the world its wealth. CDB appears to be playing a leading role in this plan to promote Beijing's economic interests abroad, which will also help Beijing strengthen diplomatic ties with certain allies.
"I think CDB is still trying to maintain its low profile in the public and press, but if you look at the numbers and talk to people in the banking world, CDB has been very high profile and aggressive in loan business expansion worldwide in the past few years," said one banker with working ties with CDB.
"Most people [in the financial industry] may feel CDB has become more aggressive with international loan deals since the 2008 financial crisis and its ambition for loans abroad has, of course, also come after Beijing's strategy to support Chinese companies to go abroad and to in particular grab more natural resources assets," he said.
The bank has focused on the natural-resources-related loan business. Oil-rich Venezuela has become the largest foreign borrower of CDB with more than US$28 billion in loans issued so far. Late Venezuelan president Hugo Chavez once proudly announced on state television that CDB was "the [bank] with the most money in the world. It has half the money in the world and is allied with Venezuela".
Similar massive loans issued by CDB - with the full support of the Chinese government - can also be seen in countries such as Russia, Brazil, Turkmenistan and Ecuador, according to a research report by Erica Downs, a fellow at the Brookings Institution in Washington. In those countries, CDB has a much greater influence than the World Bank.
CDB's growing power comes from its strong financial position, Downs says. According to CDB's 2011 financial report, its total assets reached more than US$1 trillion for the first time, about three times the World Bank's total assets in the same year.
"CDB is a link between the strategic ambitions of the Chinese government and the commercial interests of Chinese firms, because the financing it provides to support cross-border deals connects state policy to commercial activity," said Downs in the report.
Just last month, Russian Deputy Prime Minister Arkady Dvorkovich said China may soon lend petroleum giant Rosneft money to help finance a proposed plan to increase Russia-China oil supply deals.
CDB was tipped by market participants to play a leading role in the new financing arrangement between the Russians and China.
CDB's ambition in the international loan market already goes beyond the resources sector. Industry watchers believe CDB has been keen to play a leading role in major merger and acquisition deals, also part of Beijing's well-known go-out strategy to support China Inc to expand business outside the mainland.
Late last year, CDB surprised the loan market by backing Hong Kong Exchanges and Clearing's £1.4 billion (HK$16.18 billion) acquisition of the London Metal Exchange. CDB agreed to provide HKEx a US$1.8 billion bridge loan, beating competitors including at least two well-established European banks, HSBC and Deutsche Bank, that also wanted to fund HKEx's landmark deal.
And in a reversal of fortune, CDB even has the United States in its sights.
Last December, reported that CDB had agreed to loan US$1.7 billion to fund two San Francisco housing development projects with only one precondition - to get a state-owned Chinese construction company to build the projects.
In an interview with Hong Kong broadcaster Phoenix TV last year, CDB chairman Chen, son of a former top Communist Party leader, said he often liked to stand in front of a big world map in his Beijing office.
"If I want to pin a small flag on the world map, I think I will pin one in Moscow, and then Cairo … we're just beginning to expand our network."
This article appeared in the South China Morning Post print edition as: Banking on a global expansion