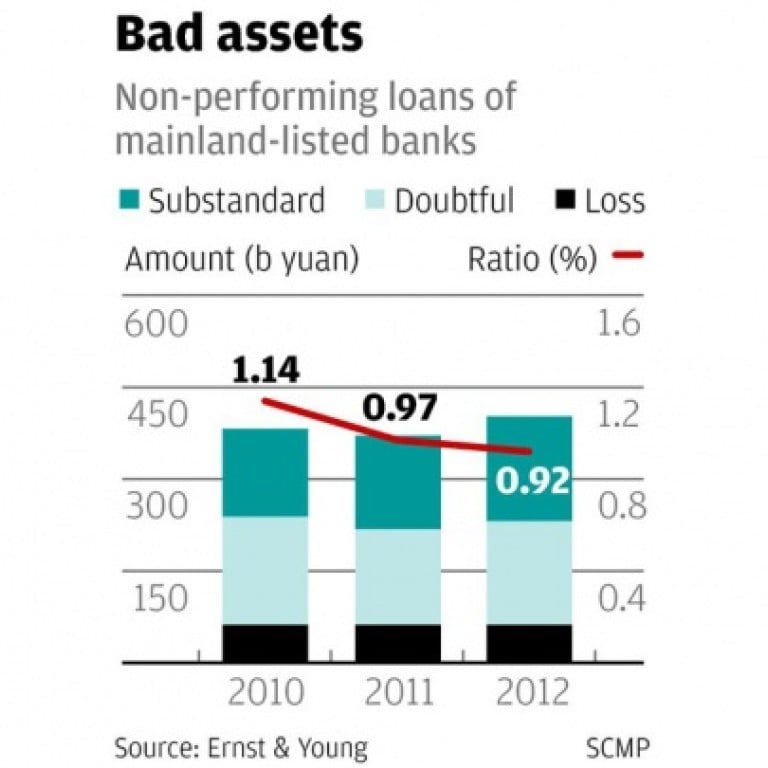 China interest rate liberalisation to hit banks' interest margin: Ernst & Young
Bad loans could increase if mainland banks adjust portfolios by lending to riskier borrowers
The impact of interest rate liberalisation on mainland banks will be reflected in a further compression of their net interest margin in their results this year, Ernst & Young says.
Net interest margin is a profitability measure based on the difference between interest income and interest outlays.
Geoffrey Choi, a partner at the firm's China practice specialising in banking and financial services, said mainland banks would adjust the structure of their loan portfolios to maintain their margin.
"Banks could get a higher return on lending to small and medium-sized enterprises, and they might put more resources into such high-yield business," Choi said, as the firm released a report on the outlook for mainland banks.
The banks' response might result in an increase in the amount of bad loans. The asset quality of listed banks remained stable last year, with the average non-performing loan ratio having fallen to 0.92 per cent by the end of the year, compared with 0.97 per cent in 2011, the firm said in a report.
Choi said bad loans emerged when the economic cycle turned, as "it is impossible for the NPL ratio to keep falling".
Loans to local government financing vehicles and the property sector fell as a proportion of total loans, but Ernst & Young said money could end up in the sectors through sources other than banks.
The report showed profit grew at the 17 listed mainland banks last year by 17 per cent, 12 percentage points less than in 2011.
The slowdown in mainland economic growth, accelerated interest rate liberalisation and tightened regulatory constraints on capital resulted in the slower profit growth, said Jack Chan, the managing partner for greater China financial services at the firm.
Despite the impact on commercial banks of regulatory caps on fees, the listed banks achieved an average increase of 12 per cent in net income from fees and commissions, to which wealth management made a major contribution.
This article appeared in the South China Morning Post print edition as: Interest rate reforms to hurt lenders' margins