HSBC
Get more with myNEWS
A personalised news feed of stories that matter to you
Learn more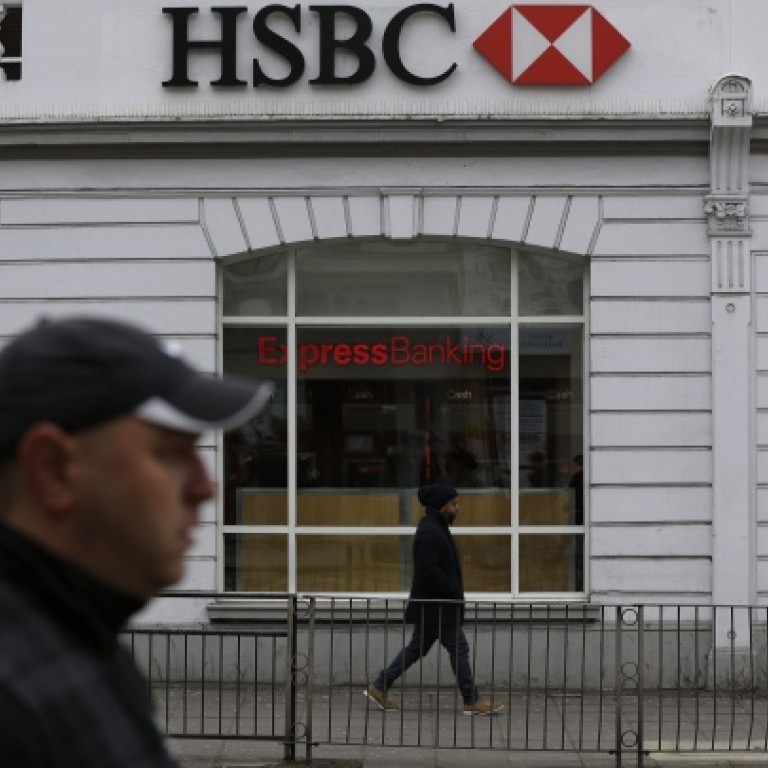 HSBC still set on hiring more Hong Kong staff despite job cuts
Chief executive tells shareholders that plan to reduce numbers by up to 5pc may not affect city
Despite plans by HSBC to cut staff globally by up to 5.5 per cent over the next three years, the bank still intends to hire people in Hong Kong, chief executive Stuart Gulliver told shareholders in the city yesterday.
Gulliver told a meeting attended by around 600 shareholders, that there would be more "front revenue-producing jobs" created in the city, and "it is quite possible that in … Hong Kong the net headcount won't go down at all" from its current 28,000.
He unveiled a blueprint for the bank over the next three years in an investor update last week, saying the group will cut down staff numbers to between 240,000 and 250,000 at the end of 2016, from 254,000 in early 2013.
Gulliver said much of the reduction in jobs would be made in a "natural" way and staff numbers could be reduced simply by not rehiring.
HSBC shares rose yesterday 1.63 per cent to close at HK$90.25, the highest since March 2011. However, one shareholder told yesterday's meeting he was worried that price could be the peak, because he did not see a sustainable plan for the profitability of the group. Gulliver said the surge in stock price in recent days represented institutional investors' support for the strategy he unveiled at his last investor update.
Another shareholder asked if the group's operations in the euro zone might turn into another "Household", referring to Household International, the HSBC's business in the US, which revealed huge losses as bad debt emerged in the 2008 financial crisis. Gulliver said the group hads significant operations in Britain, France and Germany, which had the strongest economies in the euro zone, and the operations there were facing "revenue headwinds rather than a large bad debt". He said the operations in the euro zone were at risk but not another Household in his eyes.
Anita Fung Yuen-mei, chief executive of HSBC's Hong Kong office, told the meeting she expected the yuan to be freely convertible within five years. A shareholder asked if the group would consider relocating to Hong Kong from London as Hong Kong was the offshore centre of yuan trading, and the bank might face more regulatory requirements with its headquarter in Europe.
However, HSBC's chairman, Douglas Flint, said unless the bank knew all about the liberalisation of the yuan, it was too early to make a guess on the relocation of its headquarters.
This article appeared in the South China Morning Post print edition as: HSBC still set on hiring more HK staff despite cuts