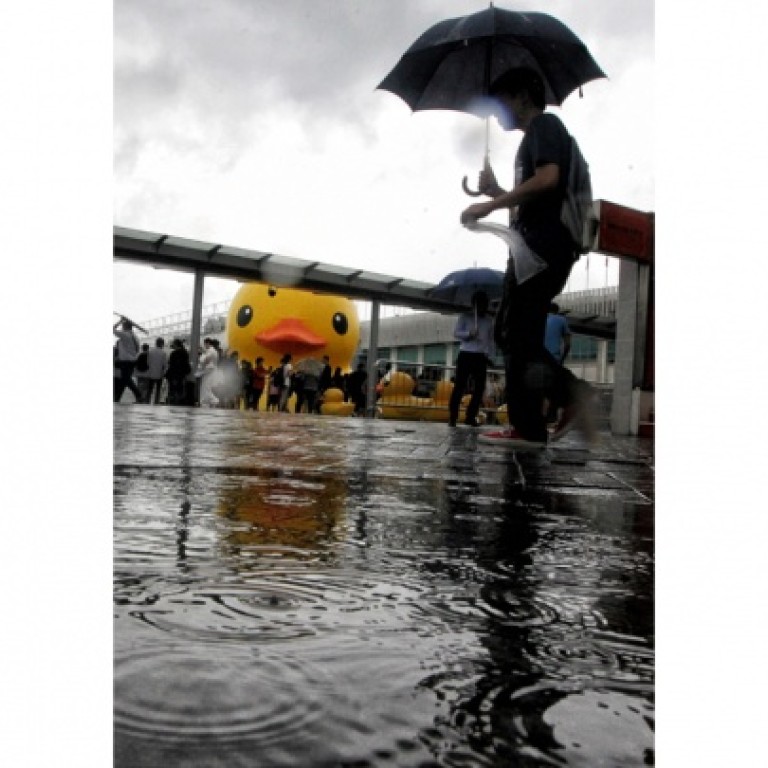 All rain, no gain for HKEx as storm alert halts trading
Black signal wipes 10 per cent off turnover after the exchange was restricted to afternoon session
Hong Kong's first black rainstorm warning since 2010 forced the stock exchange to halt trading yesterday morning, resulting in lost turnover of more than 10 per cent for the world's biggest exchange operator. 
"Many local day traders stood on the sidelines even after the market resumed in the afternoon, since they normally buy in the morning and sell in the afternoon," said Castor Pang, the head of research at Core Pacific-Yamaichi. 
Total turnover on the bourse was HK$52.4 billion yesterday, compared with an average of HK$58.5 billion per day in May. 
"The gap was mainly caused by the absence of day traders," Pang said. 
The Hong Kong Observatory issued the black rainstorm warning signal at 4.10am and took it down at 9.45am.
The stock exchange, which normally opens at 9.30am, cancelled the morning session and resumed at 1pm.
Black rainstorm is the most severe of Hong Kong's three rain-alert signals. 
It was the first time since May last year that the exchange suspended trading because of adverse weather. From 2009 to 2013, the bourse halted trading four times, owing either to a black rainstorm warning or typhoon signal No 8. 
In the past five years, there have been five black rainstorm warnings in Hong Kong, four of which were in effect during non-trading hours.
Typhoon signal No 8 was raised three times last year, but the bourse halted trading only on one morning in May. 
Raymond Chan, chief investment officer for Asia-Pacific at AllianzGI,  did not see the weather as a big issue but expressed concern over the cooling sentiment in the Hong Kong market, where average daily turnover had fallen from HK$78 billion per day in January. 
Trading volume has come down, as apparently investors' interest has moved to Japan and the US," Chan said.
"We need some quality [initial public offerings] to boost market confidence here."
Mainland broker China Galaxy Securities jumped 6 per cent in its debut yesterday. 
By the close of trading yesterday, the benchmark Hang Seng Index fell 0.45 per cent, or 105.29 points, to 23,261.08.  It was the second consecutive day the gauge fell after hitting a more than 90-day high on Monday.
This article appeared in the South China Morning Post print edition as: All rain, no gain for HKEx as storm alert halts trading