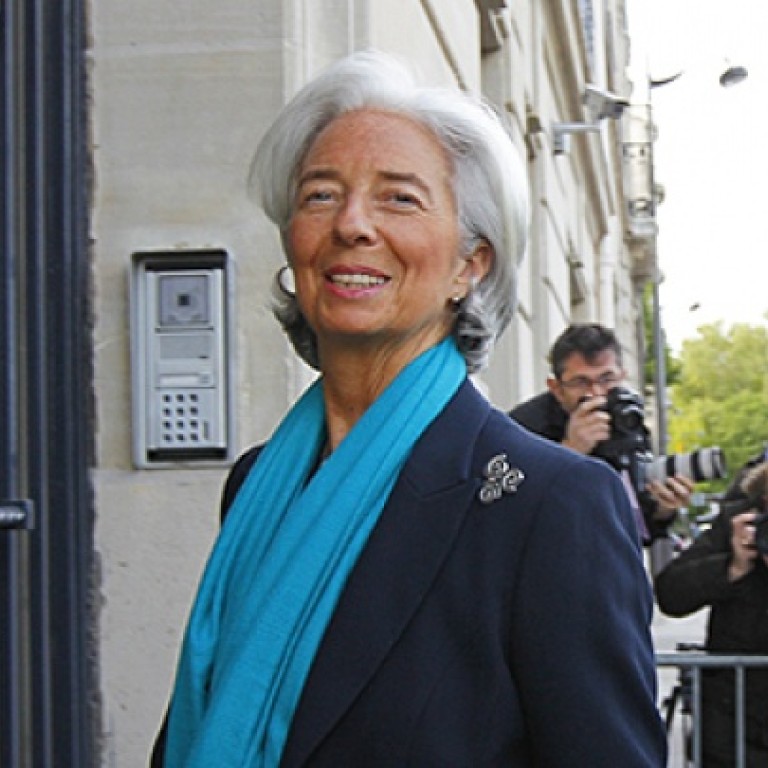 French prosecutors grill IMF chief Christine Lagarde over 2007 payout
IMF chief Christine Lagarde was questioned in court by a French magistrate on Thursday over her role in a 285-million-euro (HK$2.85 billion) arbitration payment made to a supporter of former president Nicolas Sarkozy.
Lagarde risks being placed under formal investigation at the hearing for her 2007 decision as Sarkozy's finance minister to use arbitration to settle a long-running court battle between the state and high-profile businessman Bernard Tapie.
Under French law, that step would mean there exists "serious or consistent evidence" pointing to probable implication of a suspect in a crime. It is one step closer to trial but a number of such investigations have been dropped without any trial.
Such a move could prove uncomfortable for the International Monetary Fund, whose former head, Frenchman Dominique Strauss-Kahn, quit in 2011 over a sex assault scandal, and for a woman rated the most influential in France by Slate magazine.
"It's a pleasure to see you," a smiling Lagarde said to reporters as arrived at the Paris court with her lawyer for a hearing that could last into Friday.
They were not expected to emerge until the end of the day's proceedings, which could run into late evening. The decision on whether to place her under investigation or give her "supervised witness" status will be announced at the end of the hearing.
The case goes back to 1993 when Tapie, a colourful and often controversial character in the French business and sports world, sued the state for compensation after selling his stake in sports company Adidas to then state-owned bank Credit Lyonnais.
Also a one-time Socialist minister who later supported the conservative Sarkozy, Tapie said the bank defrauded him after it resold the stake for a much higher sum. Credit Lyonnais, now part of Credit Agricole, has denied wrongdoing.
Lagarde is not accused of financially profiting herself from the payout and has denied doing anything wrong by opting for an arbitration process that enriched Tapie. With interest, the award amounted to 403 million euros.
However a court specialising in cases involving ministers is targeting her for complicity in the misuse of funds because she overruled advisers to seek the settlement.
Her lawyer, Yves Repiquet, told French media that Lagarde had merely approved the use of an arbitration procedure that had been decided by the state-owned holding company, Consortium de Realisation, set up to take over the debts and liabilities of Credit Lyonnais when it fell into difficulty in the early 1990s.
Sources close to the IMF board have said they are not worried by the affair and are confident Lagarde herself did not profit from it. But they added the board might review its position if judicial procedures took her away from her duties.
Tapie said on Thursday he was "delighted" the affair was being investigated. While earlier probes had found his settlement to be perfectly legal, further examination would show how justified he had been in seeking compensation, he said.
"If there had been anything untoward in the arbitration it would have come out a long time ago," he told Europe 1 radio, adding: "None of these legal cases are to see if I am dishonest, they are to find out how much I was robbed of."
Lagarde, tasked with moving the IMF on from the Strauss-Kahn scandal, has made her mark at the Fund by taking a firm yet pragmatic stance in the austerity-versus-growth debate raging as Europe struggles to pull itself out of a long crisis.
Appointed in part for the negotiating skills she used in brokering Europe's response to the 2008/09 global financial crisis, she has shown firmness at the IMF in insisting on the need for nations to stick to budgetary rigour when possible.
Current Finance Minister Pierre Moscovici told newspaper Lagarde retained the support of the French government, but said that it would appeal against the arbitration award if she was placed under formal investigation.