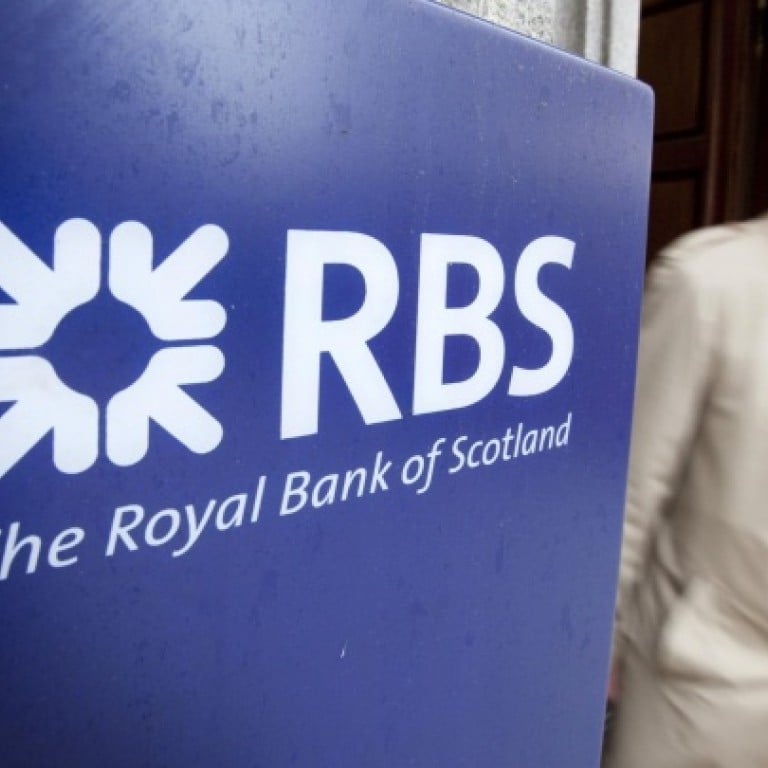 British banks cut 189,000 jobs, take staff numbers to nine-year low
Britain's four biggest banks will have eliminated about 189,000 jobs by the end of this year from their peak staffing levels, bringing employment to a nine-year low amid a dearth of revenue. More cuts may follow.
Royal Bank of Scotland, HSBC, Lloyds Banking Group and Barclays will employ about 606,000 people worldwide by the end of 2013. That is 24 per cent below the peak of 795,000 in 2008 and the least since 2004, when they employed 594,000 globally.
The firms are under pressure from investors to reduce fixed costs as Europe's sovereign debt crisis crimps income from investment banking and as loans sour in the region. The four firms posted £108 billion (HK$1.3 trillion) of revenue for 2012, 13 per cent less than in 2008. Costs as a proportion of revenue increased over the period.
"The continuing cost-cutting announcements you've been getting reflect an incredibly difficult revenue environment and that's new," said Simon Maughan, an analyst at Olivetree Securities in London. "The big bulky mass layoffs, such as they were, are probably gone, but that's not to say staff numbers won't drift lower because it's a struggle to grow the top line."
Total employee costs including salaries, bonuses and pensions for the banks, fell 1 per cent to about £37 billion in 2012 from 2008 after Barclays expanded its investment bank with the acquisition of the North American business of Lehman Brothers. That compares with about £25 billion in 2004.
"The reduction in workforce is driven by three things: economic decline, investment banking not producing as much income as it did and banks reducing the wage bill to hit profit targets promised to shareholders," said Ismail Erturk of Manchester Business School. Banks would be better off training staff in consumer divisions to explain the products they are selling, said Erturk.
That would help avoid costly scandals such as mis-selling of loan insurance, he said. UK banks have set aside more than £13 billion to compensate customers sold the coverage.
In addition to firings, asset sales have contributed to the job reductions, with people transferred to other companies. Assets on the balance sheets of the big four banks have declined by £1.7 trillion since 2008.
HSBC, Europe's biggest bank, has eliminated US$4 billion of expenses after selling or closing down 52 businesses since Stuart Gulliver succeeded Michael Geoghegan as chief executive in 2011. Earlier this month, it pledged to reduce costs by as much as US$3 billion over the next three years and said it may cut a further 14,000 jobs by 2016.
This article appeared in the South China Morning Post print edition as: UK banks cut 189,000 jobs, take staffing to 9-year low