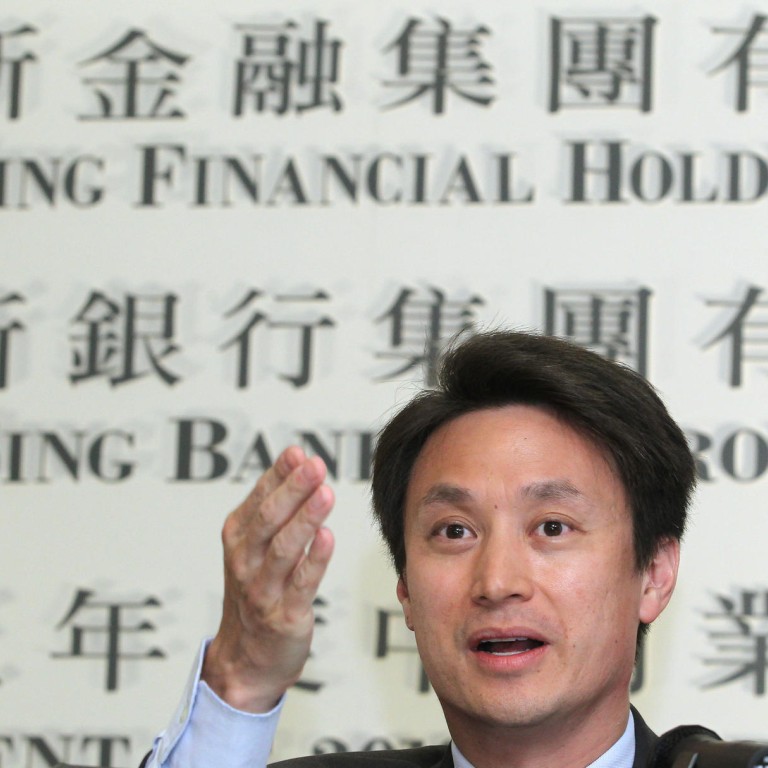 Update

|
Hong Kong family-owned bank Dah Sing open-minded about a possible merger
Speculation about a possible takeover of the family-owned lender has increased since rival Chong Hing Bank said it had received overtures
Dah Sing Banking said yesterday it was open-minded about the possibility of a merger or sale but that it was not in such discussions at present.
The third-largest of Hong Kong's four family-owned banks by market capitalisation reported a better-than-expected 35.1 per cent year-on-year jump in first-half net profit yesterday, largely on increased net interest income.
Speculation that Dah Sing could become a target for acquisition has fuelled its stock price in the past week, after rival Chong Hing Bank said on August 7 it had been approached by potential buyers.
Dah Sing stock has surged 9.4 per cent since that date, outperforming the Hang Seng Index's gain of 2.8 per cent. Chong Hing has soared 16.9 per cent. Dah Sing has the lowest price-to-book value of the city's family-owned banks.
"Since we were spun off from our parent company in 2004 in a separate listing, we have invested a lot in Macau and on the mainland," the bank's managing director, Harold Wong Tsu-hing, told reporters. "We will focus our core business on Greater China, but are not ruling out the possibility of M&A when there is a good opportunity."
The bank earned HK$812 million in the first half, beating the Bloomberg consensus forecast of HK$757 million. It declared an interim dividend of nine HK cents per share.
Net interest income rose 31.5 per cent. Fee income climbed 41.2 per cent.
Its net interest margin, a measure of profitability based on the spread between interest that banks earn on loans and what they pay on deposits, improved 0.3 percentage point to 1.77 per cent. The bank expects the margin to stay flat or grow more slowly in the second half.
Barclays said in a report it expected the bank's margin to stabilise in the second half, because funding costs would be unlikely to fall much lower as liquidity in the banking system tightened.
Total loans rose 10 per cent from the end of last year. Mainland-related loans grew 18 per cent. "Loan demand from the mainland weakened in July from the second quarter," Wong said.
The bank's bad-loan ratio fell to 0.4 per cent from 0.47 per cent. Loan impairment losses and other provisions jumped to HK$138 million from HK$30 million in the same period last year.
"About 30 per cent of loan impairment came from the mainland," executive director Gary Wang Pak-ling said. "We don't rule out that impairment will further increase in the second half, depending on the economic environment on the mainland."
The interim net profit of the bank's parent, Dah Sing Financial, rose 9.3 per cent to HK$680 million. It declared an interim dividend of 31 HK cents per share.
This article appeared in the South China Morning Post print edition as: Dah Sing stays flexible over merger or sale