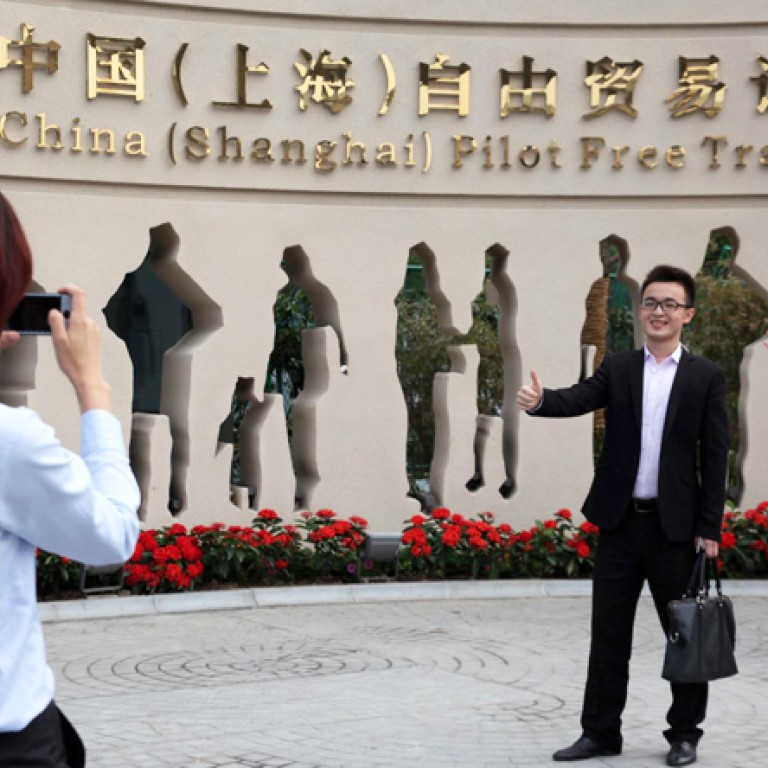 Exclusive
Foreign banks shun China's Shanghai free-trade zone amid uncertain rules
Lenders hesitant to enter Shanghai free-trade area because of the need for all branch systems to be isolated from rest of the country
Beijing's move to eliminate bureaucratic approval processes to encourage foreign banks to open branches in the Shanghai free-trade zone has met with a lukewarm response.
The Shanghai free-trade zone, the mainland's first such zone, was launched at the end of September. The hope was that a wide range of banking services, a freer foreign exchange regime and market-oriented interest rate reforms would take root in the zone.
So far, some 10 banks have applied for and received permission to open branches in the zone. But among them, only two are foreign - Citigroup, once the world's largest financial services provider, and DBS, the Singapore-based bank that is Southeast Asia's largest lender. The rest are all major state-owned banks.
"Originally, the government was expecting more foreign banks to join the first batch of free-trade zone banks, and that would have grabbed attention from around the world," said one government source familiar with the matter. "That would have been good for the city's image as the global financial centre."
The Shanghai branch of the China Banking Regulatory Commission (CBRC) held several meetings with about a dozen foreign banks in August and September to encourage them to set up in the zone, according to government sources and bankers present at the meetings. The CBRC even sent questionnaires to foreign banks to ask them why they were hesitant to open offices in the zone, according to two bankers who saw the questionnaires.
"One concern that many foreign banks have is whether we really need to make the free-trade zone branch completely separate from our existing branches in China," said one banker, referring to the CBRC requirement that foreign banks in the zone have completely distinct systems of internal compliance, risk management and human resources from their operations in the rest of the mainland.
"These things certainly are an expense, and, for some banks, it may not be easy to persuade headquarters to increase the China budget.
"You have to first convince them that this thing is important and explain how long it will take before the new business can make money," said the banker who declined to be named because he was not authorised to speak to the media.
HSBC, Standard Chartered and Singapore's United Overseas Bank have given similar responses to the invitation to set up branches in the free-trade zone - they are interested but are waiting for more detailed rules to be released.
"We are closely monitoring that. When we have a clear picture of policies and regulations we will look into it," said Christine Ip, Hong Kong chief executive for Singapore's UOB.
Singapore-listed DBS aims to launch its first product in the free-trade zone within six months, despite a lack of rules about how capital will flow into and out of the zone and how banks in the zone will be allowed to set interest rates that are different from those outside the zone.
When asked why other foreign banks were reluctant to open branches in the Shanghai free-trade zone, DBS economist Nathan Chow said at a recent press conference: "You'd better ask them."
This article appeared in the South China Morning Post print edition as: Foreign banks wary of trade zone amid uncertain rules