Bitcoin
Get more with myNEWS
A personalised news feed of stories that matter to you
Learn more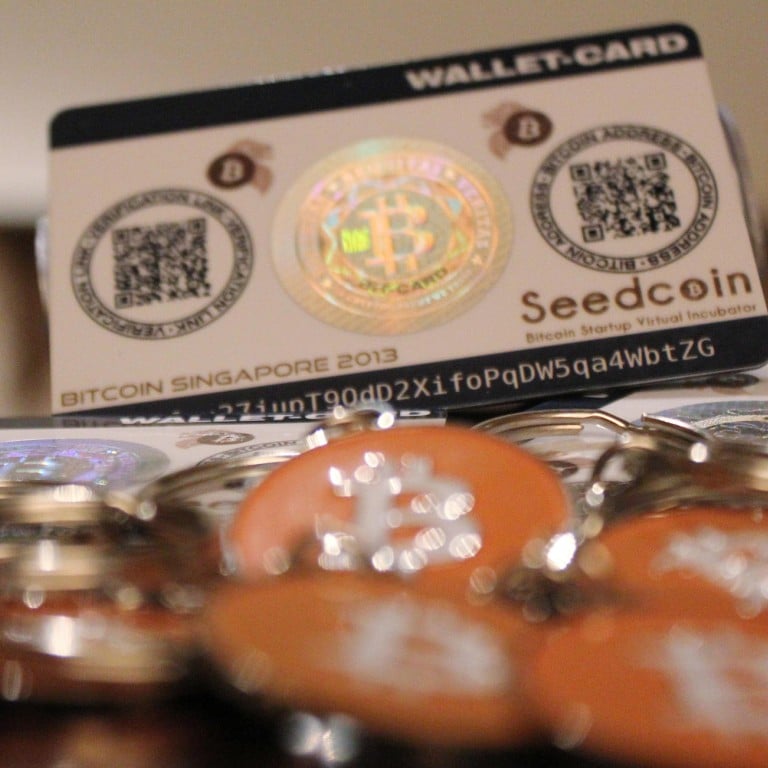 Hong Kong entrepreneurs could win a slice of the bitcoin pie
While America wavers over use of virtual currency, entrepreneurs are keen to jump on gravy train, and city could cash in on boom
An influential digital currency evangelist says Hong Kong can grab a huge slice of the controversial multibillion-dollar bitcoin industry as US hostility towards virtual money increases.
Roger Ver, 34, a bitcoin millionaire, told the that efforts to disrupt the digital currency money market would be futile.
"It's not stoppable. They can delay it within their own jurisdictions [states] but that's going to be incredibly short-sighted and damaging.
"If the US government tries to restrict or clamp down, that just means there will be many more bitcoin businesses in Hong Kong and Singapore and all those Americans will miss out on all the opportunities."
Tomorrow the US Senate Committee on Homeland Security and Governmental Affairs will hear regulators articulate the risks and dangers of digital currencies, while fans try to convince lawmakers otherwise.
Last month US authorities seized the illicit Silk Road website, and arrested its founder. For two years, critics including US Senator Charles Schumer had been pointing to the ease with which drugs and guns could be bought on the site using bitcoin.
Ver made the comments before he addressed the faithful at the Bitcoin Singapore conference organised by Hong Kong-based investor Eddy Travia.
Bitcoins began circulating in 2009 and have since become the most prominent of several digital currencies. The electronic money is transferred independently of traditional banks. Its total market capitalisation is about US$5 billion - only one thousandth the value of the global cash in circulation, says Johann Gevers of online payment platform Monetas.
Hong Kong has plenty of room to play a bigger role as a virtual financial hub, according to those creating bitcoin services.
One area is the remittance market to the Philippines and Indonesia, in which operators aim to send bitcoins instantly for a significantly smaller fee than traditional methods.
Mainland Chinese are among the biggest bitcoin believers. The currency lets them avoid capital controls and move the equivalent of thousands of yuan outside the financial system.
Anthony Hope, a former British government finance official now involved in virtual money compliance, said it was unlikely Hong Kong would rush to regulate bitcoins without following the US approach to regulation.
"Asia will wait and see what happens on the US and EU side before it makes a very firm move. But what you see from the Hong Kong and Singaporean governments is realism … to attempt to make regulation as it comes."
Consumer protection to prevent fraud and theft within the digital currency world would drive regulation, Hope said.
Last month, Hong Kong-registered online bitcoin exchange Global Bond Limited (GBL) shut down, taking US$3.3 million of clients' money and affecting more than 1,000 people on the mainland. GBL launched in May.
Police said 14 mainland victims claimed "they had made investments through an investment company registered in Hong Kong that ceased operation from October 26 and they suspected they had been deceived". Technology Crime Division officers are investigating.
Zennon Kapron, from Shanghai advisory firm Kapronasia, said China would "make or break" bitcoins. He said the GBL case was not unique.
Lo Ken-bon, managing director of Hong Kong-based Asia Nexgen Bitcoin Exchange, said the GBL saga would affect confidence in bitcoins and it showed there was still "a lot of risk" in the digital currency.
But if investors are wary, it is not showing. The price of one BTC extended its bull run by more than US$110 as speculators, spurred on by a healthy Chinese appetite, piled in for a profit. Last night one BTC cost US$439 on Japan-based Mt Gox, the world's largest bitcoin exchange - up from US$315 a week ago.
This article appeared in the South China Morning Post print edition as: U.S. stand on bitcoins puts HK in frame