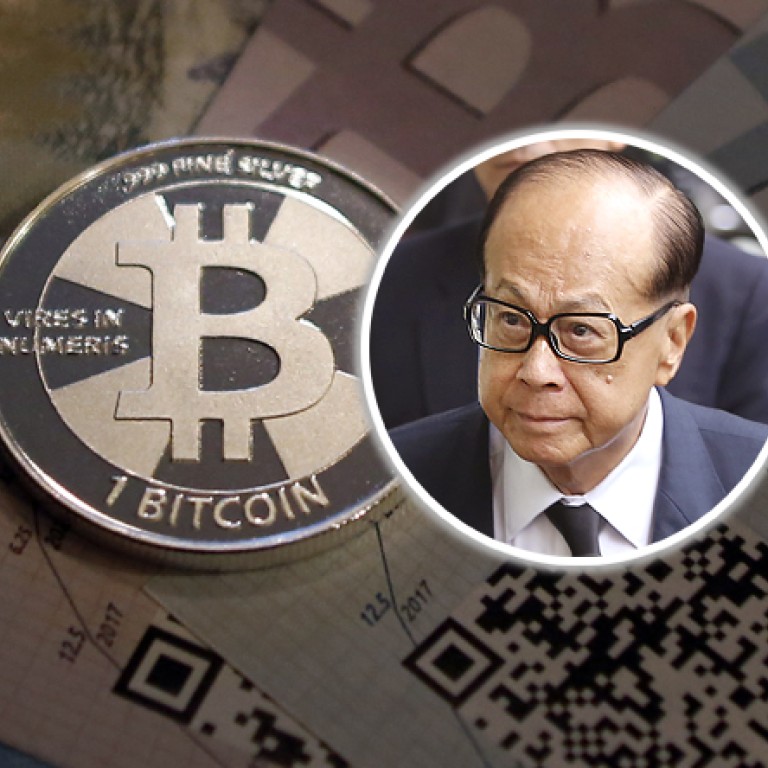 New
Li Ka-shing's bitcoin play is worth emulating, says top economist
Economist recommends buying in to firms providing services to virtual money, as Asia's richest man has
Investors looking for a way to make money from the global bitcoin bonanza should steer clear of the pseudo currency itself and instead follow Li Ka-shing's lead: buy in to the firms providing the services that bitcoin holders use.
That's according to John Greenwood, the London-based chief economist of Invesco who designed Hong Kong's pegged currency regime.
"Just like investors in days gone by made more money out of selling shovels and picks to gold-diggers than anyone ever made out of the gold mine, he is investing in the peripheral activity that bitcoin has generated," Greenwood said.
Asia's richest man, Li Ka-shing has invested in BitPay, the digital currency equivalent of PayPal, through his venture capital company, Horizons Ventures.
A spokeswoman for Horizons Ventures said the group would not comment on the details of the investment.
BitPay said it was "fortunate to have the benefit of many supportive investors, including Horizons Ventures".
BitPay, founded in May 2011, handles transactions for 14,000 companies across 200 countries. About half are in the United States, with 25 per cent in Europe and 25 per cent in the rest of the world.
Bitcoin emerged in 2009 as a low-cost way of sending money electronically. It eliminates the need to funnel money through third parties, such as banks or card payment processors. And it is not regulated by a central bank. Currently, there are more than 11 million bitcoins in circulation.
They can be bought and sold on online exchanges or "mined" using high-performance computers.
Greenwood said bitcoin was simply not credible as a global currency as it failed to fulfil three fundamental requirements: be an effective medium of exchange for a wide range of goods and services; be a long-term store of value or be used for the settlement of long-term contracts; or be a universal unit of account.
The virtual currency became popular, especially on the mainland, because it enabled individuals to get around Beijing's controls on the movement of capital across its national borders - currently limited to a maximum of US$50,000 equivalent without permission from regulators.
"This, I believe, is the fundamental reason why bitcoins rose in price so steeply, and why the Chinese authorities have now acted to outlaw conversions from renminbi to bitcoins and vice-versa," Greenwood said.
Watch: What's Bitcoin and how does it work?
The mainland's central bank has ordered third-party payment platforms to stop providing clearing services to bitcoin, litecoin and other crypto-currencies before the end of January. Earlier this month, it told financial institutions not to provide services for virtual currencies.
The bitcoin price topped US$1,242 (HK$9,630) per coin on the Japan-based Mt Gox exchange at the height of the boom, at the end of November. It fell to HK$4,187 as Beijing intervened.
It has been a roller-coaster ride for investors such as musician Zou Lunlun. Zou's investment in 100 bitcoins peaked in value at HK$962,051 before falling to HK$418,719. Local investor Casper Cheng Tsz-chun, 16, has held on to his 50 bitcoins despite watching them halve in value, to HK$209,357.
Bitcoin has received a lukewarm response from the Hong Kong government despite interest from the city's community of entrepreneurs. A month ago, Financial Secretary John Tsang Chun-wah predicted a huge correction, saying bitcoin's run could not last as there was "no support from the real economy".
Secretary for Financial Services and the Treasury Professor Chan Ka-keung said bitcoin's value had been like a roller-coaster ride, making it unsuitable for settling payments. "It is not qualified to become an electronic currency. Citizens should be wary of it," Chan said.
This article appeared in the South China Morning Post print edition as: 'Li Ka-shing bitcoin play worth emulating'