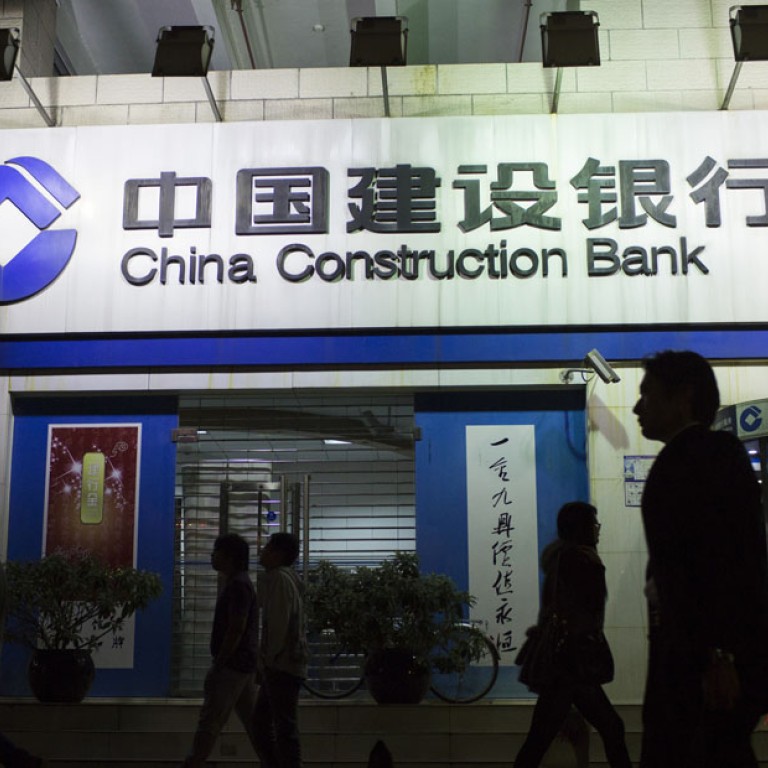 CCB's London clearing bank prize seen as a major yuan milestone
Appointment of China Construction Bank as sole yuan clearing bank in London was a surprise, but will be lucrative for lender
China Construction Bank's appointment last week as the sole yuan clearing bank in London is a milestone step to grow mainland banks' market share in the city and is likely to kick off a fight for clients in the largest yuan hub outside Asia, bankers said.
CCB beat three other state lenders - Bank of China, Industrial and Commercial Bank of China and Agricultural Bank of China - to become the sole clearing bank for yuan settlement in London, the reported on Thursday, citing unnamed sources. CCB declined to comment on the matter.
The move surprised some bankers as Bank of China had been thought the most likely candidate to win the lucrative clearing business since it was the only mainland lender with a branch in the city.
Meanwhile, ABC was also hopeful since it had been cooperating with Standard Chartered to provide yuan clearing services in Britain since last year.
Yuan clearing business is a lucrative business that every lender is vying for, especially in London, the largest foreign exchange trading centre for the currency apart from Hong Kong.
Two-thirds of yuan trading conducted outside the mainland and Hong Kong are now through London, with spot trading volumes of the currency averaging US$2.5 billion a day, according to data from the City of London in October last year.
"Agricultural Bank of China and Standard Chartered have their private clearing services, but you have to be their customer to enjoy them. But now a clearing bank makes everyone able to clear, which is a game-changer in the settlement and foreign exchange business," said Patrick Pang, a managing director at the Asia Securities Industry & Financial Markets Association. "I see a broad range of yuan-related products coming out from CCB in the near future."
Wang Yan, a division chief at ABC, said all its business in London would continue as usual after CCB's appointment.
It has not been easy for Chinese banks to expand in London, the world's largest foreign exchange trading centre and a competitive market which features more than 240 foreign banks. Market watchers said the appointment of the new clearing bank would make it interesting to see how Chinese banks expanded their influence in the city.
"Although London has been very outspoken in promoting yuan internationalisation, Chinese banks' expansion in the city has never been easy," Wang said. "When it comes to the operation level, there are a lot of obstacles that were set up by the local authorities in a move to protect their own financial institutions after the 2008 financial crisis."
One difficulty in Wang's eyes is the local watchdog's reluctance to allow Chinese banks to set up branches in London. Bank of China had the only branch of a Chinese lender there until CCB got its approval last month, while the other two only have subsidiaries there.
A subsidiary is regulated in the same way as a local bank, which is subject to tight standards on transparency, capital cushions and liquidity buffers, while branches are extended arms of overseas banks over which the local watchdog has very limited control.
"A subsidiary would have very little capital base, while a branch has a much bigger capital base as it shares with its parent company, which gives it more freedom in launching yuan-related products and attracting customers," Wang said.
This article appeared in the South China Morning Post print edition as: CCB's London prize a major yuan milestone