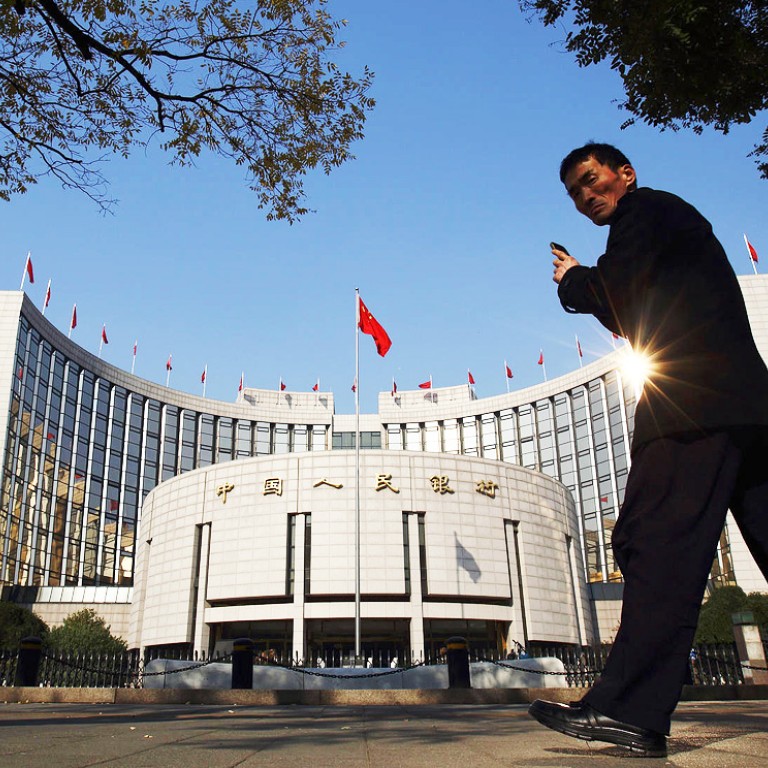 PBOC unveils deposit protection scheme with 500,000 yuan coverage
Move seen as precursor to further financial reforms, including an end to interest rate controls and letting market forces dictate which lenders fail
In a major step towards financial sector reforms, the People's Bank of China has proposed a coverage ceiling of 500,000 yuan (HK$630,850) for mainland bank depositors.
Under a draft proposal issued yesterday on the nation's maiden deposit insurance scheme, depositors will be covered for up to 500,000 yuan of deposits.
The compensation for deposits beyond that amount will come from selling the bank's assets.
The proposed 500,000 yuan maximum payout for any depositor at any bank would protect the deposits of 99.63 per cent of mainland depositors, said the consultation document posted on the website of the State Council's Legislative Affairs Office.
Foreign banks' mainland units and mainland banks' overseas units are not covered by the scheme.
The mainland had 49.9 trillion yuan of personal deposits and 53.7 trillion yuan of corporate time and demand deposits in October, according to the PBOC.
"To establish and regulate a deposit insurance scheme so that depositors are protected and financial risks can be reduced and financial stability maintained, the PBOC has drafted the rules for consultation," the official statement said.
Opinions can be submitted until December 30.
The establishment of a deposit insurance scheme is seen as a precursor to further financial reforms, including the scrapping of remaining controls on interest rates and increasing the role of market forces in the financial sector's operation so that lenders are allowed to fail if they are not well-run or if they take on too much risk.
The PBOC had said in June last year that it was ready to set up a deposit insurance system, after toying with the idea for nearly two decades.
Mainland banks face rising risks as interest rate liberalisation has intensified competition and bad loans have risen amid a slowdown in growth.
"China needs deposit insurance now because the economy is less robust and there is, implicitly, a greater risk of small banks having a liquidity crisis," Bloomberg quoted Jim Antos, an analyst at Mizuho Securities Asia, as saying.
The 500,000 yuan ceiling amounts to about 12 times the mainland's per capita gross domestic product, compared to 5.3 times in the United States, three times in Britain and 1.3 times in India, according to the PBOC.
The higher coverage takes into account the mainland's higher savings rate, as savings provide the primary source of financial security for most mainlanders.
The existence of a deposit insurance scheme will improve the creditworthiness and competitiveness of small and medium-sized banks and "create a fairer competitive landscape" for them, the PBOC said.
Premiums to be paid by deposit-taking institutions will comprise a base percentage and a risk premium or discount based on the perceived risk of each institution.
This article appeared in the South China Morning Post print edition as: PBOC unveils deposit protection scheme