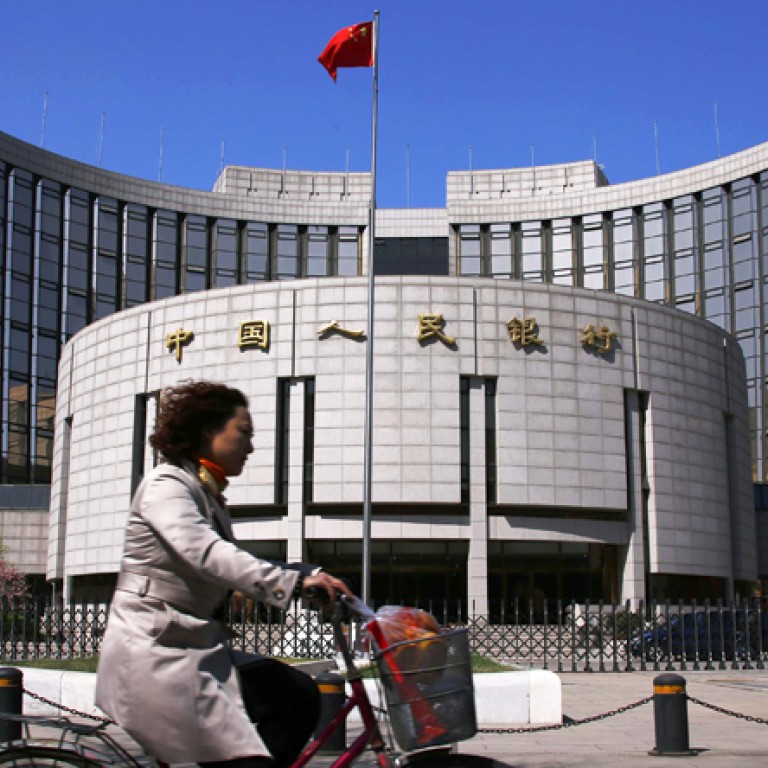 Talk of fresh easing by China's central bank stirs markets
The central bank is reported to have injected billions of yuan into the interbank market and increased loan limits for commercial lenders
Talk of fresh central bank action to ease mainland credit conditions gripped markets yesterday on news reports that the People's Bank of China had injected 400 billion yuan (HK$501 billion) into the interbank market and raised lending limits for commercial banks.
The interbank injection, which sources said was made through China Development Bank, follows a 500 billion yuan liquidity push in September into the country's top five banks, which is coming due for repayment.
"I expect some or all of that to be renewed and, in January, a half-point reduction in the reserve requirement ratio," Paul Markowski, the president of MES Advisers and an adviser to the mainland financial authorities, told the .
A cut to the ratio would free billions of yuan for lending that banks must otherwise keep on deposit at the central bank.
"It would definitely ease the pressure if the high RRR level - at 20 per cent - can be lowered," a Bank of China official told the on condition of anonymity.
The official added that raising loan-deposit ratios was less important for banks as the problem they faced was in growing their deposit bases for lending.
Talk elsewhere in the markets centred on a report by Reuters, citing unnamed sources, that the government had set a target of 10 trillion yuan for new lending for this year, up from 9.5 trillion yuan previously. Financial institutions have lent 8.23 trillion yuan in the first 10 months of the year, official data shows.
"We haven't received any formal document about boosting the target and we will stick to the original plan," an official at China Construction Bank said.
Economists said if the easing measures did turn out to be accurate, they were a last-ditch effort by policymakers to ensure the economy met its growth target.
"If true, that is an obviously temporary pro-growth policy," said Zhou Hao, a China economist at ANZ Bank. "We had expected 1.5 trillion yuan of new lending in the final two months, but it looks like we are going to see 1.8 trillion yuan."
China has never missed its growth target since the 2008 financial crisis. But consensus in the market expects the economy this year to fall short of its original target of 7.5 per cent set early in the year, ending this year with a 7.4 per cent growth rate as investments in infrastructure and real estate remain subdued.
China's M2 growth has decelerated significantly to 13 per cent this year from a peak level of 30 per cent in 2009, reflecting a gradual normalisation bias of the PBOC's monetary policy. Meanwhile, banks' reserve requirement ratio remains high at 20 per cent for large banks and the restrictive loan-deposit ratio at 75 per cent is kept intact.
The China Construction Bank source said: "The problem is that loan demand from the real economy has been waning. The lift in the loan target, if true, would represent more of an encouragement than a binding task from the central bank in guiding commercial banks' loan issuance."
This article appeared in the South China Morning Post print edition as: Talk of fresh PBOC action stirs markets