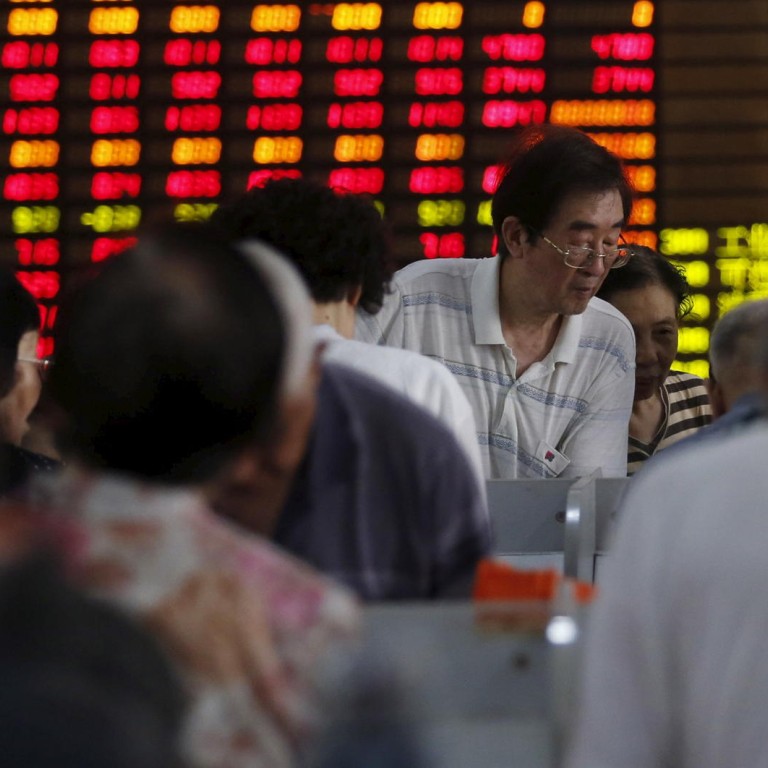 New
Banks resort to Beijing-backed shadow bailouts for market
Mainland lenders resort to shadow banking market so companies can buy their own shares - all under the auspices of the government
Deleveraging was the motto just a year ago for China's companies, banks and Beijing policymakers alike.
Now, as the stock markets wobble, the lenders are chanting a new slogan: "rescue leverage with leverage", or lend into the market to buoy already highly leveraged positions.
Along with brokerages and a US$42 billion-and-counting fund designed to prop up the stock market, China's banks are devising innovative but opaque methods to lend to companies so they can buy their own shares - all under the auspices of the government.
Banks cannot lend deposits directly into the equity market. Over the past several months they have rapidly ramped up exposure to margin lending, where brokerages lend to investors who use the funds to bet on stocks.
Banks had lent between 4.5 trillion yuan and 6.8 trillion yuan, or 5 per cent to 8 per cent of total bank loans, into the market as of July 9, Yuanta Securities estimated. That accounts for up to half of all margin finance and securities lending, as well as 500 billion yuan from highly leveraged "umbrella trusts" that has leaked into equities.
It is the leverage that banks have been enlisted to bailout with yet more leverage.
Since July 9, after the central government stepped in to relieve heavy losses in the stock markets in Shanghai and Shenzhen, several banks have been proactive in advertising shadow funds as a means for company managers and major shareholders to prop up share prices.
The most common vehicles were "asset management schemes" designed by trust companies as channels for off-balance-sheet loans from banks. The schemes are not new but since last week banks have brought the shadowy business into plain sight.
Bank of Ningbo and Tianjin-based China Bohai Bank have been the standard bearers, state-backed reported. Both banks have posted notices advertising similar schemes.
Up to 12 banks, including China Merchants Bank, Ping An Bank and the Shenzhen branch of China Construction Bank, have poured into the business, said , another state-backed newspaper, noting that "rescuing leverage with leverage" was the main ideology behind further increasing exposure to the equities market, even as the risks of a prolonged downturn became more real.
The orders to do so have come straight from Beijing in a deviation from the official disapproval, just months ago, for using shadow-banking channels to lend to corporations - let alone access the stock market.
"We think this strategy is controlled by the government," said Chen Xingyu, a banks analyst at Phillip Securities in Shanghai. "In the past, this kind of thing was not encouraged but in a critical period like this it's the government's plan."Over the past two weeks, Beijing has announced several initiatives to halt a downturn that saw the market fall by more than 30 per cent from its June 12 high.
On July 8, China Securities Finance Corp lent US$41.87 billion to 21 brokerages to buy stocks. The following day, after the Shanghai Composite Index saw one of the greatest single-day losses on record, the China Banking Regulatory Commission promoted bank lending to companies in order to buy their own shares. That was an official nod to ramp up the shadow bailout.
How much liquidity the central bank has provided to banks for the purpose is unknown but Chen said it would likely use unconventional monetary tools to keep banks sufficiently liquid.
Xia Le, chief economist for Asia at BBVA Research, said the strategy was, to some degree, a setback for reforms over the past few years that had targeted deleveraging from bank lending.
The revival of the equities market after more than five years of abysmal performance was not long ago lauded as a viable strategy for Beijing to reduce the credit risks that had built up around its mammoth banking sector.
Drawing banks further into the market discord was a misstep, Xia said. To ensure stability in the financial sector, Beijing should draw a clear line between banks and the equities market during times of instability.
The leveraging up over the past weeks, including Beijing's market bailout, was a temporary digression from a long-term strategy to deleverage, said Michael Taylor, managing director for credit policy at Moody's in Hong Kong.
"Recent market interventions are a deviation from, rather than a repudiation of, the government's reform objectives," he said.
This article appeared in the South China Morning Post print edition as: Banks new motto is 'rescue leverage with leverage'