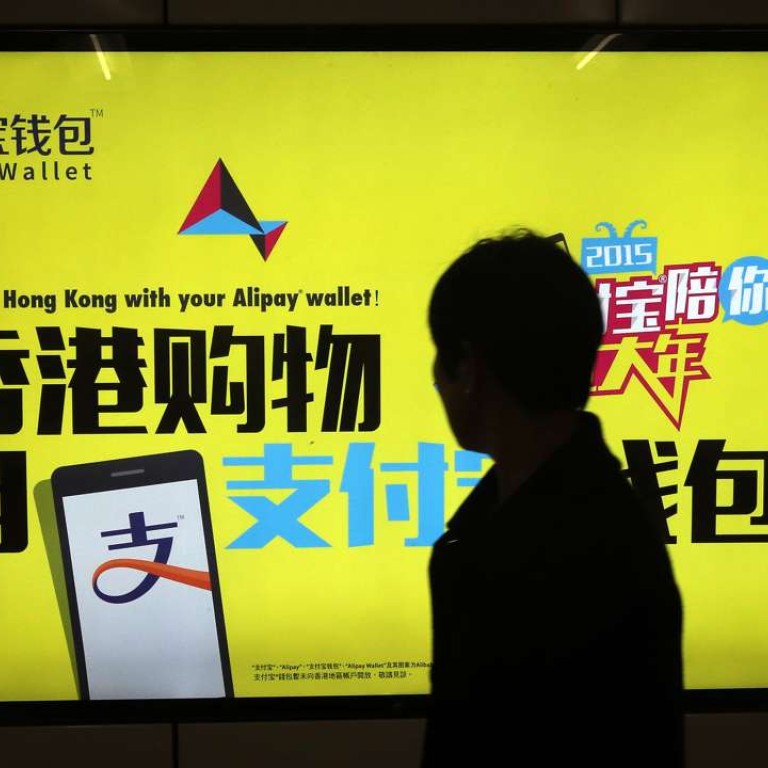 Ant Financial valuation a sign of things for come for China's fintech sector
The US$4.5 billion it raised last month was the world's largest single private placement by an internet company
The US$60 billion valuation of Ant Financial Services following its second-round financing last month catapulted it to a lofty level on par with mainland China's fifth-largest bank.
But it also marked a watershed for the development of China's digital banking services, buoyed by mainlanders' familiarity with the latest information technologies and electronic gadgets.
Ant Financial, an Alibaba Group affiliate, covers everything from online payments to asset management, insurance, credit assessment and lending and consumer finance.
The US$4.5 billion it raised from two consortiums of investors last month was the world's largest single private placement by an internet company.
"It is the time to set the tone for the further growth of the mainland's internet finance sector," said Ye Daqing, chief executive of financial data provider Rong360. "People's increasing financing demands and customer-friendly business models brought by the latest technologies will be more than enough to shrug off the gloomy sentiment."
About 500 million mainland residents were in increasing need of financing to improve their lives and the traditional commercial banks had yet to work out a proper model to meet their demands, unlike more flexible financial technology (fintech) firms.
Ant Financial's MYbank and Ant Micro Loan operations had issued credit to more than 20 million small businesses and entrepreneurs by the end of March.
Its Alipay online payment platform has more than 450 million users, a client base larger than US counterpart PayPal, which has a market capitalisation of about US$50 billion.
According to consultants McKinsey, more than 70 per cent of mainlanders would open an account with a purely digital bank, a sign that fintech is going mainstream in China.
Ant Financial and WeChat, owned by Hong Kong-listed Tencent, are the bellwether digital banking service providers
The "Internet Plus" strategy proposed by Premier Li Keqiang aims to better use information technology to provide commercial and financial services to the masses in an efficient manner.
Ant Financial's valuation of US$60 billion is only just shy of Bank of Communications' market value of roughly 400 billion yuan (US$61.5 billion).
Shanghai-based Bank of Communications posted a net profit of 66.5 billion yuan for last year, while analysts estimate Ant Financial's earnings could hit 10 billion yuan next year.
"The sizzling growth of digital banking businesses could help close the gap on earnings figures in just a few years," Ye said. "Ant Financial will lead a clutch of fintech companies to become new major players in the country's banking sector."
The inertia of old-fashioned mainland banks has been seen as a hurdle to the growth of privately owned small businesses, with banks traditionally focused on big loans to state-owned companies and shunning small businesses and individuals, citing risk concerns.
But there is a catch in the development of China's internet finance industry.
Critics have faulted the internet finance sector for a lack of regulation that resulted in a wave of scandals and defaults in the past few months.
Hundreds of peer-to-peer (P2P) lending platforms, instead of serving as a matchmaker between borrowers and lenders, raised funds from depositors before lending them to other businesses at elevated interest rates.
Law-enforcement authorities are now stepping up policing the shadow banking system to prevent potential social disorder.
Dong Jun, chief executive of jimubox.com, one of the mainland's leading P2P operators, said unscrupulous players had distorted the definition of peer-to-peer lending and the crackdown by the authorities would eventually help clean up the market.
"Technologies are used to enhance the efficiency of financial services and benefit clients with real financing needs," he said. "A fast-growing fintech sector provides an opportunity for the whole industry to upgrade its system and fine-tune services."
The failed P2P businesses, including Ezubao, that were found to have defrauded investors of billions of yuan, had only used the P2P tag as a marketing tactic, Ye said.
"A US$60 billion valuation of Ant Financial is fair and justified," he added. "In five to 10 years, 30 per cent of China's top 20 financial institutions could be those focusing on digital services."
Alibaba also owns the South China Morning Post.