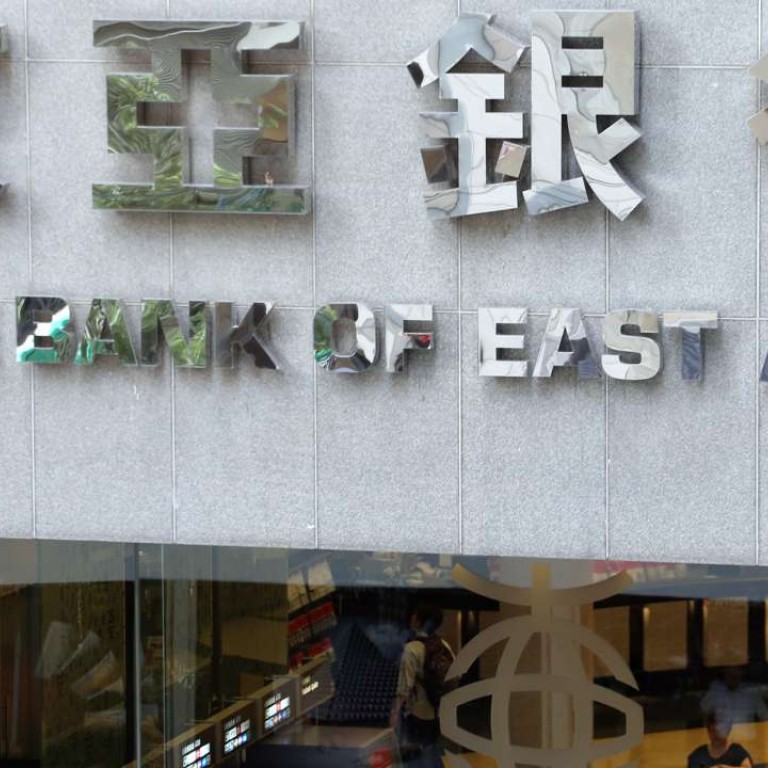 Bank of East Asia facing questions over its anti-money laundering controls after 70 million yuan in transfers
The Hong Kong-based lender is currently under investigation by the China Anti-Money Laundering Monitoring & Analysis Centre, an agency under the People's Bank of China.
The Bank of East Asia is facing questions over the robustness of its anti-money laundering procedures in mainland China following bank transactions leaked by the media on the weekend that purport to show the Hong Kong-based lender may have been used as a conduit to disburse large sums of money to senior executives at Shandong-based Evergrowing Bank.
Sources with knowledge of the case have confirmed that it has come to the attention of regulators and is currently under investigation by the China Anti-Money Laundering Monitoring & Analysis Centre, an agency under the People's Bank of China.
"We are aware that this client has accounts with us and we have thoroughly followed the 'Know-Your-Customer' (KYC) procedures," said Mimi Kam, a BEA spokeswoman in Hong Kong. "BEA employs top notch technology and systems for flagging potentially suspicious transactions."
Kam said the bank has been aware of the case and has been "looking into it for a while".
"We are following all due processes laid out under Chinese regulatory guidelines on anti-money laundering. But we are not familiar with the internal issues at Evergrowing Bank and will notbe in a position to comment further," she said.
At the centre of the allegations reported in mainland media is a group of senior executives at the Yantai city government-controlled Evergrowing Bank who may have obtained some 70 million yuan (HK$81 million) worth of funds through BEA corporate creditcards.
It is unclear who provided the executives with the money, but they are led by Evergrowing chairman Cai Guohua, a former deputy mayor of Yantai city who had authority to oversee local state assets until 2013. The executives were alleged to have obtained BEA-issued corporate cards which were used to obtain a large sum of money that exceeded the maximum cap allowed on state bank employees' salaries many times over.
Mainland media China Times published on Saturday a purported set of documents that had been used to conduct a set of transactions with the accounts tied to Evergrowing executives.
The documents showed the official confirmation seal of Bank of East Asia with BEA's business registration number clearly printed.
It is alleged that Evergrowing chairman Cai personally received some 38.5 million yuan while bank president Long Yongtai received 20 million yuan. Long's deputy Bi Jifan was given 18 million yuan. There were other unnamed executives which the media reports alleged may have pocketed 8 million yuan each.
The Evergrowing debacle raises the obvious questions of what services the bank executives performed to receive the funds and why were the amounts so large - far beyond what mainland banking executives are paid.
In comparison, Jiang Jianqing, the former chairman of Industrial & Commercial Bank of China, the world's largest bank by asset size, globally largest commercial bank as well as in China, last year received an annual salary of 550,000 yuan.
Sources with inside knowledge of KYCprocesses at BEA said the bank has dedicated staff at every mainland branch who are tasked with monitoring suspicious transactions that exceed certain sizes.
BEA also prides itself on being a technologyleader in the banking world, having received industry awards for such work. The bank has set a goal to be a leader in employing big data technology, which can be used to monitor and stop such transactions. The latest incident may raise new questions if it turns out to be a failure of both people and process control.
In an official media statement issued on Monday, Evergrowing Bank cited the many achievements of chairman Cai since he joined the bank. An official from Evergreen Bank refused to comment on the case when contacted by South China Morning Post on Monday.
In earlier responses to mainland Chinese media, Evergrowing denied the three executives had ever held accounts at BEA and said it was "illogical" for anyone to do so given the tight regulatory controls in China. However, the existence of banking relationships with Evergrowing have now been confirmed by BEA.
A banking sector analyst with knowledge of BEA said if it is proven that there were lapses in BEA's internal monitoring processes, it would become one of the rare cases where a foreign bank was involved in an anti-money laundering case in China.
"There had been cases before involving foreign banks but the amount of the penalty was minor... much lower than the penalties imposed in Hong Kong," the analyst, who requested anonymity, said.
However, he said the case may trigger admonishment by the Hong Kong Monetary Authority, BEA's home regulator.
In 2015 Evergrowing had plans to list, according to documents approved by its board. There has been no update on its listing plan since then. As for now, it is still a state lender majority controlled by the local city government of Yantai. The bank's last available results, for 2014, showed that it had total asset of 84 million yuan, up from 77 million yuan in 2013 and 61.8 million yuan of 2012.
This article appeared in the South China Morning Post print edition as: BEA faces questions over Evergrowing transaction