HSBC
Get more with myNEWS
A personalised news feed of stories that matter to you
Learn more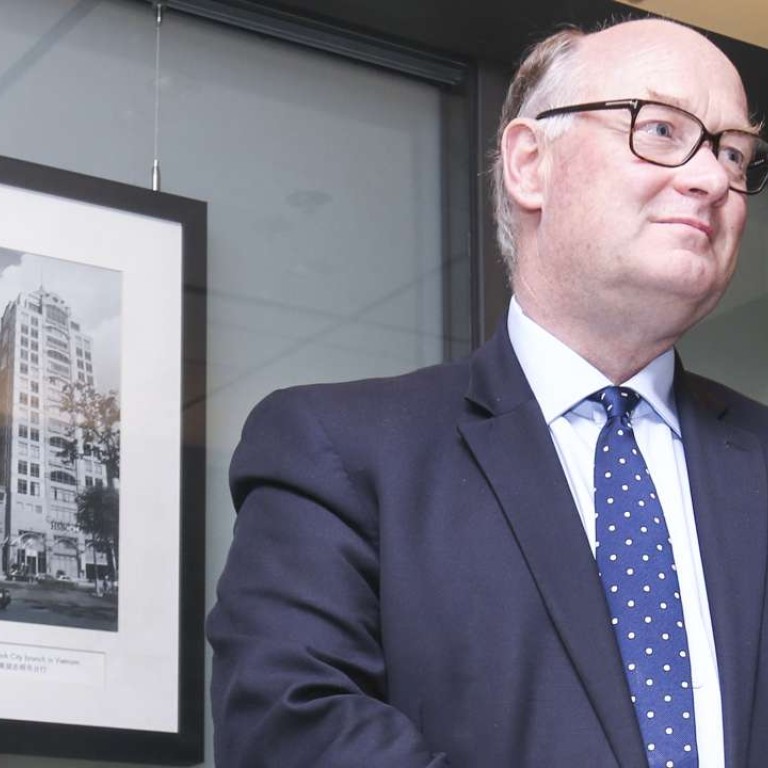 Departing HSBC chairman says 152-year-old bank needs to brace for wave of technological change
HSBC's outgoing chairman Douglas Flint believes adapting to new technology will be among the major challenges ahead for the bank, noting that increased competition from new online lenders and the emergence of big data will force a structural change in the institution's business model in the next five years.
He said banks need to reassess their approach to data privacy issues to keep pace with evolving trends in the financial sector.
"Technology will be the major challenge for HSBC over the next five years," Flint said. "There will be a big debate about regulatory and privacy issues on how banks should protect and use customer data. The customer needs to be aware of how their data are shared and used when they are using social media and other internet services."
Flint, however, also sounded a note of caution, pointing out that the rapid pace of technological change wasn't without vulnerabilities. These included minor annoyances such as wifi outages to more serious issues such as cyber attacks that may put the bank's computer network at risk.
He urged the next generation of management at the bank to be aware of the potential of technology failures in a world increasingly dominated by new internet technologies.
"It would be naive to believe there will not be future financial crisis," Flint said. "Cyber related risks would be the future focus of risk management."
Technology however will also offer huge opportunities to banks.
"Technology will help us to make things more efficient, to have better risk management and to be able to produce more personal products for customers," he said.
Flint, chairman of the bank for seven years, will step down in September. He will be succeeded by AIA chief executive Mark Tucker, reflecting the first time the post has gone to a candidate external to HSBC.
Flint urged his successor to familiarise himself with HSBC's corporate culture before drawing up future plans.
"It will take some time to observe any organisation with the size and geographic exposure of HSBC. It would be sensible to pause for a couple of months to feel the beating heart of the organisation," Flint said.
Flint noted that successful corporate leadership also involves following one's own instinct in deciding how to carve the path forward.
"I worked with five chairmen of HSBC before I was appointed as chairman of the bank," he said. "People used to ask which one I wanted to uphold as my own model. My answer was that 'I would be me' as I would learn from all of them but I would stick to my way. For my successor, my advice is 'be yourself.'"
Flint decided last year to retain HSBC's headquarters in London, rejecting a plan to relocate back to Hong Kong.
He said a deciding factor in the decision was London's time zone, which falls conveniently between Asian and US business hours.
"One could never say never, but there is no plan to review the headquarter issue again," he said.
He said Hong Kong remains vital for its geographic position close to the Pearl River Delta area and easy to access to other Asia markets.
"The stock connects linking the Hong Kong stock markets with the mainland bourses are taking a very important role to the future development of Hong Kong," he said.
Meanwhile, in 2012 HSBC agreed to pay US$1.92 billion to resolve a criminal investigation by US authorities into laundering Mexican drug money and other lapses, including terrorist financing.
The fine, agreed after Flint had been chairman of the bank for about two years, was at the time the largest ever levied on a financial institution. In 2015, French bank BNP Paribas SA agreed to a US$8.9 billion settlement to resolve claims that it had conducted business with Iran, Cuba and Sudan.
Looking back at his seven years at the helm of the bank, Flint offered up a philosophical reflection.
"It is easy to say when things turn out badly that I wish I had done it differently. But the real question to ask is given the same information, what other course of action could one have chosen?" Flint said.
"We learn a lot from our mistakes. You cannot have success without learning from the mistakes you have made."
This article appeared in the South China Morning Post print edition as: Embrace change, HSBC's outgoing chairman advises