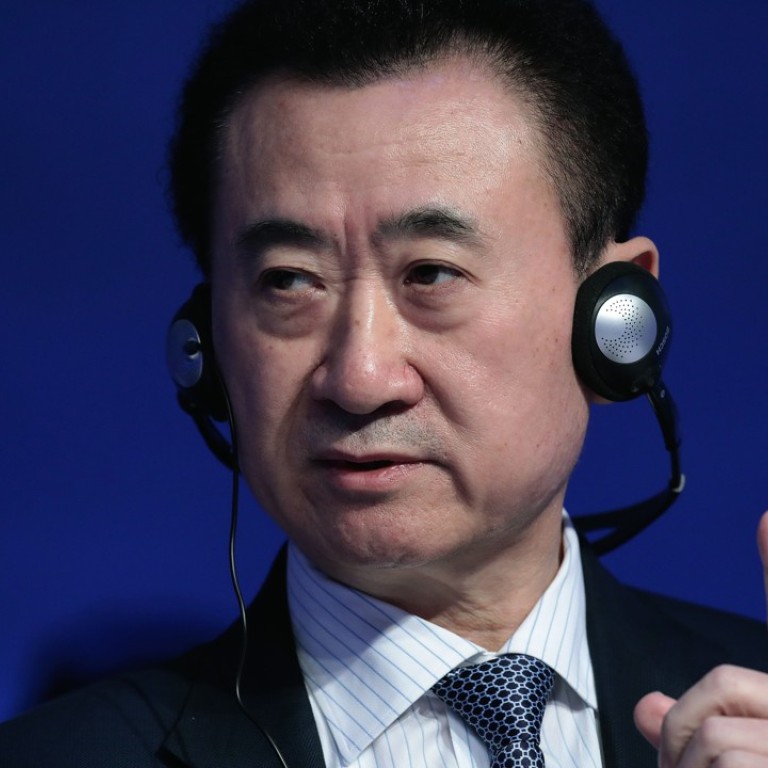 China's banking regulator orders loan checks on Wanda, Fosun, HNA, others
China's banking regulator has instructed several local banks to conduct financial reviews on selected companies, according to emails seen by the Post
Several of China's largest overseas asset buyers, including billionaire Wang Jianlin's Wanda Group, are being placed under scrutiny, amid a government crackdown on money laundering and a grand campaign to check financial risks ahead of the 19th party congress.
Wanda, Fosun, Anbang, HNA and east China's Zhejiang based Rossoneri Sport Investment -- the vehicle used by Chinese businessman Li Yonghong to acquire Italian soccer club AC Milan in April -- have been singled out for scrutiny by local banks, under a directive by the banking regulator, according to emails seen by the South China Morning Post on Thursday.
The reviews will be conducted by a number of banks, including Industrial & Commercial Bank of China, China Construction Bank, Bank of Communications and China Guangfa Bank, according to the emails.
"Last week we had received regulatory orders to check out our bank's exposure to the overseas debts carried by the above companies," a banking source said.
The China Banking Regulatory Commission (CBRC) in mid June required banks to check their credit exposure to the selected companies, and prepare a risk analysis.
Several banks have been taking a risk-off stance and selling down their holdings of corporate bonds
of the companies targeted, which triggered an intensive sell-off in Wanda's debt and shares on Thursday morning, Chinese financial media Caixin reported on Thursday afternoon.
The CBRC did not reply to emailed questions by late afternoon on Thursday.
The company's 2021 notes fell 220 cents to 94.7 yuan on the Shanghai bourse as of 1.30pm.
The group's Shenzhen-listed Wanda Film dropped as much as 9.9 per cent on Thursday morning. It applied for trading suspension starting from the afternoon session.
Shanghai-listed shares of Shanghai Fosun Pharmaceutical,which trades as Fosun International, tumbled 8 per cent by 2.15pm, reflecting the biggest drop since February, while its Hong Kong-listed arm Fosun International plunged 6.4 per cent.
A senior Fosun executive, who asked that his identity not be revealed, told the Post that the company is proceeding with "business as usual", regardless of the ongoing market speculation.
A spokesperson with Dalian Wanda Group declined to comment on the report.
Meanwhile, Wanda's real estate unit dismissed speculation that the company faced leverage risks due to excessive borrowing, saying in a statement that it had abundant cash.
"The company is in [a] very benign financial state with optimal cash flows and no default risks. Our daily operations are normal," according to the statement issued on Thursday evening by Wanda Commercial Properties, the real estate arm of Dalian Wanda Group. "There was no other information that the company deemed necessary to be brought to the attention of the public."
While there's no suggestion of wrongdoing, the heightened scrutiny of the companies underscores Beijing's new attitude towards overseas mergers and acquisitions by private companies.
The number of major overseas asset purchases by mainland companies plunged by 80 per cent in the first quarter, as Beijing tightened controls on capital outflows and ratcheted up scrutiny into deal funding.
"Investors right now have to be political experts as much as valuation and financial ones - the political risk now is the highest I've seen in the 20 years I've been in China," said Shaun Rein, founder of China consultancy Market Research Group, based in Shanghai.
China experts said the latest administrative measures pointed to the Beijing's commitment to reduce financial risks ahead of an important political meeting this autumn.
"China has recently taken a series of moves with strong financial impact - restricting outbound capital flows, enacting de-leveraging policies, removing former CIRC Director Xiang Junbo, questioning Anbang CEO Wu Xiaohui, assessing commercial bank exposure to outbound mergers and acquisitions," said Brock Silvers, managing director at Shanghai-based investment advisory Kaiyuan Capital.
"While these policies may individually discomfort casual market observers, they collectively reflect Beijing's long-awaited attempt to address systemic economic risks. Managing important currency and debt issues will not only help to ensure a smooth run-up to the all-important 19th party congress this fall, but are also necessary for the longer-term growth and general health of the Chinese economy," he said.
With additional reporting by Celine Ge
This article appeared in the South China Morning Post print edition as: regulator seeks loan details of wandaRegulator seeks loan details of Wanda