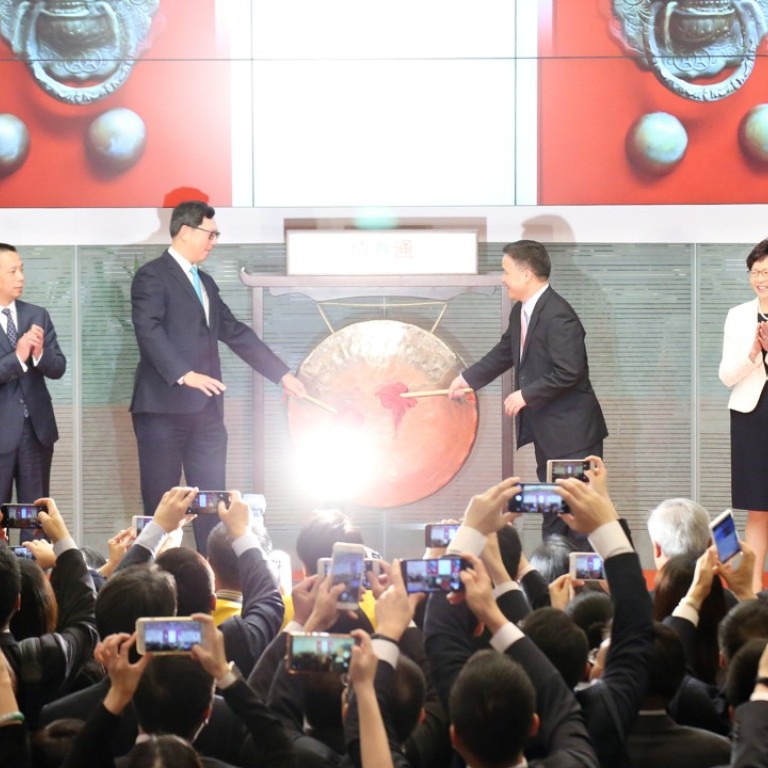 Update

|
Hong Kong's Bond Connect sees US$1b worth of trading on first day
Southbound trade unlikely to start until there is 'sufficient demand', say senior officials
The Bond Connect programme that kicked off Monday ended the day with more than 7 billion yuan(US$1 billion)worth of mainland Chinese bonds traded by international investors.
The long awaited cross-border trading scheme, which initially will give international investors access to China's US$9 trillion bond market via Hong Kong Exchanges and Clearing (HKEX), marked a milestone in China's further opening up of its capital account.
It also marked a milestone for HKEX in expanding its products from stocks and commodities to bonds.
Newly appointed Hong Kong Chief Executive Carrie Lam Cheng Yuet-ngor hosted the Bond Connect debut ceremony at the exchange on Monday, just three days after she took office.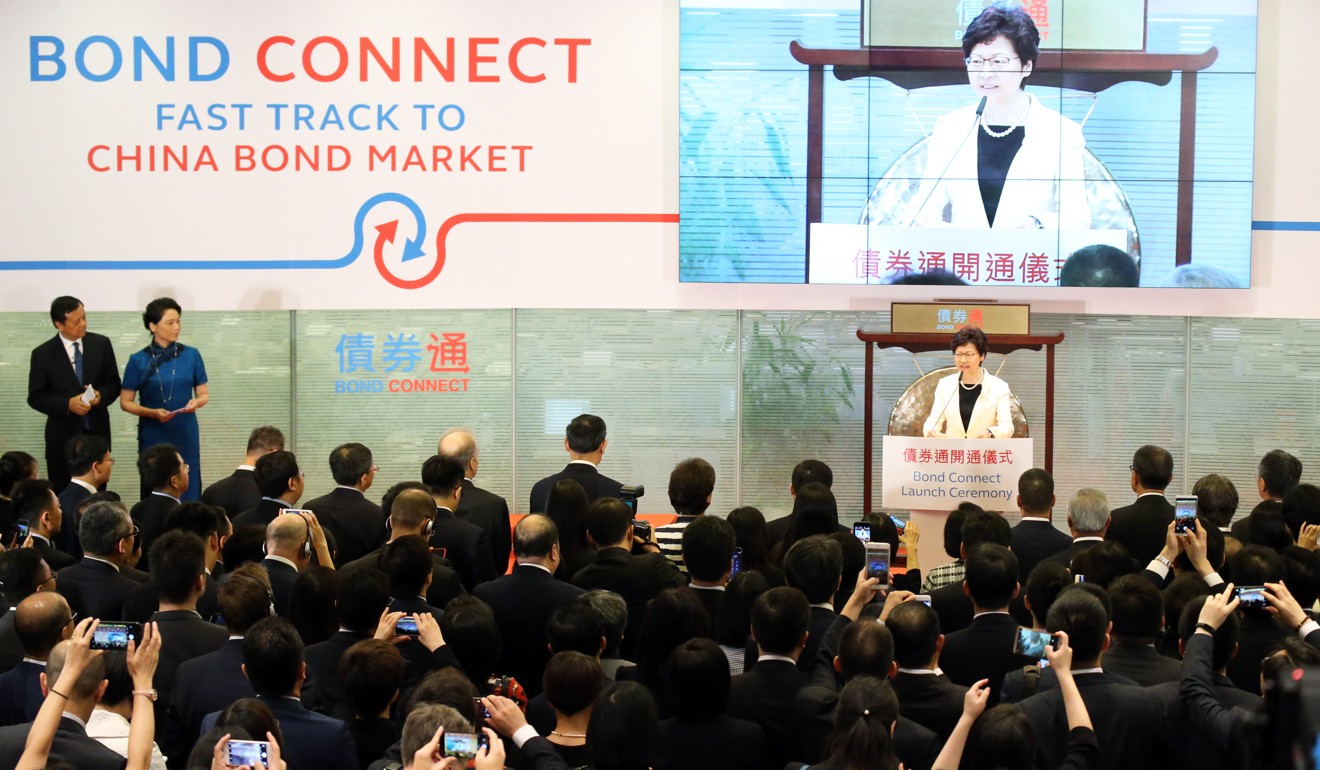 "Bond Connect marks another new chapter of mutual market access between Hong Kong and the mainland," Lam said. "It is an important milestone for the internationalisation of renminbi as it makes it easy for international investors to trade bonds in China.
"The new Bond Connect and the two stock connects enhance cross-border trading between Hong Kong and the mainland. This strengthens Hong Kong's role as international financial centre."
The next step, she said, is to work on the launch of southbound trading to allow mainlanders to buy and sell bonds in Hong Kong.
People's Bank of China deputy governor Pan Gongsheng said the Bond Connect "shows the central government's support for the Hong Kong market." But southbound trading through Bond Connect would launch only when there is sufficient demand, he added.
The first day's trading on Monday saw 89 financial firms conduct 142 transactions worth 7.048 billion yuan. The majority were buying orders, including 128 transactions worth 4.9 billion yuan. The investors were mainly government agencies and banks including Hong Kong Monetary Authority, ICBC, HSBC, Standard Chartered Bank, BNP Paribas, among others.
BOCHK Asset Management, a wholly-owned subsidiary of BOC (Hong Kong) Holdings, claimed it was the first institution to trade under the scheme. The company said in a statement it had successfully completed the first buy order on a Chinese government bond, the first on a corporate bond and the first yuan spot trade. It also subscribed to the first primary bond issuance under the Bond Connect, by Agricultural Development Bank of China, according to the statement.
HKEX chairman Chow Chung Kong said the scheme will be a significant channel for international investors to trade mainland bonds.
"The bond connect, like the two stock connects with Shanghai and Shenzhen and HKEX, strengthens the role of the Hong Kong market as a gateway for international investors to access the mainland market," Chow said.
"Bond Connect will be a catalyst for the continuing development and globalisation of China's bond market, as well as reinforcing Hong Kong's position as a leading international financial centre," said Peter Wong, chief executive of HSBC Asia Pacific.
"The convenient access provided by Bond Connect will allow global investors to trade Chinese bonds more efficiently, potentially increasing their participation in the world's third biggest bond market."
Wong said this new demand for Chinese fixed income products should also encourage more overseas issuers to tap the Panda bond market, which was especially relevant for markets along the route of the Belt and Road Initiative. The mega-project proposed by Beijing involves working with 65 neighbouring countries to build roads, railways and other infrastructure to promote trade.
Yunho Song, senior advisor to the president of Ping An Securities, believes the Bond Connect scheme will be an important milestone in the liberalisation of the Chinese bond market.
"In comparison with previous rules on foreign investors' investment in the Chinese bond market, Bond Connect has significantly abridged the procedures for foreign investors who can not only 'click' and enter the Chinese bond market but also purchase directly in foreign currencies. These arrangements can greatly save trading cost and improve investment efficiency," Song said.
"The Chinese bond market is not highly globalised yet, but the prospects are full of imagination."
Bond Connect is the third cross border trading scheme between mainland China and Hong Kong.
The Hong Kong and Shanghai stock connect began trading in November 2014 while the scheme linking Hong Kong and Shenzhen debuted in December 2016. Both stock connects are "two way" in that mainlanders can buy and sell Hong Kong stocks in what is known as southbound trading while international investors can trade A-shares listed in Shanghai and Shenzhen via the northbound connection.
The two stock connect schemes have been a success, with southbound trading now accounting for 10 per cent of total turnover on the Hong Kong bourse.
However, at its launch the Bond Connect scheme only offers northbound trading for international investors to trade mainland bonds via HKEX. No launch date for southbound trading has been announced.
HKEX chief executive Charles Li Xiaoja said mainland interest rates and bond yields are more attractive than those in Hong Kong which means southbound bond trading would not have much demand for now.
"There is no timeline for the southbound trading yet. We will introduce it when there is demand in the market. The HKEX will launch more fixed income and currency products to meet the demands of the internationation of renminbi," he said.
Li said the next step would be to enhance the existing stock connects, which would include expanding that mechanism to cover new listings, exchange-traded funds (ETFs) and derivatives. He did not say when these new enhancement would happen.
"We want to see the stock connect expand further. The primary connect will allow investors to subscribe to new listings when companies have their initial public offerings. The ETF connect would allow investors to trade a basket of stocks, and the derivatives connect would allow investors to have a choice of product beyond stocks," Li said.
The volume of the northbound trading is also in doubt as international investors already can trade mainland bonds via other channels.
Barnaby Nelson, greater China and north Asia head at Standard Chartered Bank, said a survey of 900 investors already trading with the mainland found that 38 per cent were likely to continue using the Qualified Foreign Institutional Investor (QFII) and RQFII channels for future investments, despite the two stock connects and the new Bond Connect scheme.
The QFII, launched a decade ago, was one of Beijing's first efforts to liberalise cross-border flows. Users are allowed to buy domestic securities under a quota system, with the application period taking up 3 to 6 months. QFII uses foreign currency to buy securities while the modified RQFII uses the renminbi.
Li however said the bond connect does not aimed at replacing other investment channels.
"The bond connects are schemes for normal institutional investors who are just like undergraduate students while the QFII are for the most sophisticated investors who are like postgraduate students who studying master degree. The different schemes have different investors to trade," Li said.
This article appeared in the South China Morning Post print edition as: A smooth start for bond connect