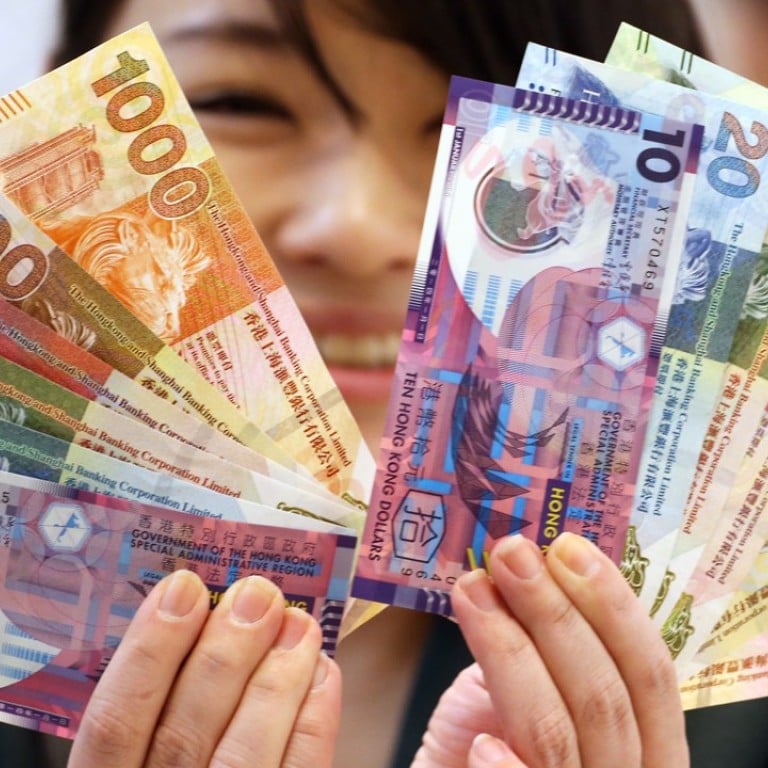 Hong Kong's Exchange Fund posts best returns ever, thanks to global stocks rally
The fund made HK$252 billion last year, almost four times the HK$68.1 billion gains in 2016
Hong Kong's Exchange Fund, the city's reserves and asset war chest for defending its currency's value, has posted its best investment return ever, thanks to buoyant global stock markets.
The fund posted total returns of HK$252 billion (US$32.2 billion) last year, almost four times the HK$68.1 billion gains in 2016, when returns were led by bonds and shares listed outside the city, the Hong Kong Monetary Authority said on Monday.
Last year's return was much higher than the second highest return of HK$142.2 billion recorded in 2007 at the height of the previous stock market bull run. The fund's return figure was first disclosed in 1994.
The biggest contributor was a surge in global equities, most notably in Hong Kong which ranked as the world's best performing major market with a 36 per cent rally in the Hang Seng Index.
The fund made HK$58.3 billion last year from investing in Hong Kong stocks, up from HK$5.3 billion in 2016, while that from shares investment outside the city jumped to HK$80.2 billion from HK$28.6 billion.
Returns from bonds investment amounted to HK$34.3 billion, just 3.6 per cent higher than in 2016.
Some 77 per cent of the fund's assets were held in deposits or bonds at the end of last year, while the rest were invested in shares and other investments such as properties and infrastructure.
Foreign exchange gains – mainly from the translation of foreign exchange assets into Hong Kong dollar values – totalled HK$53.5 billion, compared to a loss of US$15.8 billion in 2016.
The fund holds around 90 per cent of its deposits in Hong Kong or US dollars, and the rest in other foreign currency.
Its total assets rose by US$404.8 billion to HK$4.02 trillion at the end of 2017 from a year earlier.
Last year's return rate of 7.1 per cent was well ahead of the 4.9 per cent average in the 24 years to last year, and the 2.1 per cent average consumer price inflation in the period.
HKMA chief executive Norman Chan Tak-lam attributed the stellar performance to much better than expected global economic growth and financial market returns.
While global stock markets continued to make strong gains, with the Hang Seng Index gaining a further 10 per cent so far this year, he cautioned that sustainability of last year's good return is by no means certain.
"As asset valuations in many financial markets have already surpassed their historical highs, the sustainability of the upward momentum will hinge crucially on whether some of the markets' current optimistic expectations will materialise," he told reporters on Monday.
"At present, it seems that the markets may have underpriced some risk factors, including whether the pace of US interest rate normalisation will need to quicken if inflationary pressure is greater than expected."
Other uncertainties include whether US trade policy, protectionism and geopolitical tensions will harm global trade and economic growth, he added.
Louis Tse Ming-kwong, managing director of VC Asset Management, said the city's stock market is poised to see a correction in the next few months although a major decline appears unlikely in the first half.
"As Hong Kong is an open economy, it will depend on the pace of interest rate hikes in the United States and health of China's economy," he said. "So far, Hong Kong's bull market has been testing new highs despite pullbacks."
Volatility of the US dollar, which has fallen just over 10 per cent over the past 12 months against a basket of currencies of the US' trading partners as measured by the US dollar index, will present investment risks for the Exchange Fund, he added.
The index has slid 3 per cent year to date on the back of concerns that the US' large budget deficit will widen on the back of major tax concessions announced by Washington last month.
This article appeared in the South China Morning Post print edition as: hk cashes in on bumper year for markets