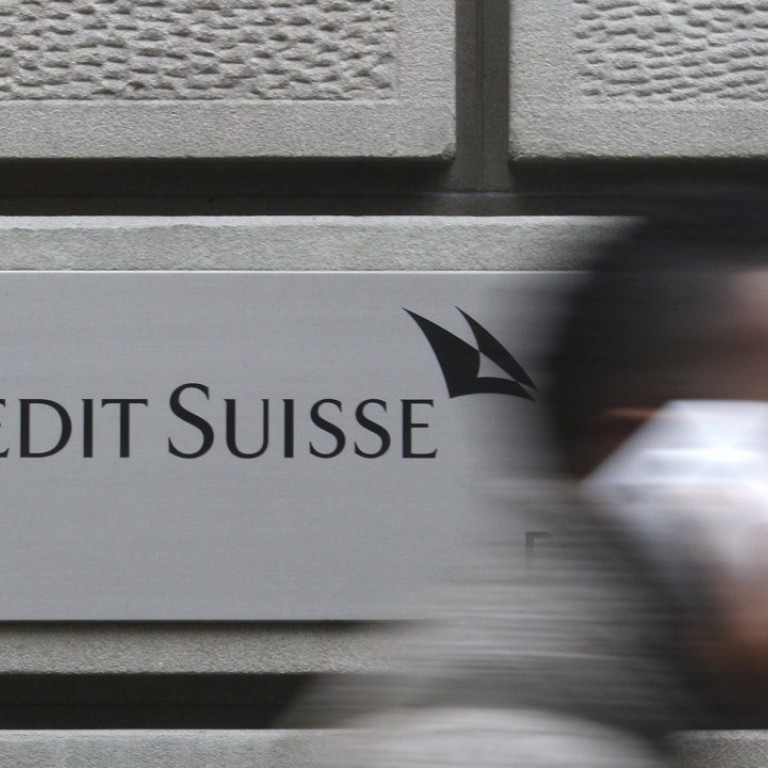 Hong Kong securities regulator fines Credit Suisse US$5 million over internal control failures
SFC says Credit Suisse (Hong Kong) and Credit Suisse Securities (Hong Kong) used client securities to settle proprietary transactions
Hong Kong's Securities and Futures Commission has fined Credit Suisse HK$39.3 million (US$5.03 million) for a number of regulatory breaches and internal control issues, including failure to segregate client securities from house securities, and failure to disclose certain information about contract notes to clients.
The regulator said on Thursday it had found that Credit Suisse (Hong Kong) had used client securities on 672 occasions to settle proprietary transactions, from February 2010 to May 2016, and Credit Suisse Securities (Hong Kong), another unit, had acted similarly on 171 occasions during the same period.
Proprietary transactions occur when a firm uses its own money to trade stocks or other financial instruments in its own account.
Other regulatory breaches included failures to comply with short-selling requirements that had led to 159 oversold transactions, and rule breaches about the sale of investment products, the SFC said.
Specifically, Credit Suisse AG did not ensure that six risk mismatch transactions were suitable for clients between January 2010 and January 2013, while also failing to provide and disclose certain information to clients about contract notes requirements from April 2003 and April 2017.
The fine follows an independent review in the last quarter of 2016 into Credit Suisse's Hong Kong business activities.
The bank had submitted reports about regulatory breaches and failings, which had led to the review, the regulator said. But the commission had already launched an investigation, before the review, into the bank's failure to report short positions to the exchange from June 2012 to October 2014, it added.
The sanctions would have been "substantially higher" if Credit Suisse had not cooperated promptly and extensively, said Thomas Atkinson, the executive director of enforcement at the commission.
The SFC has already taken into account the bank's cooperation and remedial actions to strengthen its internal controls and systems, the regulator said.
Credit Suisse said action by the regulator would not affect its business activities.
"Credit Suisse takes its regulatory responsibilities very seriously and has fully cooperated with the SFC during its investigation. Credit Suisse has taken appropriate action to ensure that Credit Suisse's legal and regulatory obligations are upheld at all times and to prevent repetition of these incidents. The resolution announced by the SFC today does not place any constraints on Credit Suisse's business activities in Hong Kong or elsewhere," it said in a written response to the South China Morning Post.
In December, the SFC imposed a penalty of HK$2.6 million on Standard Chartered Securities for inadequate internal controls related to short-selling orders and breaches of securities and futures rules.
In November, the regulator also fined HSBC Private Bank a record HK$400 million after the bank lost its appeal against a 2015 ruling for misconduct related to the sale of structured products linked to Lehman Brothers.