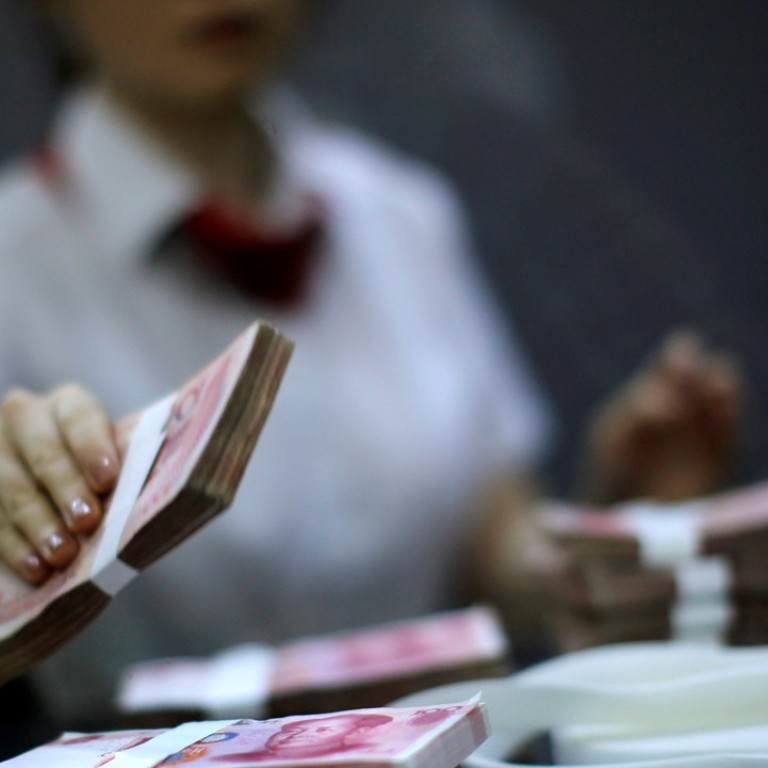 Chinese banks poised for better times thanks to rising interest income, analysts say
Morgan Stanley estimates that yields on new loans will rise by 60 basis points this year and next 
Chinese banks could see poised for better days ahead amid improvements in interest income, as a regulatory crackdown on the shadow banking sector is forcing borrowers back to traditional banks, analysts said.
This will provide a welcome relief, particularly for the smaller and mid-sized banks, whose margins shrunk in 2015 and 2016 amid falling interest rates and moves by regulators to curb risky activities. 
Interest income accounts for roughly 60 to 80 per cent of overall income at Chinese banks, although 
the proportions may vary across different financial instititutions. 
"This year we expect that yields on new loans will rise by about 60 basis points in 2018 and 2019, while interbank rates will rise much more slowly than they did last year," said Richard Xu, head of China bank research at Morgan Stanley. 
Consequently, net interest margins, the difference between the interest rate a bank earns on loans and that which it pays out in short-term borrowing costs as a proportion of its assets, will rise at almost all banks, according to Morgan Stanley's estimates.
Among 17 large and mid-sized Chinese banks tracked, only Industrial Bank, which is listed on the Shanghai stock exchange, will likely see declines in its net interest margin in 2018, Morgan Stanley researchers said.
Xu said that the rise in yields was primarily driven by attempts to reduce credit growth as part of government's drive to clean up the financial system. 
"When you slow credit growth, then you get normalisation of loan yields, and this will give the medium sized banks a bit of a breather," Xu said. 
Chinese policymakers are in the middle of a crackdown on leverage in the financial system, with non standard financial institutions in China's shadow banking sector a prime target. 
"By our estimates, growth in China's overall non financial and non public credit will slow to 12 per cent this year, from an estimated 15.2 per cent in 2017," wrote Liao Qiang, a senior director of bank ratings at S&P in a recent report. 
"But bank loan growth may have to stay faster – our estimate is 13 per cent to 15 per cent in 2018 – to meet rising corporate refinancing needs as shadow banking avenues are blocked." 
This marks a change for banks, particularly medium-sized institutions. 
In 2017, rising interbank rates meant that banks with smaller deposit bases which had to borrow from the interbank market to fund some of their lending and investment saw their margins squeezed, as yields on loans rose much more slowly. 
In contrast, Postal Savings Bank of China, which has a vast deposit franchise grew its margin by 16 basis points, the analysts found. 
The divergence should be less this year. 
"If you have a decent deposit franchise, you will still benefit more from the pick up in loan yields than those banks that have fewer deposits," said Xu. "But there is an opportunity for the smaller banks, as they can move loan pricing more quickly than the larger banks and target the areas where they have pricing power." 
Still, the trend towards higher loan growth does come with risks, Liao warned. 
"Since projected loan growth should rise noticeably faster than deposit growth, Chinese banks' liquidity strength is on a weakening trajectory," he wrote. 
This article appeared in the South China Morning Post print edition as: Banks set for higherinterest income