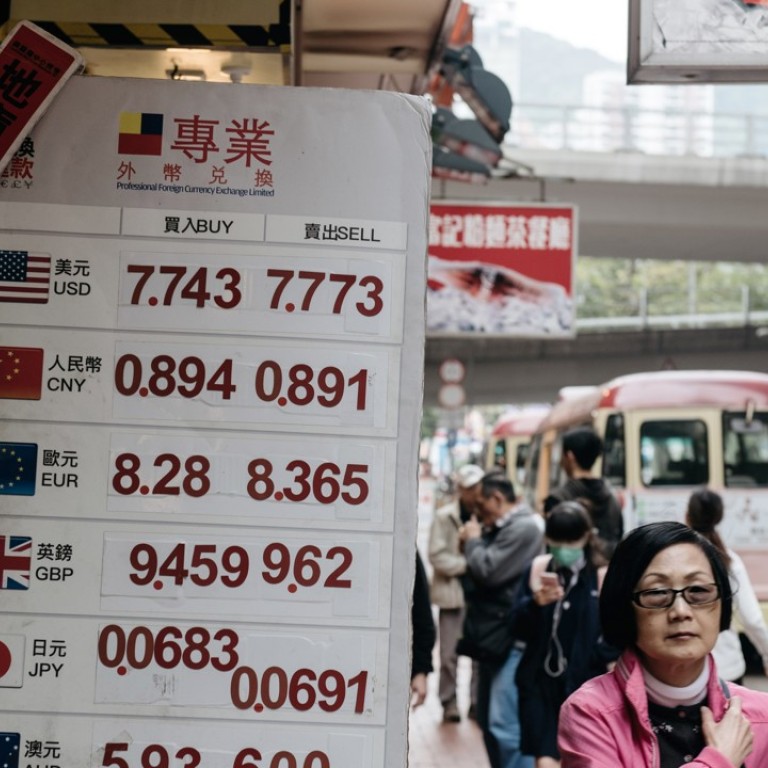 Hong Kong dollar plummets to weakest level in trading band in 33 years
At mid afternoon on Tuesday, one US dollar was worth 7.8337 Hong Kong dollars, the highest level against the local currency in 33 years
A senior Hong Kong Monetary Authority official said Tuesday that while the Hong Kong dollar had reached its weakest level in more than 30 years, this valuation was "well within the design of the system".
Howard Lee, deputy chief executive at the HKMA, Hong Kong's de facto central bank, was speaking at a press conference called to provide updates about the city's progress in its attempts to move into what it has called a "new era of smart banking".
The Hong Kong dollar touched new lows against the US dollar, and at mid afternoon, one US dollar was worth 7.8337 Hong Kong dollars, its lowest level in 33 years, before strengthening slightly. The Hong Kong dollar is pegged to the US dollar, and its value is permitted to fluctuate between 7.75 to 7.85 Hong Kong dollars to one US dollar.
"While we have not seen the Hong Kong dollar reach this level in the past, it is not a surprise," said Lee.
"Since the global financial crisis, we have seen large amounts of funds flow into Hong Kong, and now we are seeing these same funds flow out."
"So far the weak end of the peg [7.85] has not been breached, which means that the market can cope with the current level of trading in Hong Kong dollars, but when it cannot, we will step in and take action," said Lee.
The HKMA is mandated to sell US dollars at HK$7.85 when necessary to protect the peg.
The change in rates was driven by wide yield differentials and concerns about trade conflicts, said Carie Li, economist at OCBC Wing Hang bank in a report.
The US dollar benchmark lending rate (US dollar Libor) was 1.4475 per cent on Friday, compared to Hibor (the Hong Kong dollar benchmark rate) which was 0.07361 per cent on Monday.
Li said, however, that she did not expect the Hong Kong dollar to test the weak end of the peg in the near future.
"As capital outflow risks remain well-contained, wide yield differential may only drive up USD/HKD at a moderate rate and allow the pair to find new resistance level around 7.835," Li said in a written report.
The press conference was initially called by the HKMA to provide updates about their progress in the seven areas they have identified to create a "new era of smart banking" in Hong Kong.
Lee said that all was on track for Hong Kong's faster payments system to come online in September this year.
The faster payments system will enable transactions and clearing to be made in real time.
However, Lee said he anticipated that in the initial stages only basic services would be offered by the banks and stored value facilities as they would need time to get accustomed to the new systems.
These include customers being able to transfer funds from an account they hold with one bank, to an account they hold with another bank in real time, or being able to top up their stored value facilities digitally, he said.
However, Lee said that no company had yet formally applied for a virtual banking licence.
Lee also said that around 20 banks and eight stored value facilities planned to offer real time payment services to consumers when Hong Kong's faster payments system launches in September.
This article appeared in the South China Morning Post print edition as: HK dollar's low 'within design of the system'