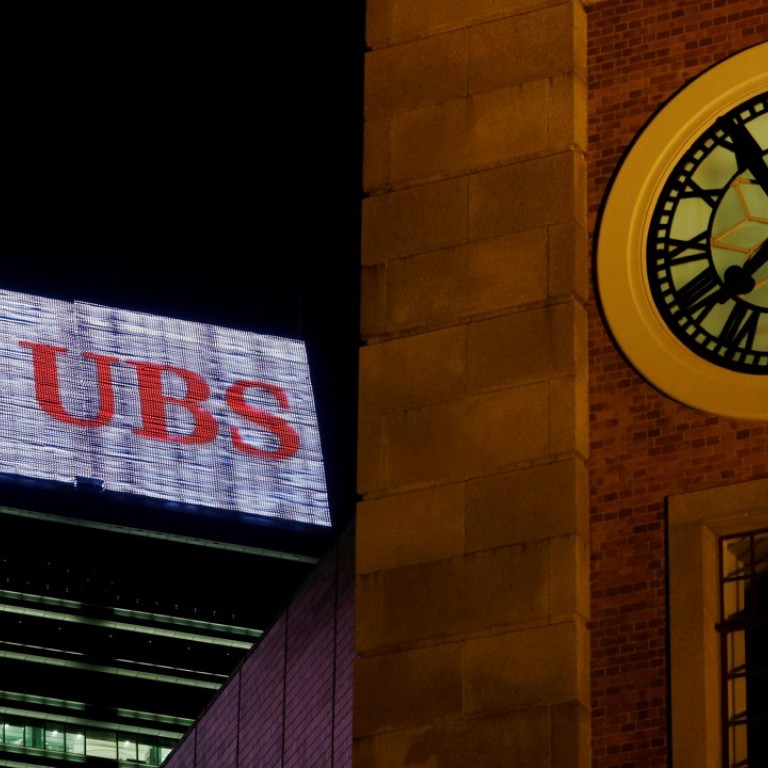 Questioning of UBS banker comes at delicate time for financial firms in China
Chinese authorities have asked banker to delay return to Singapore
Questioning comes as financial firms look to tap growing Chinese wealth
For foreign banks and asset managers, mainland China represents an attractive market for potential future growth, as the country's population becomes increasingly affluent.
But accessing this untapped wealth comes with its own unique pitfalls – the reach of the Chinese government.
A Singapore-based banker in UBS's wealth management business was asked to delay her trip back from Beijing this weekend to meet Chinese authorities. She remained in Beijing on Tuesday.
No reason has been given as to why the authorities want to question the woman, who has not been charged with any wrongdoing, or named publicly by the authorities and the bank, according to a person familiar with the matter.
The questioning comes at a delicate time for foreign financial companies, as China remains a vastly untapped, but potentially lucrative, market for the industry.
"The biggest opportunity is the chance to serve Chinese investors through an onshore presence," the consulting firm McKinsey said in a report this month. "While minority owned joint ventures had long been the only way to do this, the recent introduction of majority ownership in joint ventures and wholly owned foreign entity licences have attracted a slew of foreign managers into China."
McKinsey estimates about US$6 trillion in assets could become available in China for investment by 2022, as the market opens further.
For now, currency controls make it difficult for mainland Chinese investors to move money outside the country, and to invest in certain types of securities products, such as private equity funds.
Asset managers also face restrictions on the promotion of offshore products directly to individuals in China. There is a US$50,000 annual limit on foreign exchange purchases by Chinese individuals, as well as restrictions on money withdrawn overseas from Chinese bank accounts and tighter reporting requirements.
Financial companies dealing with United States citizens face their own heightened reporting requirements as part of efforts to stop money laundering and tax evasion.
This is not the first time a foreign wealth manager has found themselves facing an inquiry by Chinese authorities.
Six years ago, a Standard Chartered banker in its wealth management business was detained by Chinese authorities as part of an inquiry into a client who officials said had fled the country with millions of dollars. The banker, who was a naturalised Singapore citizen, but worked in Shanghai, was eventually freed in May 2012 after being held for several months and was not charged with any wrongdoing.
The recent request by Chinese authorities also follows a government crackdown on tax evasion and corruption that has ensnared some of the country's wealthiest citizens.
The actress Fan Bingbing apologised publicly this month and was ordered by tax authorities to pay about 884 million yuan (US$127 million) in back taxes and fines after she was secretly detained this year. Meng Hongwei, the Interpol president who disappeared last month, is being detained by Chinese authorities investigating him in a bribery probe.
In the case of the UBS banker, she was not detained and has been allowed to keep her passport, according to the person, who is not allowed to speak publicly on the matter. The banker is expected to meet Chinese authorities at some point this week.
The incident prompted UBS to ask members of its wealth management arm to delay trips to mainland China in the interim, but this advisory was not extended to other parts of the bank, the person said.
On Tuesday, UBS said that the bank was allowing "all our staff to travel freely in and out of the country and it is business as usual for us in China".
The banker is a Taiwanese citizen living in Singapore, according to another person familiar with the matter. The Taiwanese Ministry of Foreign Affairs did not immediately have a comment when contacted on Monday.
The name of the UBS wealth manager was circulated on social media in China over the weekend, but her identity was not confirmed. Her assistant in Singapore declined to comment on Monday and her LinkedIn profile was offline as well.
Singapore has increasingly become a home for Chinese money in recent years, as it has sold itself as a hub for wealth management in Asia.
The city state recently edged out Hong Kong in terms of competitiveness in Deloitte's International Wealth Management Centre Ranking, but remains smaller than Hong Kong in terms of market size. It had an estimated market volume of US$470 billion in 2017, compared with US$790 billion in Hong Kong, according to Deloitte.
About US$8.6 trillion in assets were managed or administered at international wealth centres outside where clients lived last year, according to Deloitte.
"Hong Kong seems to have benefited more than its neighbouring competitor Singapore from the increase in the number of millionaires in the region (including mainland China)," Deloitte said in the May report.
Most other major banks and asset managers are closely monitoring the situation and reviewing their policies with their wealth managers to make sure they remain compliant, with some asking members of their private banking businesses to reconsider travel to China for the moment.
Chinese authorities said last year foreign financial companies would be able to increase their ownership stakes in joint venture firms in mainland China to 51 per cent, as part of an effort to open up its financial markets.
UBS is currently seeking a 51 per cent stake in its joint venture investment banking operations in China after two of its partners said they had put their stakes up for sale.
The amount of household wealth in China increased by 4.6 per cent to US$51.9 trillion in the 12 months ending in mid-2018, according to a new Global Wealth Report by Credit Suisse. It is up from US$3.7 trillion since 2000.
The country now has 3.5 million millionaires and more residents with wealth above US$50 million than any country in the world, expect for the US, according to Credit Suisse.
"While the United States is still far ahead in terms of total household wealth and the number of citizens in the top wealth categories, China has advanced so rapidly this century that a wealth gap that once appeared unassailable could vanish within a generation," said Credit Suisse. "It is China, rather than the United States or Japan, to which much of the developing world looks for a model, inspiration, and often assistance, in wealth creation."
Additional reporting by Yu Xie