IPO
Get more with myNEWS
A personalised news feed of stories that matter to you
Learn more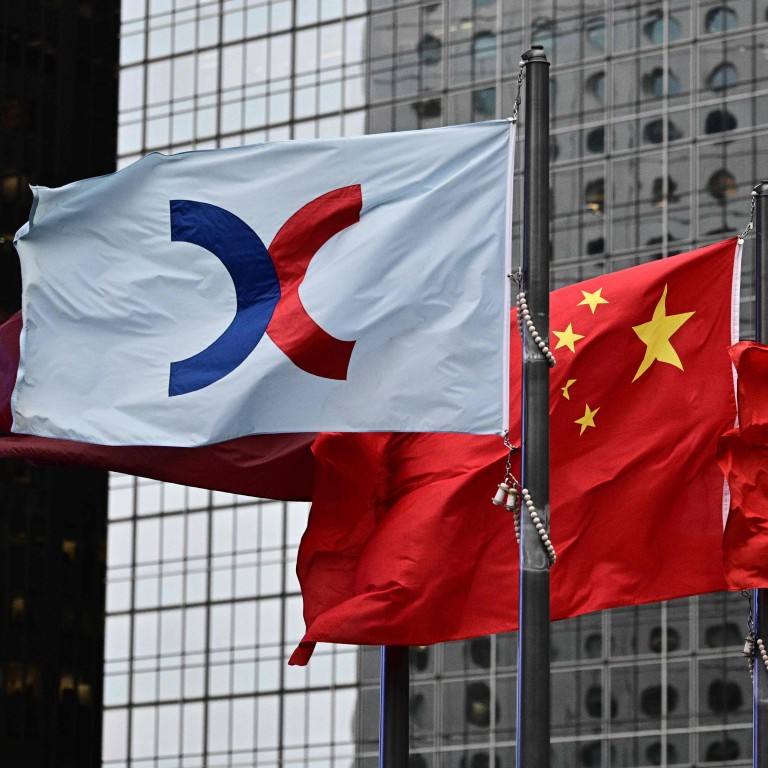 Hong Kong slips behind New York and Nasdaq in five-month global IPO rankings, as trade war takes a toll on sentiment
Hong Kong was the third biggest IPO market by proceeds raised in the first five months of 2019, according to data from Refinitiv
The city failed to attract blockbuster IPOs while its US rivals bagged ride-hailing giants Uber and Lyft
A lack of blockbuster listings has seen Hong Kong slip to third place in the worldwide IPO rankings, according to data provider Refinitiv.
In terms of total proceeds, it was overtaken by the Nasdaq and New York stock exchanges in the first five months of the year after the American bourses managed to attract some mega listings by global technology giants.
Analysts said the US-China trade war had dented the appeal of Hong Kong as an IPO destination, and the outlook remained uncertain.
New York Stock Exchange was ranked the world's top IPO market by value, raising US$15.9 billion between January 1 and May 31, representing 29.5 per cent of the global market. It benefited from the US$8.1 billion IPO of Uber, the world's biggest ride-hailing company, whose shares debuted in May, according to Refinitiv.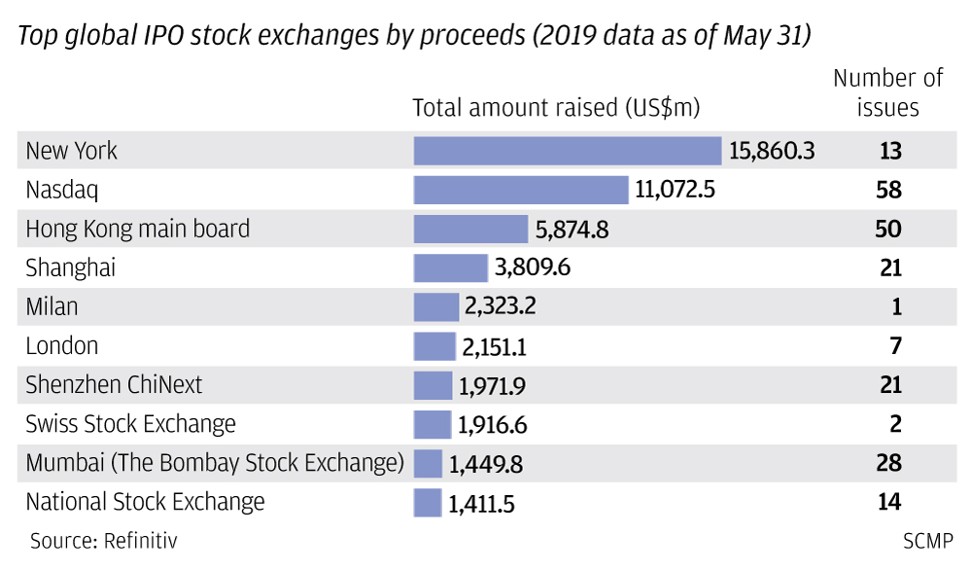 Nasdaq came second after the listing of Uber's biggest rival, Lyft, which raised US$2.5 billion in March. The technology-focused board raised US$11 billion in the first five months, giving it a market share of 20.6 per cent.
Hong Kong, which has been the top IPO market six times in the past decade, succeeded in attracting a large number of biotech firms, but raised only US$5.87 billion, 10.9 per cent of the global total.
Among the top 10 IPO deals worldwide this year, only one was in Hong Kong while New York Stock Exchange and Nasdaq had five between them. Brokerage firm Shenwan Hongyuan Group raised US$1.16 billion with its Hong Kong IPO in April, the 10th largest listing of the year so far.
Hong Kong slid to the No. 2 spot in the first quarter after Lyft's mega listing gave Nasdaq the lead, then it was surpassed by the New York Stock Exchange in May, thanks to Uber's IPO.
"Hong Kong has had a lack of mega-sized new listings in recent months. The negative sentiment and uncertainty created by the China-US trade dispute has caused generally bearish sentiment, which is no good for IPO markets," said Clement Chan Kam-wing, the managing director of accounting firm BDO.
"The outlook very much depends on the twists and turns of the negotiations relating to the trade war."
Edward Au, audit and assurance partner at Deloitte China, said the trade war had affected the expansion plans of many Chinese companies.
"Because it is a major market for Chinese companies to have an IPO, the impact of the trade war on Hong Kong is more important than it is for the US markets," Au said.
Fifteen Chinese firms have opted to debut on the Nasdaq so far this year, according to a senior vice-president of the exchange.
"With 22 IPOs from China in 2018 and 15 already this year, we look forward to welcoming many Chinese companies to Nasdaq and supporting them as members of our family of global leaders," said Bob McCooey in a recent WeChat post.
He was responding to a call by former White House aide Steve Bannon to bar Chinese companies entirely from US capital markets.
Au is not optimistic about the chances of Hong Kong reclaiming its IPO crown in the second half of the year.
"The trade war and Brexit has hurt investment sentiment. More importantly, Shanghai is going to launch its new tech board within the following few months which is going to add keen competition for Hong Kong. There are many mainland tech giants taking a wait-and-see approach to monitor the new board in Shanghai, and they may not come to list in Hong Kong," he said.
Shanghai was the fourth largest IPO market worldwide in the first five months, raising US$3.8 billion, according to the Refinitiv data.
Roy Lo Wa-kei, a managing partner at ShineWing Hong Kong and president for Greater China at professional accounting body CPA Australia, however, believes Hong Kong could bounce back in the second half.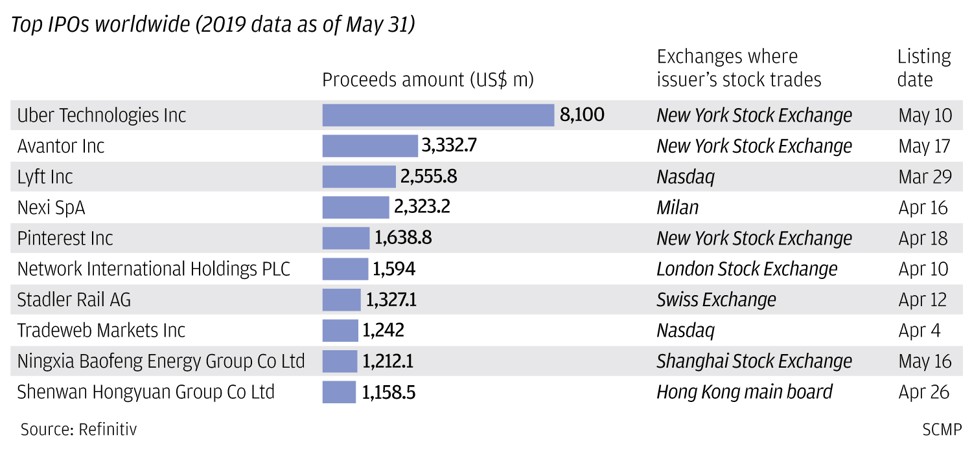 "There are some tech companies which originally planned to list in the US that may consider listing in Hong Kong instead due to the trade war," Lo said. "The Shanghai tech board may attract smaller tech companies but the giant tech firms may like to list in Hong Kong because it is an international market."
Lo said the tech giants that have listed in the US, such as JD.com, Alibaba Group, which owns the South China Morning Post, may consider a secondary listing in Hong Kong.
Hangzhou-based Alibaba is in talks to raise up to US$20 billion in Hong Kong via a secondary listing, Bloomberg said last week citing unidentified people familiar with the matter.
This article appeared in the South China Morning Post print edition as: Hong Kong slips to third in global IPO rankings as trade war dents appeal